Indiana MERS Patient Improving as No New Cases Reported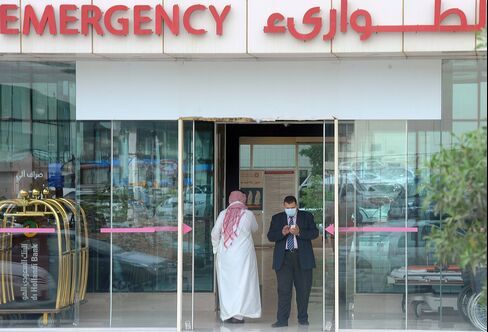 May 5 (Bloomberg) -- The first U.S. patient to contract a potentially lethal virus from the Arabian peninsula is improving and no new cases have been identified, federal and state officials said.
The patient infected with Middle East respiratory syndrome coronavirus, or MERS-CoV, remains in isolation at Community Hospital in Munster, Indiana. The man, a health-care worker who authorities haven't identified, was admitted April 28, after returning April 24 from Riyadh, Saudi Arabia.
The coronavirus has caused 401 cases of illness in 12 countries and 93 deaths, according to the U.S. Centers for Disease Control and Prevention. First detected two years ago, patients suffer difficulty breathing, fever and coughing. Little is known about the virus' origin or its transmission, and there's no vaccine or cure.
"At this time, no additional MERS cases have been identified associated with this case or elsewhere in the United States," Benjamin Haynes, a spokesman for the Atlanta-based CDC, said today in an e-mail.
Indiana authorities described the man as being in "good" condition and said he "has shown improvement each day," according to a statement yesterday.
Community Hospital staff members who initially had direct contact with the patient before he was placed in isolation have been taken off duty and "placed in temporary home isolation," according to the statement, issued by the hospital, the Indiana State Department of Health and the CDC.
"Those individuals are being closely monitored for any signs or symptoms of the virus and will be allowed to return to work once the incubation period is over and they have confirmed negative laboratory results," according to the statement.
The virus is believed to have an incubation period of about five days, Anne Schuchat, director of the CDC's National Center for Immunizations and Respiratory Diseases, said in a May 2 news conference.
To contact the reporter on this story: Alex Wayne in Washington at awayne3@bloomberg.net
To contact the editors responsible for this story: Reg Gale at rgale5@bloomberg.net Andrew Pollack, Bruce Rule