GE Offer for Alstom Is Not Acceptable, Hollande Says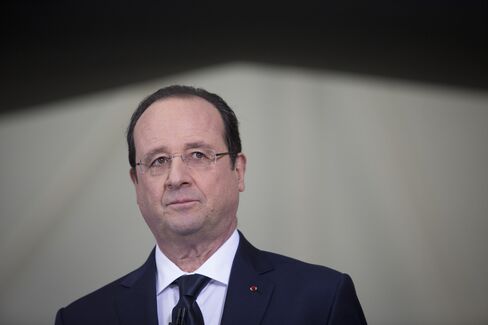 General Electric Co.'s $17 billion offer for Alstom SA's energy business is not good enough, and needs to "be improved on jobs," French President Francois Hollande said.
Hollande, under pressure to protect jobs amid record-high unemployment, became the third French official in less than 24 hours to publicly object to GE's proposal. GE, which could face competition for Alstom from Germany's Siemens AG, has said its offer would lead to a net increase in its French workforce.
"It's not sufficient, so it's not acceptable," Hollande said in an interview on RMC radio and BFMTV today. "There is another offer and we will see if it will be a better one."
Alstom, a maker of power equipment and the high-speed TGV trains, was saved from bankruptcy about a decade ago by the state and employs 18,000 people in France. The company, which builds steam turbines for nuclear plants, is important for the country's energy independence, the French government has said.
The French objections represent little more than a negotiating tactic, said Nicholas Heymann, a New York-based analyst at William Blair & Co.
"This is more posturing to perhaps see if they can't get GE to bring other centers of excellence or innovation or business headquarters to Paris than it is to have any real fundamental merit," he said.
Alstom dropped 2.2 percent to 28.72 euros in Paris, while Siemens fell 0.1 percent to 94.15 euros in Frankfurt. Alstom has jumped 18 percent since April 24 after Bloomberg News was first to report the talks with GE. GE fell 1.5 percent, to $26.19 in New York, it's lowest since April 16.
Jobs Criteria
After a meeting on April 28 between Hollande and GE Chief Executive Officer Jeffrey Immelt, the French government said it didn't oppose GE's bid, a person familiar with the matter said at the time. The main criteria for the government are guarantees about jobs, the location of operations and the country's energy independence, Hollande told Immelt at that meeting, the person said.
In a letter to Immelt that was obtained by Bloomberg, French Economy Minister Arnaud Montebourg wrote yesterday that the government prefers "a balanced partnership" to a straight acquisition that would "lead to the demise" of Alstom. "Unfortunately, we can't subscribe to your current proposals."
Montebourg's letter represents the French government's views, Finance Minister Michel Sapin told reporters yesterday in Brussels. Sapin said today that the government has a legitimate right to defend the nation's interests and the political objections don't hinge on money.
Continuing Dialogue
"It's not only about the money. The question of money is one for shareholders, not the state," Sapin said in an interview with Bloomberg Television in Paris. "The government is there to ensure that the strategic interests of France are protected."
The U.S. company is "open to continuing dialogue," Seth Martin, a GE spokesman, said, without elaborating on what subjects might be part of a discussion with French leaders. "Our proposal is good for France, for Alstom and for GE."
It would be highly desirable that GE sells its signaling and freight-train businesses representing $3.9 billion of revenue to Alstom Transport, Montebourg wrote. The minister asked Immelt to detail GE's commitments to creating high-value jobs and said France must retain its "technological sovereignty" over nuclear activities.
Different Business
Heymann said it would be "ludicrous" to combine Alstom's passenger rail business with GE's transportation division, which specializes in diesel-electric freight locomotives and mining equipment.
"This is like putting a truck and an electric scooter business together. They don't have anything in common," he said. "It highly underscores the gross lack of understanding of what the businesses that they're proposing to combine actually do." Heymann has a market perform rating on GE.
GE last week proposed paying $17 billion for the Alstom units that make steam, gas, hydro and wind turbines and energy-grid products. Under the deal with Fairfield, Connecticut-based GE, Alstom would keep its transport business, which makes trains, metros, tramways and signaling systems, and represents less than 30 percent of sales.
GE also pledged "net growth in jobs in acquired businesses in France, with the employee mix moving toward high-value manufacturing and engineering jobs," and said it's open to a joint-venture with Alstom in signaling.
Rail Assets
Hollande didn't specify what kind of employment guarantees might be acceptable. France's jobless rate was 10.4 percent in the first quarter. That matched the rate a year earlier, tying for the highest since 1999, according to data compiled by Bloomberg.
While Alstom named a committee of independent directors on April 30 to study GE's offer and will hold exclusive talks if the plan wins support, Montebourg has said he would prefer a Siemens offer in which the German company would take most of Alstom's energy assets while Alstom would get most of Siemens's rail business.
Siemens has asked Alstom to give it the same access to its books as GE before it makes a formal offer. The Munich-based company has proposed swapping many of its rail assets for Alstom's energy business, which it values at as much as 11 billion euros, people familiar with the plan have said.