G-7 Pledges to Find New Energy Supplies to Counter Russia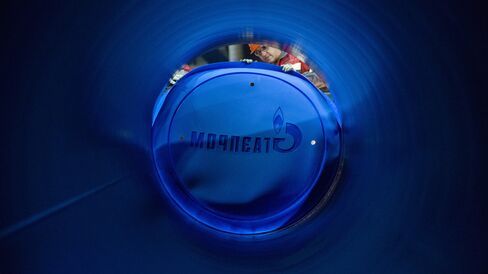 The Group of Seven nations agreed to find new sources of energy to prevent Russia from using its oil and gas reserves as a "political weapon," German Economy and Energy Minister Sigmar Gabriel said.
The world's leading economies will expand their natural gas infrastructure, increase their efforts to save energy and use renewable power as part of the agreement, Gabriel said at a press briefing in Rome today where he attended a meeting of G-7 energy ministers. The group will also draw up a plan to deliver emergency supplies to countries like Ukraine that may face shortages, Italy's Federica Guidi said.
"We've seen Russia use energy as a weapon on previous occasions," U.K. Energy Secretary Ed Davey said at a news briefing after the talks. "In the past we let that happen and then we went back to business as usual. We've decided we're not going to allow that this time. We have taken measures to start reducing Europe's dependency on Russian gas."
The European Union's reliance on Russian oil and gas has hampered the global response to escalating violence in Ukraine and the worst standoff with Russia since the Cold War. Russia under President Vladimir Putin provides about a third of the EU's oil and gas needs, mainly via state-controlled OAO Gazprom and OAO Rosneft through pipelines that cross Ukraine.
"We have moved to a common understanding that energy security is a collective issue," U.S. Energy Secretary Ernest Moniz said at a briefing following the talks. The U.S. is focusing on diversifying energy supplies, he said.
'Collective Security'
The ministers agreed to promote alternatives to burning hydrocarbons, including nuclear power, renewable generating technology and alternative forms of fuel, according to an e-mailed statement of their conclusions that didn't mention Russia. They also cited the need to invest in power networks, building connections between nations and incorporating smart-grid technology. The U.K. is pushing European countries to expand the use of shale gas.
"At the core of the agenda is collective energy security," Guidi, Italy's minister for economic development, said in the statement. The ministers agreed they "need to support diversification of primary sources and of energy production and dispatching technologies."
The conclusions will feed into a summit of G-7 leaders in Brussels in June. That meeting was called after Russia, this year's Group of Eight host, was suspended from participating and the Sochi summit canceled followed Russia's annexation of Crimea.
Energy Mix
In Europe, the review of the energy mix "will mean never being 100 percent dependent on Russia," German Chancellor Angela Merkel said after meeting with President Barack Obama in Washington on May 2. Germany, Europe's biggest economy and Russia's biggest EU trading partner, is pushing domestic renewables and energy efficiency, mirroring a wider EU strategy to protect supplies and the climate.
"This is a wake-up call from the geopolitical standpoint to think globally," said Stephen Schork, president of the Schork Group Inc., a consulting firm in Villanova, Pennsylvania.
The U.S., whose industry and consumers are benefiting from energy prices depressed by a domestic shale gas boom, can help with gas imports, Obama said in March during a visit to Brussels.
The EU's overall energy dependency rate -- the percentage of imports from outside the bloc -- is set to rise to 80 percent by 2035 from the current 60 percent, according to the International Energy Agency.
Dependence Arc
One group of countries, which runs in an arc from Estonia in the northeast through Austria and down to Greece in the southeast, gets more than 75 percent of its gas imports from Russia, European Commission data show. Other major suppliers to Europe are Norway, Algeria and Qatar.
"No one expects that we can reduce Europe's dependency overnight," Davey said in an interview yesterday. "But I think if you see the links with the climate-change package that's already well-developed, there's clearly a lot of investment we can do in everything from energy efficiency to renewables to nuclear, as well as other forms of gas."
Before it's here, it's on the Bloomberg Terminal.
LEARN MORE