Buffett's BNSF Sees U.S. Tank-Car Rules Matching Canada's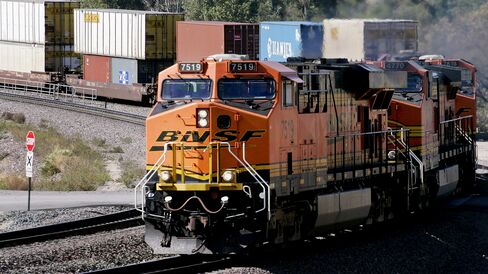 May 5 (Bloomberg) -- BNSF Railway Co., the carrier owned by Warren Buffett's Berkshire Hathaway Inc., expects U.S. regulators to match Canada's plan for phasing out older tank cars used to carry crude oil.
A proposal by car owners to eliminate the older equipment over seven years is too long, BNSF Chairman Matt Rose said. U.S. officials are now reviewing crude-by-rail safety proposals after Canada said it would require the older cars to be retrofitted or retired over a three-year period.
"You'll see those two regs harmonize," Rose said in an interview during Berkshire's annual shareholder meeting on May 3 in Omaha, Nebraska. "The thing that both governments understand is that it'd be craziness to have one reg different than the other reg."
Rose's viewpoint carries weight because Fort Worth, Texas-based BNSF is the main carrier hauling crude from the Bakken shale formation centered in North Dakota. Regulators in Ottawa and Washington are zeroing in on tank-car safety after a series of crashes during the past year, including the explosive Quebec derailment that killed 47 people in July.
While railroads champion sturdier tank cars, lessors and oil producers say it may be too costly to refit the so-called legacy models. The Association of American Railroads estimates that there are about 74,000 cars in use predating manufacturers' voluntary agreement to tighten standards in October 2011.
'Huge Caveat'
The U.S. and Canada have flexibility on matching their phase-out times because Canada's three-year period for removing the older cars begins when the regulations are in place, Rose said.
"What Canada said was, 'We're going to transition in three years.' They went on to say, 'As soon as the rulemaking is complete,'" Rose said. "What they didn't say is, when is the rulemaking complete. It's a huge caveat."
Last week, the U.S. Transportation Department submitted its proposal to improve crude-by-rail safety to the White House Office of Management and Budget, without saying how quickly it wants to remove older cars.
"The most important issue is to get clarity around it, and then allow people to start buying toward it," Rose said.
There are about 18,000 tank cars built under the 2011 standards with thicker hulls and additional steel-plate reinforcement, according to the Washington-based AAR. The association has urged the Transportation Department to aggressively phase out the pre-2011 tank cars and said new rolling stock should have even more protection.
In February, BNSF sought bids for a possible purchase of 5,000 tank cars built to the AAR standard. Railroads typically don't buy specialized equipment such as tank cars, and BNSF said at the time that its interest was intended to jump start the shift to the safer units.
To contact the reporters on this story: Noah Buhayar in Omaha, Nebraska, at nbuhayar@bloomberg.net; Thomas Black in Dallas at tblack@bloomberg.net
To contact the editors responsible for this story: Ed Dufner at edufner@bloomberg.net; Dan Kraut at dkraut2@bloomberg.net Molly Schuetz