Billionaire Tan's Emperador Falls on Whyte & Mackay Talks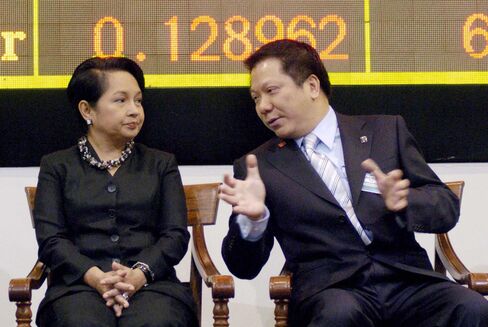 Emperador Inc., the brandy maker that gets almost all its revenue from the Philippines, fell the most in five months in Manila trading after confirming talks to buy Scottish spirits company Whyte & Mackay to expand overseas.
Emperador dropped 3.7 percent to close at 11.94 pesos, the biggest decline since Nov. 20. Its parent Alliance Global Group Inc., led by billionaire Andrew Tan, fell 1.8 percent to 30.45 pesos. The Philippine Stock Exchange Index rose 0.3 percent.
"This acquisition is not necessarily positive because Emperador will be entering a market that's different from what it is used to in the Philippines," said James Lago, head of research at PCCI Securities Brokers Corp. in Manila. "The products of Whyte & Mackay may not also be a big hit in the Philippines."
The purchase could move Manila-based Emperador closer to its goal of having a 33 percent share of the global brandy market in four years. Its announcement today comes after a Bloomberg News story last week saying the talks are at an advanced stage though they could still fall apart over valuation, according to people familiar with the process.
"We confirm that Emperador Inc. is in ongoing discussions," the Philippine company said in a filing. "No agreement has yet been reached in this regard and Emperador is constantly on the look-out for opportunities to expand its liquor business both domestically and globally."
Company Valuation
The transaction may value closely held Whyte & Mackay at about 400 million pounds ($675 million), the people familiar said May 2, without providing a basis for the valuation. That figure is similar to Emperador's 2013 sales, which rose 27 percent to 29.86 billion pesos ($672 million), according to its annual report.
"The stock's behavior is an indication that some investors are not receptive to the transaction because they find the valuation a bit expensive," PCCI Securities' Lago said.
Emperador markets brandy under its own name and said it accounts for seven of 10 liquor bottles sold in Manila. As part of its international ambition, the company bought Spanish brandy company San Bruno S.A. It also purchased vineyard land in Madrid and is expanding brandy production there.
Diageo Plc, the world's biggest distiller, acquired Whyte & Mackay last year through the purchase of a controlling interest in its Indian parent, United Spirits Ltd. Diageo subsequently offered to sell most of the business to assuage concerns by the U.K. Office of Fair Trading that the takeover could lead to higher prices in the U.K. for blended whiskey.
Diageo's proposal included the disposal of Jura malt whisky and all its blended brands, including Whyte & Mackay and whiskies it sells to retailers to bottle under their own labels, the regulator said in November. The Dalmore and Tamnavulin malt distilleries would be retained, it said.
United Spirits bought Whyte & Mackay for 595 million pounds in 2007.
Before it's here, it's on the Bloomberg Terminal.
LEARN MORE