Democrats Should Boycott Benghazi Committee, Schiff Says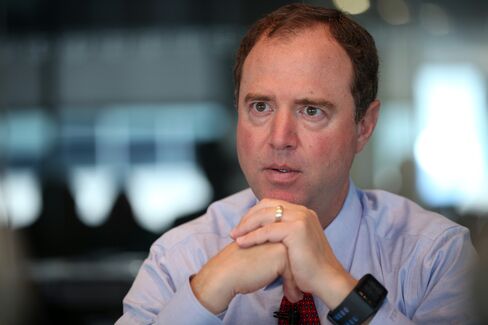 Democrats should boycott a select committee that House Speaker John Boehner plans to form to investigate the 2012 attacks on a U.S. mission in Benghazi, Libya, Representative Adam Schiff said.
The California Democrat, who sits on the House intelligence committee, said today there's no reason for Democrats to participate in another probe of the Benghazi attacks that's aimed partly at undermining former Secretary of State Hillary Clinton's potential presidential bid in 2016.
"It's a colossal waste of time," Schiff said on "Fox News Sunday."
"I don't think it makes sense for us to give this select committee any more credibility than it deserves," he said. "And frankly, I don't think it deserves very much."
Schiff's comments underscored the partisan tensions that continue 20 months after the attacks that killed U.S. Ambassador Chris Stevens and three other Americans and became a political flashpoint in the 2012 presidential election.
Boehner, an Ohio Republican, called for a select committee last week after the release of a White House e-mail that Republicans say shows the Obama administration tried to blame the attacks on an anti-Islamic video for political advantage. Boehner had resisted calls for a select committee until the e-mail surfaced, aides said last week.
"The administration still does not respect the authority of Congress to provide proper oversight," Boehner said in a statement outlining his decision. "This dismissiveness and evasion requires us to elevate the investigation to a new level."
Talking Points
The e-mail from White House Deputy National Security Adviser Ben Rhodes was dated Sept. 14, 2012 -- three days after the attacks -- and was designed to help prepare then-United Nations Ambassador Susan Rice explain what happened in Benghazi, and discuss protests in other Arab cities, on television talk shows.
One of the goals, Rhodes wrote, was "to underscore that these protests are rooted in an Internet video, and not a broader failure of policy."
A memo drafted by the Central Intelligence Agency on Sept. 15 to help officials explain the attacks said "demonstrations in Benghazi were spontaneously inspired by the protests at the U.S. embassy in Cairo and evolved into a direct assault." It also said "extremists participated in the violent demonstrations."
Best Judgment
Michael Morell, the CIA's former deputy director, told Congress last month that politics played no role in his agency's initial flawed account of the attacks. He said erroneous reports of a protest at the Benghazi mission that day were based on the best judgment of CIA analysts at the time.
"We have to get to the bottom of this," said Senator Kelly Ayotte, a New Hampshire Republican, who has long called for a select committee to be formed.
Ayotte, speaking on Fox, said the White House e-mail shows "the video story clearly came from the White House."
Senator Lindsey Graham, a South Carolina Republican, said the e-mail indicated a deliberate attempt to deflect criticism of President Barack Obama's anti-terrorism efforts during the 2012 campaign.
"They were trying to protect the president's re-election," Graham said on CBS's "Face the Nation" program.
Public Opinion
White House spokesman Jay Carney denied that last week. The e-mail was broader than Benghazi and was aimed at responding to "protests happening in Tunis, in Khartoum, in Cairo, everywhere," he said at a May 1 press briefing.
A Fox News poll conducted April 13-15 showed 60 percent of U.S. voters want lawmakers to keep investigating the Benghazi attacks, down from a high of 73 percent in June 2013. The poll of 1,012 registered voters had a margin of error of plus or minus 3 percentage points.
A Bloomberg poll in March found that 51 percent of adults don't believe Clinton's claim that she never saw requests for increased security at the Benghazi mission before the 2012 attacks. The survey of 1,001 adults had a margin of error of 3.1 percentage points.
Also last week, Representative Darrell Issa, a California Republican and chairman of the House Oversight and Government Reform Committee, subpoenaed Secretary of State John Kerry to testify before his panel.
"The State Department's response to the congressional investigation of the Benghazi attack has shown a disturbing disregard for the department's legal obligations to Congress," Issa wrote in a May 2 letter to Kerry.
The most recent select committee was created in 2005 to examine emergency preparedness and government responses to Hurricane Katrina, according to the Congressional Research Service.
Before it's here, it's on the Bloomberg Terminal.
LEARN MORE