Australia Stocks Priciest Ever Seen Rallying: Chart of the Day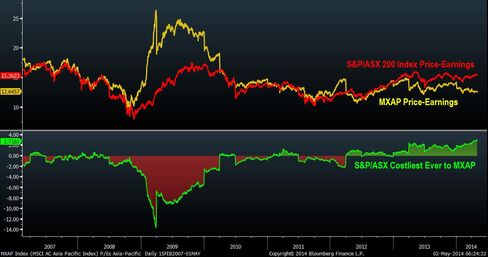 Australian stocks, which have never cost so much relative to a gauge of Asia-Pacific shares, may get more expensive as an economic recovery broadens, said a global money manager at Equity Trustees Ltd.
The CHART OF THE DAY's top panel shows Australia's S&P/ASX 200 Index trades for 15.3 times estimated earnings and the MSCI Asia Pacific Index has a price-earnings ratio of 12.7, based on Bloomberg forecasts for profits. The lower panel shows the spread between the valuation measure for the two gauges sank at the end of April to the narrowest since Bloomberg began compiling the data in 2005.
Investors are paying for earnings growth in the region's fourth-biggest equity market as record-low interest rates drive a recovery in housing and consumer spending. The S&P/ASX 200 reached the highest level in almost six years last month.
"We've got more stable global conditions and low interest rates, suggesting some premium for future earnings is warranted," said George Boubouras, Melbourne-based chief investment officer at Equity Trustees, which oversees $32 billion for clients. Valuations "are expected to expand in the year ahead."
Benchmark stock gauges in Japan, Hong Kong and China fell in 2014, dragging valuations lower for Australia's larger regional peers. Australia's S&P/ASX 200 hasn't diverged from the MSCI World Index, a global developed-market measure that counts nine U.S. companies among its 10 most-heavily-weighted firms.
Australian gross domestic product growth will quicken to
2.8 percent this year from 2.4 percent in 2013, while Asia's expansion will slow to 6.2 percent from 6.3 percent, according to the median forecasts of economists surveyed by Bloomberg.
Before it's here, it's on the Bloomberg Terminal.
LEARN MORE