South Sudan's Kiir Agrees to Meet Rival at Kerry Request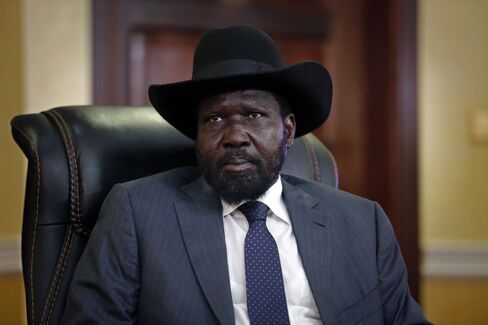 May 3 (Bloomberg) -- South Sudan's President Salva Kiir agreed to hold talks with rebel leader Riek Machar, as the United Nations Security Council is seeking to end a four-month conflict mired in ethnic violence.
Kiir, who met with U.S. Secretary of State John Kerry at the president's office in Juba yesterday, said he's committed to "take forceful steps in order to move to end the violence and implement the cessation-of-hostilities agreement and to begin to engage on a discussion with respect to a transition government," Kerry told reporters after the 90-minute meeting.
Machar, speaking later in a phone interview from South Sudan's Upper Nile state, said he sees no reason to meet Kiir. "What are we going to discuss, the genocide? Or the root cause of the problems," he said. "If he's serious, then the delegation would have resolved it," Machar said, referring to negotiations in Ethiopia between the government and rebels.
South Sudan, the world's newest nation, has been wracked by targeted ethnic violence since December when Kiir, a member of the Dinka ethnic group, accused Machar, an ethnic Nuer and former vice president, of plotting a coup that failed. Machar and his allies deny the accusation. The UN estimates that thousands of people have been killed in the fighting, with about a million more fleeing their homes.
Oil Production
Landlocked South Sudan took over three-quarters of the formerly united Sudan's output of 490,000 barrels a day of oil when it became independent in July 2011. South Sudan is producing about 160,000 barrels per day of crude from Upper Nile state, the only region still pumping oil in the country after months of violence, the Petroleum Ministry said in April.
UN human-rights chief Navi Pillay, who visited South Sudan this week, told the Security Council yesterday in New York that all sides of the conflict have acted in ways harking back "grimly to events that led up to the Rwandan genocide" in 1994, which killed about 800,000 people within three months.
Kerry said he made clear to Kiir "that he needs to do everything in his power to end the violence and also begin a process of national dialogue, a process by which there's a beginning of real discussions about a transition government that can bring peace to the country."
The top U.S. diplomat also spoke with Machar by phone after returning to Addis Ababa, Ethiopia, from Juba, according to a State Department official who wasn't authorized to be identified publicly.
Meaningful Dialogue
Kerry urged Machar to meet as early as next week with regional negotiators to discuss ending the violence and beginning a meaningful political dialogue with Kiir, the official said. Kerry made clear that he had made the same request of Kiir, and that the South Sudanese president had indicated his willingness to attend.
Machar said he didn't get enough information from Kerry about the proposed agenda of such a meeting and rejected the intervention of a regional force to deter fighting between his followers and government troops.
"I continue to refuse the deployment of a protection and deterrent force in South Sudan. I told John Kerry about that," he said, adding that he would accept an increase in UN troops assigned to protect cease-fire monitors.
Rebel demands for federalism and their complaints about ethnic killing, restrictions on movements of former political detainees and the government's alliance with Uganda's military and Sudanese rebels can be discussed at peace talks in Ethiopia, Machar said.
Potential Sanctions
Adama Dieng, UN Secretary-General Ban Ki-moon's special adviser on the prevention of genocide who traveled to South Sudan with Pillay, said both sides "either denied attacks against civilians or justified them on the grounds that they were carried out in self-defense."
U.S. Ambassador to the UN Samantha Power said the magnitude of atrocities being committed requires the council to "consider urgently whether to place" sanctions in parallel to measures that may be introduced under an executive order signed by President Barack Obama on April 3.
In the meantime, Power said she will circulate a draft resolution to boost the UN peacekeeping mission's mandate to focus "more fully on civilian protection, human rights monitoring and investigation and delivery of food and emergency supplies."
Both parties have flouted a cease-fire signed in January, as peace negotiations in Addis Ababa led by regional mediators have faced repeated delays.
'Not Acceptable'
The idea of forming a transitional government is "not acceptable whether it's with Salva Kiir or without," Kiir's spokesman, Ateny Wek Ateny, said in an interview in Juba. "We don't see any reason we have to go for a transitional government when in fact we are an elected government."
Kiir was elected president in 2010, a year before South Sudan gained independence from Sudan.
"This meeting with Machar and President Kiir is critical to the ability to be able to really engage in a serious way as to how the cessation of hostilities agreement will now once-and-for-all really be implemented," Kerry said.
Kerry said the foreign ministers of Uganda, Ethiopia and Kenya, whom he met to talk about South Sudan yesterday, "are absolutely committed to move troops from those countries almost immediately."
The East African ministers had indicated support for an initial deployment "in the neighborhood of 2,500 troops through 5,500," Kerry said. "Depending on the situation, more might have to be contemplated."
Additional African troops would be sent under the command and control of the UN, according to a U.S. official who wasn't authorized to be identified. A UN Security Council resolution would be needed to change the mandate, the official said.
To contact the reporters on this story: Nicole Gaouette in Juba at ngaouette@bloomberg.net; Sangwon Yoon in United Nations at syoon32@bloomberg.net
To contact the editors responsible for this story: John Walcott at jwalcott9@bloomberg.net Bruce Stanley, James Amott