Pernod Doesn't Plan More U.S. Wine Purchases After Kenwood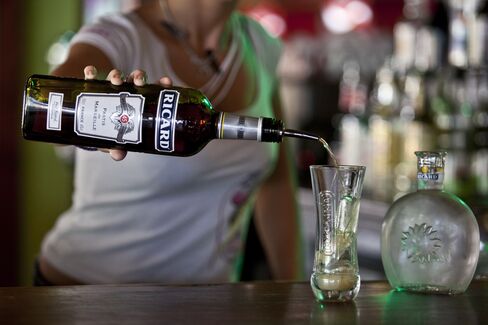 Pernod Ricard SA doesn't plan to acquire additional wineries in the U.S. following last week's agreement to buy Kenwood Vineyards in California.
The Australian newspaper said today the Paris-based company would be interested in buying Treasury Wine Estates Ltd.'s U.S. business, citing an interview with Jean-Christophe Coutures, chief executive officer of Pernod Ricard Winemakers.
"We have not been in talks with Treasury Wine Estates or looking to acquire any further wine assets in the U.S. market at this time," Coutures said in an e-mailed statement to Bloomberg News following the newspaper report.
Treasury, owner of U.S. brands including Beringer and Stags' Leap, had earlier soared the most on record in Sydney trading. The shares pared gains after Coutures' statement and closed 6.5 percent higher at A$4.09.