Issa Subpoenas Kerry as Boehner Plans Benghzai Panel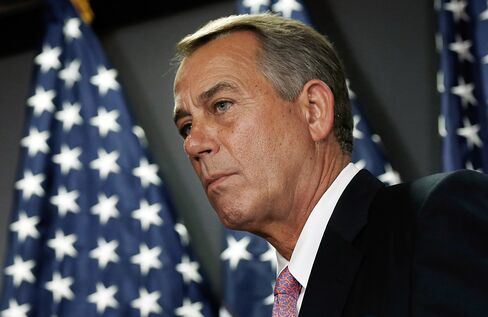 May 3 (Bloomberg) -- House Speaker John Boehner plans to form a select committee to investigate the 2012 attack on the U.S. mission in Benghazi, Libya, escalating Republican scrutiny of the administration's handling of the incident.
Boehner's announcement yesterday came as House Oversight Committee Chairman Darrell Issa issued a subpoena to Secretary of State John Kerry to testify on the administration's response to congressional investigations. That includes White House e-mails that Issa says had been withheld from Congress.
Republicans say the administration has been obstructing the truth about the Benghazi attack, which killed four Americans, including U.S. ambassador Christopher Stevens.
"Four Americans died at the hands of terrorists nearly 20 months ago, and we are still missing answers, accountability, and justice," Boehner said in a statement.
The frontrunner to lead the House's investigation is Trey Gowdy, a former state and federal prosecutor from South Carolina who defeated a Republican incumbent in the primary and then went on win his House seat in 2010. Gowdy has impressed Republican leaders with his aggressive questioning of administration officials.
Senate Majority Leader Harry Reid, in a two-paragraph statement yesterday, said, "Republicans are showing yet again that they have nothing to offer the middle class.
''Republicans care more about defending billionaires like the Koch brothers and trying to rekindle debunked right-wing conspiracy theories than raising the minimum wage or ensuring women receive equal pay for equal work,'' Reid said.
'Disturbing Disregard'
Issa said the State Department withheld White House e-mails related to the attacks that he demanded both in writing and by subpoena.
The e-mails, released in response to a separate Freedom of Information Act lawsuit from the conservative watchdog group Judicial Watch, include one from Deputy National Security Adviser Ben Rhodes preparing talking points to use in media interviews about the U.S. response to the attacks.
''The State Department's response to the congressional investigation of the Benghazi attack has shown a disturbing disregard for the department's legal obligations to Congress," Issa, a California Republican, wrote in a letter to Kerry today.
Marie Harf, a State Department spokeswoman, said Kerry will be in Mexico on March 21, the day Issa wants him to appear, and said Republicans would have known that if they had asked first.
'Playing Politics'
"What we're focused on, and what we think Congress should be focused on is how to do this better in the future and how to bring those responsible for justice -- not playing politics with Benghazi, as they continue to try to do," Harf told reporters in Washington. Kerry was in South Sudan.
Boehner had resisted appointing a special committee. He told Fox News on April 8 that such a panel might be needed at some time yet "at this point, it's not."
The e-mails changed his thinking, according to multiple aides who spoke on condition of anonymity to discuss private conversations. Boehner was furious that the e-mails were withheld, the aides said, and is irritated by what he considers evasion and obstruction by the White House.
Democrats in Congress said the Republican focus on Benghazi is simple politics -- playing to their base before the midterm elections in November while trying to distract from issues such as income inequality and immigration.
Not 'Contacted'
"We have not been contacted by Speaker Boehner or the Republican leadership concerning a select committee proposal," said Drew Hammill, a spokesman for Minority Leader Nancy Pelosi.
Elijah Cummings, the top Democrat on the Oversight Committee, said Democrats weren't notified in advance of the Kerry subpoena and that Issa hadn't checked whether the secretary would be in the country when the chairman wants him to appear before the panel.
"These actions are not a responsible approach to congressional oversight, they continue a trend of generating unnecessary conflict for the sake of publicity," Cummings said in a statement.
Hillary Clinton, not Kerry, was U.S. secretary of state at the time of the attacks. Democrats have accused Republicans of using the Benghazi investigations partly to focus criticism on Clinton, a possible presidential candidate in 2016.
Other Subpoenas
Issa has issued subpoenas to other Obama cabinet secretaries in the past, including Attorney General Eric Holder over the "Fast and Furious" gun-running operation, and Health and Human Services Secretary Kathleen Sebelius on the implementation of the 2010 health-care law known as Obamacare.
The Republican-led House later held Holder in contempt for noncompliance. The House is scheduled to vote May 8 on whether to hold former Internal Revenue Service executive Lois Lerner in contempt for refusing to testify before Issa's panel.
"Benghazi, Benghazi, Benghazi," Pelosi said yesterday in response to a question about the e-mails, saying she didn't think there was "anything new there."
To contact the reporter on this story: Derek Wallbank in Washington at dwallbank@bloomberg.net
To contact the editors responsible for this story: Jodi Schneider at jschneider50@bloomberg.net Mark McQuillan