Gross Says No Asset Bubbles Given 2% Fed Long-Term Rate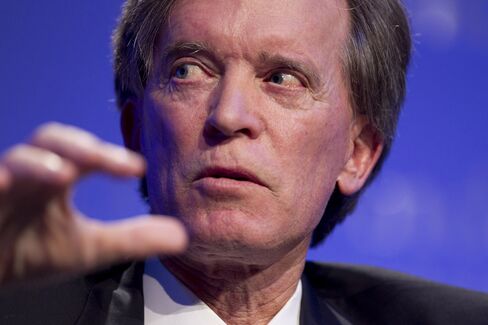 May 2 (Bloomberg) -- Pacific Investment Management Co.'s Bill Gross said the Federal Reserve is unlikely to raise interest rates, even with U.S. payrolls rising the most since 2012, until inflation reaches the target set by policy makers.
"Yes, the employment numbers are good," Gross, who manages the world's biggest bond fund, said in a radio interview on "Bloomberg Surveillance" with Tom Keene and Michael McKee. "But if the employment numbers can't generate inflation of 2 percent, then they are not moving off the dime."
Bonds fell and stocks gained after Labor Department figures showed today that employers boosted payrolls more than forecast in April, prompting investors to bet the Fed is closer to raising historically low borrowing rates as the U.S. emerges from a first-quarter slowdown. The job increases followed a government report yesterday that showed the Fed's favored gauge of inflation, the personal consumption expenditure price index, rose 1.1 percent in March.
"The market should focus more on yesterday's personal consumption expenditure report as opposed to Friday's employment number," Gross said.
The central bank, in a unanimous decision this week, kept its forward guidance on borrowing costs, saying it will consider a "wide range of information" in deciding when to raise the benchmark federal funds rate. The target rate has been in a range of zero to 0.25 percent since December 2008.
Late 2015
The Fed will likely end its bond buying program by November, and begin to raise the funds rate late in 2015, Gross said from Pimco's headquarters in Newport Beach, California.
Futures prices put the likelihood the Fed will start raising borrowing costs by its June 2015 at 54 percent, compared with 47 percent yesterday, based on trading on the CME Group Inc.'s exchange.
Pimco still favors short-term Treasuries, with maturities of five years or less. Gross expects the Fed to raise the target rate to as high as 2 percent, compared with a 4 percent market forecast. The so-called neutral policy rate is a level that Fed officials would view as consistent with full employment, growth and stable prices.
For the markets the "key is where the fed funds rate is going to be in 2017-2018," Gross said. "We think it might be around 2 percent."
Investor Flows
Investors withdrew an estimated $3.1 billion from the $230 billion Pimco Total Return Fund in April, the 12th straight monthly decline, Chicago-based Morningstar Inc. said in an e-mailed statement yesterday. The outflows represented about 1.3 percent of assets as of March 31, Morningstar said.
Gross, 70, has missed the rally in long-dated Treasuries in 2014 by concentrating on shorter-maturity bonds after last year misjudging the timing and impact of the Fed's plan to reduce stimulus. His fund has declined 1.6 percent in the past year, trailing 90 percent of similar funds. This year, the fund has advanced 2.2 percent, lagging behind 70 percent of rivals in 2014, according to data compiled by Bloomberg.
Gross disagreed with his colleague Scott Mather's recent comment that the U.S. economy had moved out of the so-called new normal stage of growth, which Pimco began using after the financial crisis to describe an extended period of low growth and inflation.
"Scott was a little out over his skis in terms of declaring the new normal dead," Gross said today.
Gross domestic product grew at a 0.1 percent annualized rate from January through March, compared with a 2.6 percent gain in the prior quarter, figures from the Commerce Department showed on April 30. American consumers were a lone bright spot as households spent more.
Pimco, a unit of the Munich-based insurer Allianz SE, managed $1.94 trillion in assets as of March 31.
To contact the reporter on this story: Liz Capo McCormick in New York at emccormick7@bloomberg.net
To contact the editors responsible for this story: Dave Liedtka at dliedtka@bloomberg.net Greg Storey