Goodman Fielder Heeding Sale Advice Is Best Bet: Real M&A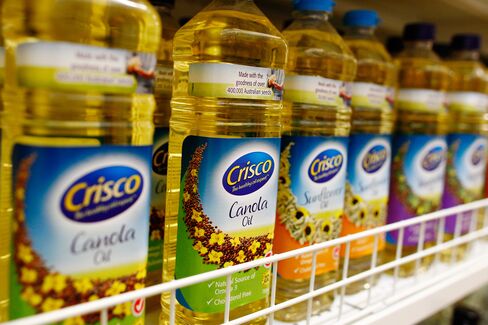 Goodman Fielder Ltd.'s best option may be to follow the advice of its biggest shareholder and negotiate a sale.
The Australian baker this week rejected as too low a 65-cents-a-share bid from Wilmar International Ltd. and First Pacific Co. that valued the company's equity at A$1.27 billion ($1.18 billion). With analysts projecting a loss this year at Goodman Fielder and more stock declines, shareholder Perpetual Ltd. says the maker of Helga's bread should enter into talks with its suitors.
Goodman Fielder is absorbing higher ingredient costs and losing out to supermarket brands, dragging the stock down 72 percent from its 2007 high. Even so, Wilmar and First Pacific may be willing to increase their bid to 70 cents as they look for food and dairy products to ply across Asia, said Morningstar Inc. Traders, who bid up the shares beyond the rejected price, see the possibility of a sweetened offer.
"If I were a Goodman shareholder, I would find the prospect of a new owner an attractive one," Ric Spooner, chief market analyst at CMC Markets in Sydney, said by phone. "If a buyer can be found who is able to create synergies and get extra value, that looks like a pretty good alternative."
Sydney-based Goodman Fielder competes with in-store brands at Australia's largest supermarkets, Coles and Woolworths Ltd., with products such as White Wings flour.
The takeover proposal came after shares of the 105-year-old company plunged 22 percent on April 2, when it said competition was hurting the grocery unit and bakery products were fetching lower-than-expected prices. In New Zealand, higher raw milk prices were eating into dairy earnings, Goodman Fielder said.
'Tough Business'
"It's a really tough business and I don't see it changing in a hurry," Peter Rae, a Melbourne-based analyst at Morningstar, said by phone. "The supermarkets really control pricing. They're introducing their own branded products and that's putting pressure on shelf space."
Goodman Fielder's revenue has fallen for four straight years and analysts expect the company to post a loss of almost A$44 million for the 12 months ending in June, data compiled by Bloomberg show. By fiscal 2015, though, Goodman Fielder is projected to return to a profit of A$75.6 million as the surge in raw milk price reverses.
Singapore-based Wilmar, which already holds a 10 percent stake in Goodman Fielder, is the world's largest palm oil trader and First Pacific controls PT Indofood Sukses Makmur, an Indonesian distributor of Cheetos and Lay's potato chips. They wanted four weeks to study Goodman Fielder's accounts and determine any final bid.
Consider It
Goodman Fielder said the bid was "opportunistic" and doesn't properly value the company. Even so, its largest shareholder Perpetual is "encouraging the company to engage with Wilmar," Paul Skamvougeras, the firm's deputy head of equities, said after the company rejected the offer. Perpetual owns a 12 percent stake, according to data compiled by Bloomberg.
"It would make sense for the shareholders of Goodman Fielder to consider this very carefully," Ben Santoso, an analyst at DBS Vickers Securities Pte. in Singapore, said in a phone interview. On its own, Goodman Fielder will "die slowly."
A spokesman for Goodman Fielder declined to comment and a representative for Wilmar and First Pacific in Sydney didn't return a call seeking comment.
After starting out in 1991 with an oil-palm plantation in Indonesia, Wilmar now mills flour, refines sugar and produces fertilizer and has a market value of $17 billion. Goodman Fielder in 2012 rejected a takeover approach from Wilmar after Wilmar had acquired its 10 percent stake.
Eyeing Brands
Wilmar is eyeing Goodman Fielder's brands such as Crisco oil and and MeadowLea margarine, according to Santoso. The company could funnel those products into China, India and Indonesia, where it already distributes cooking oil, noodles and other ingredients, he said.
Jakarta-based Indofood sells everything from Orchid Butter to Maggi seasonings. Chief Executive Officer Anthony Salim is also chairman of Hong Kong-listed First Pacific, which has a market value of $4.8 billion.
Before the takeover proposal, analysts expected Goodman Fielder shares to slide to 54 cents in the next 12 months, according to data compiled by Bloomberg. Goodman Fielder peaked at A$2.45 in July 2007. The stock closed yesterday at 68 cents in Sydney, valuing the company at A$1.3 billion, higher than the rejected offer.
Wilmar and First Pacific may return with a bid of 70 cents to 75 cents for each Goodman Fielder share, Macquarie Group Ltd. said in an April 28 report.
Comparable Deals
A bid of 75 cents a share would be consistent with similar takeovers, said CIMB Group Holdings Bhd. Including net debt, that price would value Goodman Fielder at 8 times projected earnings before interest, taxes, depreciation and amortization, the bank said. Morningstar said Wilmar and First Pacific shouldn't pay more than 70 cents a share.
Among 30 takeovers of food companies in Asia greater than $100 million in the past five years, the median Ebitda multiple is about 10, according to data compiled by Bloomberg.
There's a risk the suitors won't return at all and also little chance of a rival bidder, Macquarie said in its report. After Goodman Fielder's profit warning last month, there's a chance Wilmar and First Pacific will cut the bid after studying the company's accounts, Stuart Jackson, an analyst at JPMorgan Chase & Co. in Sydney, said in an April 28 report.
Higher Offer?
All the same, following Goodman Fielder's stock-market slump, Wilmar and First Pacific can afford to raise their offer as demand in Asia rises for the Australian company's products, said Rae at Morningstar.
The companies are prepared to raise their bid by at least a couple of cents a share, the Australian Financial Review reported this week, without saying where it got the information.
"There's room for a few cents more," Rae said. "If they wanted to do something, now is probably the best time."