For a Minnesota Mine, It's Jobs vs. the Environment
Plans for a mine in the Iron Range pit jobs against the environment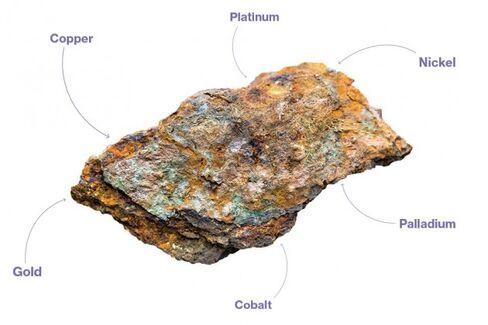 PolyMet Mining seems an unlikely candidate to launch North America's next mineral boom. In its 33 years of existence, it hasn't mined a single ounce of marketable ore. The company has posted zero revenue in those three decades, while piling up almost $100 million in losses. And its main physical asset is an abandoned factory filled with idled rock-crushing equipment on a desolate ridge in northeastern Minnesota.
Yet Jon Cherry, an environmental engineer and PolyMet's chief executive officer, says the company's profitless days are numbered, thanks to technology he says can squeeze big amounts of difficult-to-extract copper and nickel from the eastern edge of the historic Mesabi Iron Range. PolyMet says its copper deposits, on land about 65 miles north of Duluth, Minn., alone could be worth more than $10 billion. "These metals are incredibly strategic," says Cherry, standing in a drafty warehouse surrounded by hundreds of boxes filled with core samples PolyMet drilled in the 1990s and early 2000s. "They need to be developed in the U.S. Billions of tons of ore are out there waiting."
The source of Cherry's optimism is the 5 square miles of forest that Toronto-based PolyMet controls atop the Duluth Complex, a subterranean rock formation believed to hold the world's largest untapped trove of copper and nickel, along with ample amounts of platinum, palladium, cobalt, and gold.
Mining companies have long known the Duluth Complex is rich with metals. But the difficulty and expense of freeing the coveted ores have always frustrated their dreams. Cherry says things are different now. Rising demand in China and other developing nations has pushed prices higher, while technological advances have made it more economical to separate specks of valuable ore from mountains of worthless rock.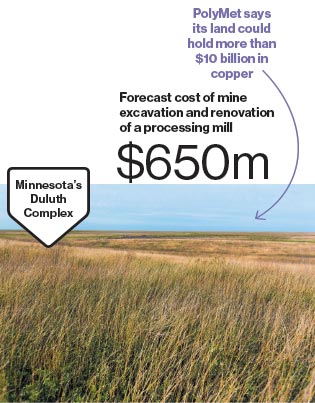 That progress could come at a steep environmental cost. The PolyMet mine will generate mounds of waste rock that, after reacting with oxygen and rainwater, can leak sulfuric acid and other pollutants into groundwater. Water used to help separate ore from rock also could discharge contaminants.
Pollution could persist for decades beyond the mine's planned 20 years of use. That's put PolyMet in the middle of a fractious jobs-vs.-environment battle in Minnesota. Environmental groups and American Indian tribes want to stop the company's efforts, or at least force it to set aside money so taxpayers won't get stuck with a pollution cleanup bill later.
PolyMet says the mine would bring 360 full-time jobs, a godsend for struggling towns such as Hoyt Lakes, Babbitt, and Ely. Cherry says those communities would have a vested interest in making sure the mine operates cleanly and sustainably. "Honestly, I can't think of any people in better position to ensure that we protect the environment," he says. "They work here, they live here, they raise kids here. Mining is in their blood."
Opponents say PolyMet has proposed unproven methods for ensuring that toxic materials don't leach into a watershed that feeds Lake Superior. They also worry that PolyMet's deep-pocketed partner—Anglo-Swiss mining giant Glencore Xstrata, which owns 29 percent of the company—would be shielded from cleanup liability.
Projects such as the Summitville gold mine in Colorado have bred mistrust. The mine closed in the 1990s, and the owner went bankrupt. An Environmental Protection Agency review said taxpayers could still be on the hook for as much as $235 million in cleanup costs. "The history of financial liability evasion within the … mining industry is deplorable," according to a 2012 report by Mining Truth, a Minnesota advocacy group working against PolyMet's plan.
After years of review, the EPA in March gave a favorable grade to a revised environmental impact statement for PolyMet's mine, while noting that more information is needed on future cleanup costs before the statement gets final approval. The company wants to start digging for ore in 2016.
This bodes well for other companies that have secured land for possible Duluth Complex mines. They include Twin Metals Minnesota, a joint venture of Canada's Duluth Metals and Chilean copper giant Antofagasta, as well as Teck Resources. "We're very excited about the potential," says Twin Metals spokesman Bob McFarlin.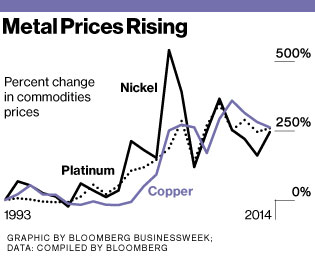 Mines excavating "red" iron ore, the core ingredient of steelmaking, sprouted in Minnesota's rugged north in the late 1800s. Mining shifted to taconite, a lower-grade iron ore, in the mid-20th century. Copper was discovered in the Duluth Complex in the 1940s, but in the late '60s United States Steel concluded that mining there wouldn't be profitable. In 1989, Fleck Resources, a privately held Vancouver company, acquired U.S. Steel's mineral leases and started its own round of exploration. Nothing much happened until 2005, when the former Fleck—renamed PolyMet—bought a nearby taconite processing plant that had been abandoned by bankrupt LTV Steel. Prices of copper and nickel were climbing, in part because of demand in emerging markets. Copper prices more than doubled from 2004 to 2011, to $7,600 a metric ton, while nickel rose 26 percent, to almost $19,000 a metric ton.
Jim Miller, a geologist at the University of Minnesota at Duluth, says the formation's copper and nickel ore tends to be "low-grade," or with lesser concentrations of the metals within the rock than in other deposits around the world. He likens the complex to a collection of boxes containing pennies and nickels. "There aren't many coins in each box, but there are incredible volumes of those boxes," Miller says. "We're talking at least 50 years of mining, if not a century."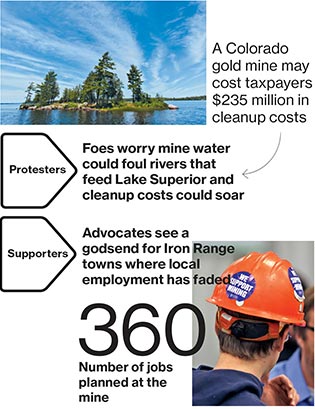 That's a tempting prospect for Hoyt Lakes, a city of 2,000 founded in the 1950s to house taconite miners and their families. It's been hurting since the closure of the LTV mine in 2001 killed 1,400 jobs, says Mayor Mark Skelton. His wife, a nurse, is one of the locals who commute 25 miles to Virginia, Minn., each day because "that's all the employment we have," he says. Today, blue-and-white "We Support Mining" stickers, banners, and posters are displayed in bar windows, front yards, and on the helmets of the local amateur hockey team, the Minnesota Iron Rangers. Mining supporters packed seven buses on a snowy night in January to travel to Duluth for a public hearing on PolyMet's plans. Hundreds of opponents showed up with "Stop PolyMet!" signs.
The company proposes to spend $650 million digging an open-pit mine on wetlands in the Superior National Forest and renovating the old LTV mill. (Cherry says the plant gives PolyMet an advantage over potential rivals that would have to spend more than $1 billion to build their own mills.) Slabs of rock would be mined from holes blasted as deep as 700 feet, then trundled to the mill about 6 miles away.
The mined rock would be crushed into powder inside spiky, spinning cylinders the size of pickup trucks, and the powder mixed with water to make a slurry. The slurry would flow into a series of flotation tanks where compressed air and agitation create foamy bubbles that rise to the top like the head on a mug of beer. Copper and nickel that adhere to the bubbles would be skimmed off and sold. PolyMet plans to build an additional hydrometallurgy plant that will use heat and pressure to separate precious metals such as platinum.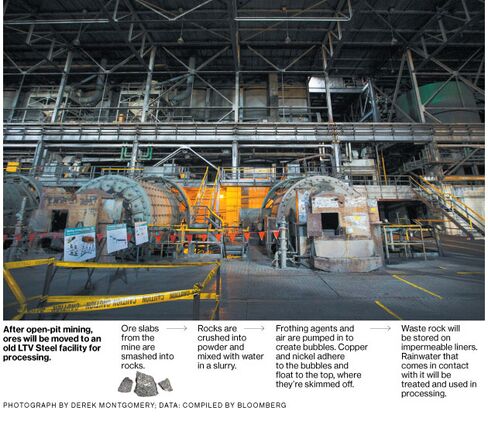 Environmentalists fear that fouled rock and water could threaten drinking water, as well as habitats for wild rice, fish, and other species. PolyMet says stockpiles of waste rock at the mine site will sit on impermeable liners so groundwater can't get in, while rainwater that comes into contact with the piles will be treated. Eventually, much of the waste rock would be backfilled into the mined-out pits and covered with water. Before any water used in the process is discharged into the environment, the company says, it would be treated using reverse osmosis technology similar to that used in desalination and home filtration. PolyMet says a pilot plant has successfully treated 3 million gallons of contaminated water left from the LTV plant.
Aaron Klemz, a mine opponent and spokesman for Friends of the Boundary Waters Wilderness, says these cleanup methods are "as good as you're going to get," but adds that PolyMet is "very optimistic" to think it can contain all the fouled water. "If you can't capture the water, you can't treat it," he says. Polluted water could be leaching out of the mine area long after the mine is closed, he says.
Glencore has invested about $130 million in PolyMet and has pledged to buy all of the company's product for at least five years. Klemz wonders why Glencore hasn't taken a controlling stake, unless it's to avoid liability for future cleanup. "It looks like they just want access to minerals" without the cleanup worries, he says. A Glencore spokesman declined comment.
Foes like Klemz want PolyMet to set aside cash or bonds now to ensure that funds will be available for clean-up long into the future. Cherry says the company will monitor and mitigate pollution "for as long as it takes," but the state, not PolyMet, must decide how much money to put aside. Such deliberations are unlikely before late this year.
After the EPA nod, many believe it's more a question of when—rather than whether—PolyMet will be allowed to begin digging. Says University of Minnesota geologist Miller: "I can't imagine a scenario where we don't mine this someday."
Before it's here, it's on the Bloomberg Terminal.
LEARN MORE