Mine Waste Transformed to Tap Water for 80,000 Consumers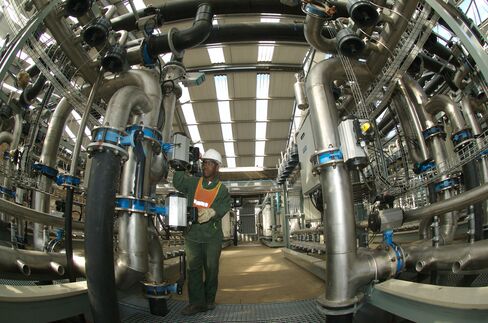 Anglo American Plc was the first company to transform the wastewater from its coal mines into something 80,000 people drink. Now they're seen as a model.
Purifying contaminated waters from three sites in South Africa has proven so successful that Anglo's plant in Witbank is doubling in size and being replicated elsewhere in the country by BHP Billiton Ltd., the biggest mining company, and Glencore Xstrata Plc.
While the $130 million plant won't upend the $600 billion world water industry, Anglo's treatment center provides as much as 12 percent of the area's municipal drinking supply and serves as a template for how the industry could treat waste in the future. It also shows how companies and municipalities are finding new ways to confront an increasingly water-stressed planet.
Water of a different sort -- sewer water -- is similarly about to be treated, purified and pumped back to residents in Wichita Falls, Texas, to augment shortages caused by growth and the area's worst drought on record.
Mines often treat wastewater to some extent yet until the Emalahleni water-reclamation plant, 120 kilometers (75 miles) east of Johannesburg, none was of drinking quality. This plant "is a model," said Marius Keet, acting head of the Department of Water Affairs in the Gauteng region. "It's a very good example of how it should be done."
That said, the technology isn't cheap and the company still must store a leftover brine from the treatment process, a residue that can be toxic.
Juggling Needs
BHP and Glencore are among those following the fifth-largest mining company with similar treatment works as the industry juggles its needs with water scarcity and environmental concerns about coal, the dirtiest fossil fuel.
Coal from Anglo and other mining operators provides 40 percent of Earth's energy. Coal consumption from South Africa to India and China climbed 54 percent in the 2000-2011 period, increasing the carbon emissions that contribute to the record CO2 levels blamed for global warming.
The 30 million liter-a-day (7.9 million gallons) reverse-osmosis plant recovers 99.5 percent of the mine's wastewater, which will increase to 100 percent after the expansion is completed this year. Seawater desalination plants in comparison have recovery rates of 60 percent to 70 percent, said Thubendran Naidu, hydrology manager at Anglo's Emalahleni plant.
Cleaning mine wastewater to a higher quality allows the companies to continue producing coal, keep their water licenses and reduce the acidity that corrodes equipment.
'Something Good'
"The company would have to treat the mining wastewater before draining it into rivers or land anyway so this way they also did something good with it," said Adrian Viljoen, formerly an engineer at Keyplan, now called Aveng Ltd., which built the facility. "The only extra cost was the pipework to deliver the water to the municipality."
Anglo was "brave to try a technology that wasn't tried before" to reclaim its waste, said Anthony Turton, a University of the Free State in South Africa professor and trustee at the Water Stewardship Council of Southern Africa.
Much of Anglo and other miners' efforts has been driven by government regulation as mines are now required to secure water licenses, and part of the approval includes a water-treatment plan after the mine closes as well as proper handling of the concentrated brine, Turton said.
'Biggest Risk'
"This is probably the biggest risk for the project because they are creating a brine-disposal facility that will ultimately run out of space. That's the long-term challenge."
Anglo's treatment plant covers an area of about four football fields within the Highveld, a plateau of grasslands rich in gold, platinum and coal that encompasses Johannesburg. The surrounding dams, which house wastewater from Anglo's coal mines, cover a further five football pitches.
While Anglo has no immediate plans to build similar plants in its thermal coal business, it's considering water-treatment operations in its platinum and copper businesses, according to Richard Garner, Anglo's water manager. The company is the seventh-largest producer of copper and its platinum unit the biggest producer of the metal.
Glencore is building a water-treatment plant in the Middelburg coal-mining area east of Anglo's with BHP to improve the mine wastewater to an approved level so it can flow into waterways. The plant will be commissioned later this year with a capacity of 20 million liters of water a day, Glencore said. BHP said it's investing in the Middelburg water plant.
Glencore owns a water-treatment plant similar to Anglo's that began operations in 2010 east of Emalahleni with a 15 million liter a day capacity. About 20 percent of the drinking water to Hendrina residents is supplied daily by the facility.
Taste Test
Glencore's building another water-treatment plant as well at Tweefontein, northeast of Emalahleni. The facility will be commissioned next year with a capacity to treat 15 million liters of mine wastewater a day.
Brine-disposal concerns notwithstanding, one downside remains: how the purified water tastes.
"It's tasteless," Turton said. "What gives taste to the water is the minerals in it. This is purified of its minerals so I wouldn't put it in my whisky. But once it's blended into the drinking water supply, it's not noticeable."
Before it's here, it's on the Bloomberg Terminal.
LEARN MORE