Mike D'Antoni Resigns as NBA L.A. Lakers Coach After Two Seasons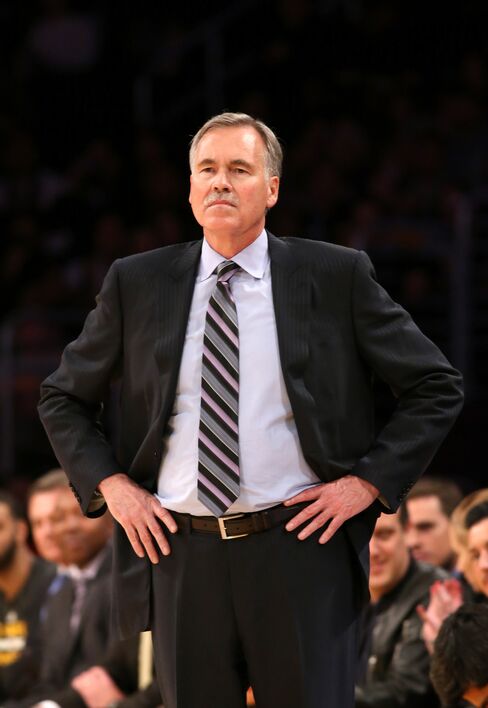 Mike D'Antoni resigned as coach of the National Basketball Association's Los Angeles Lakers after two seasons without winning a playoff series.
D'Antoni, 62, had one season remaining on a three-year contract that the Los Angeles Times said was worth $12 million. He had asked the Lakers to pick up a 2015-16 option.
Magic Johnson, who played on five NBA championship teams as a member of the 1980s Lakers, celebrated the resignation in a Twitter post.
"Happy days are here again! Mike D'Antoni resigns as the Lakers coach. I couldn't be happier!" the Hall of Famer wrote.
D'Antoni, who was hired in November 2012, had a 67-87 record with the Lakers, who were swept by the San Antonio Spurs in the first round of last year's playoffs and failed to qualify for the postseason this year.
It was the first time since the 2004-05 season that the Lakers, who have won 16 NBA championships, missed the playoffs.
D'Antoni, the NBA Coach of the Year in 2004-05 while with the Phoenix Suns, coached the Knicks from 2008-09 to halfway through the 2011-12 season, when he was replaced by Mike Woodson.
D'Antoni took over the Lakers from Mike Brown early in the 2012 season, inheriting a team struggling to blend All-Stars Steve Nash and Dwight Howard into a core featuring Kobe Bryant.
The 2012-13 team failed to meet high expectations, going 40-32 in the lockout-shortened season, and this year's team struggled to a 27-55 record as Bryant was limited to six games because of a broken bone in his left knee and Nash missed 67 games due to injuries.
Career Record
"Given the circumstances, I don't know that anybody could have done a better job than Mike did the past two seasons," General Manager Mitch Kupchak said in a news release posted last night on the Lakers' website.
D'Antoni previously was head coach of the Knicks, Suns and Denver Nuggets, and has a career record of 455-426.
His resignation came one day after Donald Sterling, owner of the Los Angeles Clippers with whom the Lakers share the Staples Center, was banned for life from the NBA after making racist remarks.
Before it's here, it's on the Bloomberg Terminal.
LEARN MORE