Consumer Spending in U.S. Jumps by Most in Five Years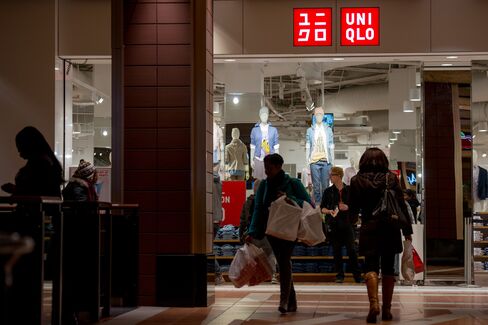 Consumer spending surged in March by the most in almost five years as warmer weather brought shoppers back to auto-dealer lots and malls, a sign the U.S. economy gained momentum heading into the second quarter.
Household purchases, which account for about 70 percent of the economy, climbed 0.9 percent, the most since August 2009, after a 0.5 percent gain in February that was larger than previously estimated, Commerce Department figures showed today in Washington. The median forecast of 77 economists in a Bloomberg survey called for a 0.6 percent gain. Incomes increased by the most in seven months.
Continued gains in employment will probably lift consumer confidence and give households the means to spend after usually harsh winter weather held back the world's largest economy. Companies such as Whirlpool Corp. are optimistic that stronger growth will boost sales in the coming months, providing a firm footing for growth in the second quarter.
"As the weather improved, it looks like things started to pick up," said Scott Brown, chief economist at Raymond James & Associates Inc. in St. Petersburg, Florida, who correctly forecast the gain in spending. "The second quarter is gonna be much stronger than the first."
Jobless Claims
More Americans than forecast filed claims for jobless benefits last week, underscoring the difficulty adjusting the data for seasonal variations such as the Easter holiday and spring recess as schools, a Labor Department report also showed today. The number of applications for unemployment insurance benefits climbed by 14,000 to 344,000 in the week ended April 26, the most since late February.
Stock-index futures were little changed after the reports. The contract on the Standard & Poor's 500 Index maturing in June fell less than 0.1 percent to 1,877.3 at 8:46 a.m. in New York.
Projections for spending in the Bloomberg survey ranged from gains of 0.2 percent to 1 percent. The February reading was previously reported as an increase of 0.3 percent.
Incomes climbed 0.5 percent in March, the most since August and exceeding the median forecast in a Bloomberg survey that called for a 0.4 percent gain.
Today's report showed that after adjusting consumer spending for inflation, which generates the figures used to calculate gross domestic product, purchases increased 0.7 percent, also the most since August 2009, after a 0.4 percent advance the previous month.
Auto Sales
Spending on durable goods, including automobiles, surged 2.7 percent after adjusting for inflation, the biggest gain in four years, following a 1.3 percent increase in February. Purchases of non-durable goods, which include gasoline, rose 0.9 percent.
Household outlays on services increased 0.4 percent after adjusting for inflation following a 0.2 percent increase in February. The biggest contributor was a jump in utility outlays. Spending on health care also rose, though by less than in the prior two months.
A report yesterday showed harsh winter weather stalled U.S. growth in the first quarter as slumps in business investment and home construction weighed on the economy.
GDP grew at a 0.1 percent annualized rate from January through March, compared with a 2.6 percent gain in the prior quarter, figures from the Commerce Department showed.
Better Outlook
Whirlpool is among companies projecting sales will improve amid "growth in U.S. housing for the full year, increased demand related to the replacement cycle of appliances and significant improvement in discretionary demand that we are currently seeing improving," Marc Bitzer, president of North America at the Benton Harbor, Michigan-based company said in an April 25 earnings call.
Whirlpool reported first quarter sales of $4.36 billion, surpassing analysts' estimates, as sales increased in March after soft demand in January and February caused by "extreme weather."
Consumer purchases advanced at a 3 percent rate in the first quarter, spurred by utility outlays and spending on health care.
Outlays on health services surged 9.9 percent at an annualized rate in the first quarter from the prior three months, the most since 1980, as Americans began to use the insurance gained from President Barack Obama's signature health-care law, according to yesterday's report. It contributed 1.1 percentage points to total growth, the most since quarterly records began in 1947.
Health Care
The boost in spending from the Affordable Care Act will continue this quarter as only about half the increase was included in the data for the first three months of the year, the Commerce Department said.
Today's data also showed inflation remained tame. The core price measure, which excludes fuel and food, rose 0.2 percent in March from the prior month and was up 1.2 percent from a year ago. Total prices were up 1.1 percent, well short of the Federal Reserve's 2 percent goal.
Fed officials dialed back their unprecedented bond-buying program yesterday as the looked beyond the first-quarter slowdown in growth. The central bank said the economy is gaining momentum as consumers spend more as they pared monthly asset buying to $45 billion, its fourth straight $10 billion cut, the Federal Open Market Committee statement showed following a two-day meeting in Washington.
Fed's View
"Growth in economic activity has picked up recently, after having slowed sharply," the Federal Open Market Committee said today in a statement following a meeting in Washington. "Household spending appears to be rising more quickly."
Disposable income, or the money left over after taxes, rose 0.3 percent in March after adjusting for inflation, the same as in the prior month, today's Commerce Department figures showed. It was up 2.2 percent from March 2013.
The saving rate was 3.8 percent in March, compared with 4.2 percent the previous month. Wages and salaries increased 0.6 percent, the most in four months.
Payrolls probably climbed by 215,000 in March after rising 192,000 a month earlier, Labor Department data is expected to show tomorrow according to the median estimate of a Bloomberg survey of economists. The jobless rate probably declined to 6.6 percent from 6.7 percent, the survey projects.
Before it's here, it's on the Bloomberg Terminal.
LEARN MORE