Carney Consensus Facing Test as BOE Focuses on Slack: Economy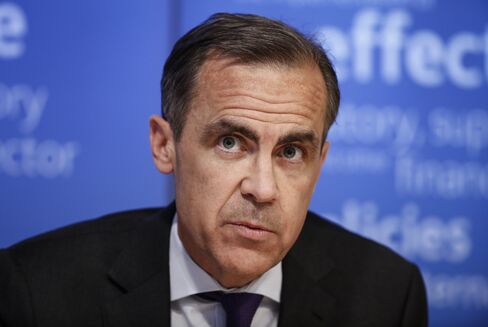 Mark Carney's grip on the Monetary Policy Committee is about to be tested as officials discuss new forecasts, freed from their low interest-rate pledge.
Bank of England policy makers convene in London today for the "pre-MPC" gathering before next week's monthly decision, the first since unemployment dropped enough to void the governor's signature commitment on borrowing costs. Their May 7-8 meeting will also be the last before Carney's management shakeup changes the constitution of the nine-member panel.
Unrestricted by their lapsed policy, the MPC can now devote its focus to gauging if there is enough spare capacity in the economy to keep rates at a record-low without stoking inflation. With a housing-market boom intensifying, growth quickening and manufacturing expanding at its fastest pace in eight months in April, economists including HSBC Holdings Plc's Simon Wells say the unanimity that the governor achieved on rates since he began in July may now be on borrowed time.
"The debate will certainly be more interesting," Wells, a former BOE official, said in an interview yesterday. "The hurdle for voting for a rise is lower. From the middle of the year we are likely to see split votes."
Policy makers will meet with economists and other officials at the BOE's London headquarters today, where they will be briefed on economic developments. Carney said in an interview published in the Bristol Post this week that the MPC is "comfortable with the position we are at now," signaling that they will keep the benchmark rate at 0.5 percent when they announce their decision at noon on May 8.
Split on Slack
The pound climbed to the highest level in almost five years yesterday as the improving economy prompted traders to add to bets for higher borrowing costs. Sterling was down 0.2 percent at $1.6860 at 12:00 p.m. London time, after reaching $1.6920 yesterday, the most since August 2009.
While data today showed construction growth slowed in April, the rate of expansion remains close to the fastest since 2007.
The governor has pushed back against expectations of an imminent increase, saying more spare capacity needs to be absorbed before stimulus can be removed. While officials have acknowledged a split over the amount of slack in the economy, inflation at the weakest level in 4 1/2 years may be enough to deter any call for higher borrowing costs for now.
Different Views
"If anyone starts voting for a hike this year, they will be in the minority," said Adam Posen, a former BOE policy maker who is now president of the Peterson Institute for International Economics in Washington. "There's no sign of inflation and there's still a lot of underutilized labor in the U.K. economy, including the underemployed."
Posen predicted the amount of slack in the economy will keep the BOE on hold until the first quarter of 2015.
As part of its previous forecasts in the February Inflation Report, officials estimated that spare capacity amounts to about 1 percent to 1.5 percent of gross domestic product. Policy makers doubting that figure include Martin Weale, who argued it may be smaller, and David Miles, who suggested it may be bigger.
Carney's sweeping institutional changes are adding to the uncertainty economists ascribe to the outlook for interest rates. By August, all five internal members of the MPC will have changed job since he became governor and a new external one is set to be appointed as soon as this month.
Switching Jobs
"New people coming in changes the dynamic," said Grant Lewis, an economist at Daiwa Capital Markets in London and a former Treasury official. "In terms of what's happening in the economy, things have kicked on. By August you might have one or two" of the MPC voting for a rate increase, he said.
While Lewis forecasts the BOE will lift interest rates in the first quarter of 2015, he said there's a risk of an increase this year.
Incoming Chief Economist Andy Haldane, who will replace Spencer Dale on the rate-setting committee in June, said this week that divergent views may become more pronounced.
"There are already signs of some differences of views across the committee," Haldane told lawmakers at a Treasury Committee hearing on April 30. "We have already heard from various speeches that different members of the MPC have somewhat different judgments on what the right number for spare capacity might be."
While leaving rates at a record low risks stoking a property-price spiral, officials are planning to rely on macroprudential measures as the first line of defense against a bubble. Deputy Governor for Financial Stability Jon Cunliffe said yesterday that "it would be dangerous to ignore" the momentum built up in the property market. He spoke after Nationwide Building Society said house prices rose 10.9 percent last month from a year earlier, the fastest annual pace since 2007.
"The outlook is a little bit more hazy," said Ross Walker, an economist at Royal Bank of Scotland Group Plc. "August would seem the earliest that you would see any dissent. You can see the recovery developing and the balance of risks changing."
Before it's here, it's on the Bloomberg Terminal.
LEARN MORE