BG Weighs Sales After CEO Left in Dispute Over Disposals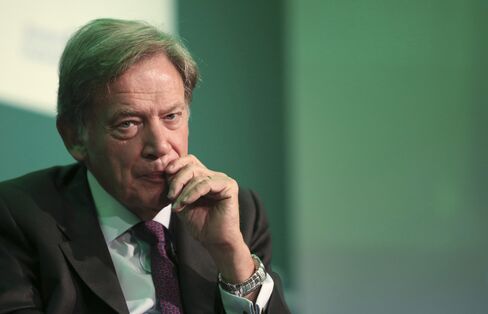 BG Group Plc Executive Chairman Andrew Gould said there would be "no sacred cows" as the oil producer considers selling assets to boost shareholder returns.
Chief Executive Officer Chris Finlayson resigned this week amid disagreements with the board over the speed at which he was implementing the company's strategy, Gould said on a call with reporters today. His exit after a little more than a year in the job prompted analysts including RBC Capital Markets to speculate that BG may become an acquisition target or sell assets.
"There are absolutely no sacred cows in the portfolio as we will look at everything," said Gould, who's running BG until a new CEO is found. "The issue that the board is facing isn't a dispute over strategy but a dispute over the speed at which it was being presented with optionality on the different parts of the portfolio. It's more a question of pace."
BG's shares have climbed for four straight days in London since Finlayson resigned for personal reasons. The stock rose to a three-month high of 1,237.5 pence by the close today.
Industry analysts, including at Deutsche Bank AG, said BG will probably sell holdings in Brazil, where its gross output was more than 220,000 barrels of oil equivalent a day at the end of the first quarter. Finlayson's predecessor Frank Chapman, who ran the company for more than a decade, had been reluctant to trim exposure in the Latin American country.
"The knowledge of the quality of the Brazil assets was much lower than it is today, we've done a lot of work since then," Gould said today. He declined to comment on the timing of any possible asset sales.
Asset Quality
BG's first-quarter profit excluding disposals and one-time items dropped 3 percent to $1.15 billion from a year earlier, beating analyst estimates, the U.K.'s third-largest oil and gas producer said today in a statement.
"Our strategy remains unchanged and we must accelerate the creation and delivery of longer term value," Gould said. "One of my highest priorities is the recruitment of the new chief executive." He declined to comment on the timing for that.
First-quarter output fell 4 percent to 633,000 barrels of oil equivalent a day. The company forecast average production will be about 590,000 barrels a day this year.
Egyptian extraction dropped 35 percent in the first quarter to 66,000 barrels a day from the prior three months because of deteriorating field performance and fuel diversion to the domestic market, BG said. The nation accounted for about 10 percent of the company's production and 5 percent of earnings.
BG hedged its cash flow with Brent oil swaps at an average $106 a barrel through the end of the year, it said today. The positions are expected to hedge more than 70 percent of its "earnings sensitivity to oil price movements for this period."
It's "sensible in light of the balance sheet pressures but equally emphasizing the pressures on cash flow," Deutsche Bank wrote in an e-mailed report.