Gold Gains With Treasuries Amid Rising Tension in Ukraine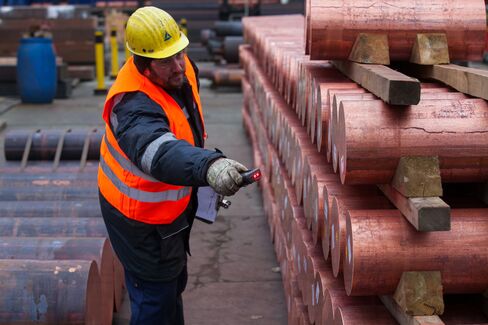 Gold rallied with Treasuries, while U.S. stocks declined after an early rally, as escalating tension in Ukraine overshadowed data showing payrolls rose the most in two years.
The Standard & Poor's 500 Index dropped 0.1 percent at 4 p.m. in New York after the gauge briefly topped its closing record. Thirty-year bond yields fell to a 10-month low and gold rose the most in seven weeks. The Bloomberg Dollar Spot Index erased earlier advances to trade little changed against most major peers.
President Barack Obama and German Chancellor Angela Merkel set a May 25 trigger for possible economic sanctions against Russia, and the United Nations Security Council held an emergency meeting on Ukraine today after the country dispatched forces to retake a separatist stronghold. U.S. nonfarm payrolls rose last month by the most in two years and the jobless rate fell to 6.3 percent, a sign that economic growth is poised to accelerate as the Federal Reserve pares monthly bond-buying and considers when to raise interest rates.
"The end result is neutral but it's the positive of the jobs numbers being offset by greater concerns about what's going on in the Ukraine," said John Manley, chief equity strategist at Wells Fargo Funds Management in New York, which advises $231 billion in the Wells Fargo Advantage Funds. "There's more activity over there and that has the market a little bit worried. It's something we will have to deal with for a while because I don't see it going away right away."
30-Year Yields
Thirty-year bond yields fell five basis points to 3.37 percent, according to Bloomberg Bond Trader prices. The rate touched the lowest since June. Ten-year yields fell three basis points to 2.59, the lowest in two months, after earlier rising eight basis points.
The S&P GSCI index of 24 commodities rose 0.4 percent as metals rallied, trimming the gauge's slide this week to 1 percent. Silver surged 2.6 percent to $19.546 an ounce, the biggest gain since Feb. 14. Gold jumped 1.5 percent to settle at $1,302.90, as the Ukraine tensions increased haven demand. Copper rose the most in five weeks, narrowing its decline this week as available supplies of the metal reached the lowest level since 2008.
The Bloomberg Dollar Spot Index, which monitors the greenback against 10 major counterparts, slipped 0.1 percent after earlier rising as much as 0.4 percent, the most since March 19, as investors grew confident the world's largest economy was emerging from a first-quarter slowdown. The measure is down 0.3 percent this week.
The dollar traded at 102.24 yen after touching 103.02, the strongest since April 8. It was little changed at $1.3871 per euro after weakening to $1.3889 yesterday, the least since April 11.
Record High
The S&P 500 roes 1 percent this week as companies from Merck & Co. to Sprint Corp. topped estimates. The index today jumped as high as 0.4 percent to surpass its closing record of 1,890.90. The Dow Jones Industrial Average fell 0.4 percent after closing yesterday at a record. It gained 1 percent this week.
"On a Friday, people are going to be more inclined to be less long going into a weekend with potential military action happening in the Ukraine," Michael James, a Los Angeles-based managing director of equity trading at Wedbush Securities Inc., said in a phone interview. "People don't want to walk in Monday morning and be negatively surprised by a down market because of military action in Europe, so they're selling off."
Economic Effects
Amid the escalating tension in Ukraine's easternmost, largely Russian-speaking regions, the yield on Ukrainian government debt rose 25 basis points to a six-week high of 10.90 percent, data compiled by Bloomberg show. Russian bonds fell, with the yield on ruble-denominated government debt due February 2027 jumping 20 basis points to a seven-week high of 9.67 percent. The ruble slid 0.3 percent against the central bank's target dollar-euro basket.
Russia's Foreign Ministry said it was "outraged" by today's fighting in the east. The Ukrainian move kills all hope of implementing an April peace accord agreed on in Geneva between Ukraine, Russia, the U.S. and the EU, said Dmitry Peskov, Putin's spokesman.
During the UN Security Council meeting in New York, Russian Ambassador Vitaly Churkin repeated the Kremlin's stance that the interim Ukrainian government in Kiev is illegitimate.
Brent crude rose for the first time in three days on concern the tension may disrupt global supplies. West Texas Intermediate oil climbed 0.3 percent to $99.76 as U.S. employers boosted payrolls by the most in two years.
U.S. Jobs
The jobs report showed an increase of 288,000 workers, the biggest gain since January 2012 and followed a revised 203,000 increase the prior month that was stronger than initially estimated, Labor Department figures showed. The median forecast in a Bloomberg survey of economists called for a 218,000 advance.
The Fed said it will keep the benchmark interest rate close to zero for a "considerable time" after its bond-buying program ends. It reduced monthly debt purchases to $45 billion, its fourth straight $10 billion cut, and said further reductions in "measured steps" are likely.
"It's a pretty strong report that suggests the Fed will continue to taper," Anthony Valeri, a market strategist with LPL Financial Corp. in San Diego, said in a phone interview. The firm oversees $350 billion. "This is the first strong confirmation we're unwinding some of the winter weakness. I think it keeps the Fed rate hike in 2015 very much on track."
Labor Participation
The drop in the unemployment rate from March's 6.7 percent came as the agency's survey of households showed the labor force shrank by more the 800,000 in April. The so-called participation rate, which indicates the share of working-age people in the labor force, decreased to 62.8 percent, matching the lowest level since 1978, from 63.2 percent a month earlier.
"While the headline certainly suggests conditions are improving, you also need to focus on the labor force participation rate," Ryan Larson, the Chicago-based head of U.S. equity trading at RBC Global Asset Management (U.S.) Inc., which oversees $290 billion, said in a phone interview. "It's a little disappointing as people continue to drop out of the labor force."