Japan Defense Exports Seen Limited Even as Abe Loosens Rules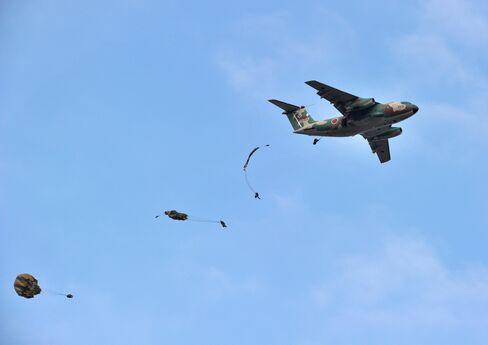 Prime Minister Shinzo Abe's effort to foster Japan's defense contractors is encountering obstacles from a legacy of relative isolation to concern at the historical stigma of an industry that enabled invasions of Asian neighbors.
The private sector -- led by Mitsubishi Heavy Industries Ltd., heir of the maker of best-in-class Zero fighter planes in World War II -- probably won't take an aggressive approach to boosting exports, according to a group of ruling-party lawmakers pressing Abe for government leadership on the issue. Abe last month loosened curbs on shipments of defense goods, part of a broader campaign to reduce restrictions on Japan's military.
"Companies don't want these departments to be conspicuous," said Misa Sakurabayashi, author of two books on Japan's defense industry, referring to the military-production units of Japanese manufacturers. "Making guns and weapons has a very bad image."
The reticence contrasts with the push by Abe and some Liberal Democratic Party lawmakers to tighten cooperation between Japanese defense producers and those of foreign partners such as the U.S. The move, coming amid deepening tensions with China, complements a campaign to reinterpret Japan's U.S.- occupation-era constitution to allow greater support for allies.
Japan's defense industry -- which ranges from the manufacture of machine guns under license to tanks and Soryu-class submarines that carry over-the-horizon Harpoon missiles -- needs greater direction from the government to boost exports, according to a panel of LDP members that submitted a letter to Defense Minister Itsunori Onodera April 21.
Government Role
"Joint development, manufacturing and future defense transfers should not be left up to the private sector," the lawmakers said in the document. The group, which is led by Masahisa Sato, a former parliamentary vice minister of defense and ex-Self Defense Forces colonel, wants the government to form a new agency under the Defense Ministry that would promote overseas transfers of defense equipment.
The Abe cabinet on April 1 passed guidelines that loosened four-decade-old restrictions on weapons sales abroad. While the new rules retain some constraints, such as a ban on transfers of military materiel to countries involved in conflict, the changes allow Japanese companies to work more easily with other nations on weapons programs.
"It's difficult to assess the future potential, so there won't be many companies that expand aggressively," the panel of LDP legislators said in their presentation.
Public Opinion
Japan's Defense Ministry and Self Defense Forces bought 2.1 trillion yen ($20 billion) from the private sector in 2011, the latest ministry data available. The nation was the world's eighth-biggest defense spender in 2013, according to data compiled by the Stockholm International Peace Research Institute. The U.S. was first and China, which plans to give its military hardware developers greater access to capital markets, was No. 2.
Abe's policy clashes with public opinion. Two thirds of respondents to a poll by Kyodo News on Feb. 22-23 said they opposed the planned loosening of the restrictions. Japan had observed a self-imposed ban on weapons exports since the 1970s, albeit with a growing series of exceptions, most recently to help with cooperation on the F-35 fighter plane made by Bethesda, Maryland-based Lockheed Martin Corp.
The Asahi Shimbun said in an April 3 editorial that Japan's pacifism would collapse with the introduction of the new regulations.
Missile Components
Mitsubishi Heavy, Japan's largest defense contractor, may become the first manufacturer to seek to take advantage of the new regime by exporting parts for anti-aircraft missiles to the U.S. Onodera said April 18 that Raytheon Co., the maker of PAC-2 missiles, had approached Mitsubishi to supply parts and that the government would consider allowing the transaction if it receives an application.
Mitsubishi Heavy said in a comment on its website that nothing had been decided on the missile deal. Shimon Ikeya, a spokesman for the Tokyo-based company, referred to its April 1 statement when asked whether it plans to expand exports under the new rules. The company said in that statement that it backed the move and would contribute to government-set policy.
Mitsubishi, which built the A6M2 -- known as the Zero, and when introduced in 1940 "the best carrier-based fighter in the world," according to Hawaii's Pacific Aviation Museum -- today makes tanks and Soryu submarines.
Increased Capacity
Kawasaki Heavy Industries Ltd., Japan's No. 3 defense contractor, said in a statement that it "will contribute to the export of defense equipment that would serve the object of peace building, global cooperation and security, reflecting the policy of the government." The public-relations office of NEC Corp., Japan's second-biggest defense contractor, didn't reply to an e-mail seeking comment on export plans.
"Japan needs to have advanced technologies, and a way to get hold of those advanced technologies over time is to do what the government has done," Jon Grevatt, Asia Pacific defense industry analyst at IHS Jane's in Bangkok, said of Japan. "The key is to get involved in international-development programs."
In broadening the opportunities for contractors, "the ultimate beneficiary is Japan's self-defense forces," Grevatt said. "That's why they're doing it. They're not doing it for the defense industry. That's the end goal: that Japan's Self-Defense Forces increase their capability."
Higher Costs
Grevatt said one shortcoming to Japanese defense competitiveness is the legacy of higher costs, because of limited scale, having supplied one customer -- the Defense Ministry -- almost exclusively.
Major U.S. and European defense contractors such as Northrop Grumman Corp., Raytheon and BAE Systems make more than 80 percent of their revenues from defense. By contrast, Japanese firms including Kawasaki Heavy, Mitsubishi Electric Corp., NEC, Fujitsu Ltd., and Toshiba Corp. make a minority of their revenue from military equipment. The average among Japanese defense contractors is about four percent of sales, according to the Defense Ministry.
Opportunities for defense industry growth may be greatest in the field of components, Jun Kazeki, director of the Security Export Control Policy Division at the Ministry of Economy, Trade and Industry, told reporters on March 31.
New Regulations
Previous regulations required the U.S. to get permission from Japan before any transfer of military equipment to a third country, even if Japan had supplied only 1 percent of the components.
"That was unrealistic and it meant Japanese companies couldn't participate in projects," Kazeki said. The new regulations simplify this requirement by allowing the Japanese side to accept advance assurances of appropriate control over third-party transfers.
Japanese and U.K. officials and executives will meet at the Farnborough Air Show in Britain to consider further areas of cooperation after agreeing to work together on the development of protective suits to be used against chemical weapons, according to a Keidanren report. The air show will be held in July. Abe may reach a deal with President Francois Hollande next week on Japan and France starting the study of joint development of an un-manned submarine, Kyodo News reported this week.