U.S. South Faces Tornado Threat as Severe Weather Sweeps East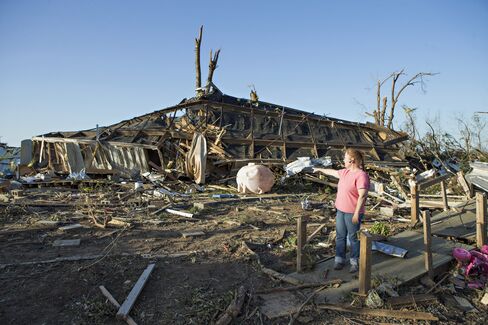 Tornadoes and severe thunderstorms are expected to sweep across the U.S. South, threatening more damage to a region where dozens died in the past two days.
There's a moderate risk of severe storms, high winds and hail from eastern Mississippi across Alabama, where about 2.5 million people live, the U.S. Storm Prediction Center in Norman, Oklahoma, said. There's also a chance the storms may develop in a larger area, from Michigan to the Gulf of Mexico.
"Today, the greatest threat is going to be a little bit further east, in eastern Mississippi and especially Alabama," said Gary Best of Hometown Forecast Services Inc. in Nashua, New Hampshire. "By tomorrow, the threat is going to be across the Carolinas."
Dangerous weather across the Midwest and South beginning April 26 killed at least 28 people, according to the Associated Press. Last year, tornadoes and severe thunderstorms caused about $16.3 billion in losses across the U.S., more than any other type of natural disaster, the Insurance Information Institute in New York said.
The storm center received 114 reports of tornadoes across 12 states in the past two days, along with reports of large hail and damaging wind gusts.
As many as 101,000 homes and businesses were without power, mostly in Alabama and Georgia, according to utility companies.
Best said cooler weather in the mid-Atlantic States and Northeast will keep tornadoes away.
"Then after that, it moves out to sea," he said. "There really isn't any severe weather by the end of the week."