Gunman at FedEx Facility Wounds Six and Takes Own Life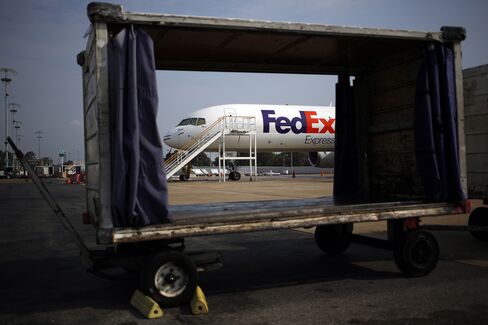 A FedEx Corp. employee shot six people at a company facility near Atlanta today before taking his own life, police said.
Three of the victims were in critical condition, WXIA-TV Channel 11 in Atlanta reported from a press conference on site. They include a 28-year-old man, a 52-year-old woman and a 22-year-old man. A seventh victim suffered minor injuries in attempting to flee the scene.
The incident began at 5:54 a.m. local time when police received a report of an active shooting at a FedEx Ground package sorting facility in Kennesaw, Georgia. The gunman, a package handler at the facility, was found with an apparently self-inflicted gunshot wound when police searched the area, Michael Bowman, a spokesman for the Cobb County Police Department, said in an e-mail.
WellStar Kennestone Hospital spokesman Tyler Pearson said one of the six patients brought there after the shooting was rushed into the operating room, and some of the other five patients were able to walk out of the ambulance and into the hospital on their own.
"The situation is now stabilized and we are focused on the needs of our team members and cooperating with the law enforcement investigation of this tragedy," Shea Leordeanu, a spokeswoman for the Memphis, Tennessee-based shipping company, said in an e-mailed statement.
New Law
Earlier this month a FedEx trailer was involved in a collision on a California highway that killed 10 people when the truck smashed into a bus taking high-school students on a college tour. The mother of a student who died in the accident sued FedEx last week.
Last week Georgia Governor Nathan Deal, a Republican, signed the state's new Safe Carry Protection Act, giving citizens with gun licenses broad freedoms to bring firearms into some schools and religious institutions when authorized by those organizations.
The law also gives permit holders the right to carry firearms into bars, some government buildings not restricted by security personnel and even some airport areas outside of security checkpoints.
Before it's here, it's on the Bloomberg Terminal.
LEARN MORE