Senate Democrats Said to Weigh Vote Backing Keystone XL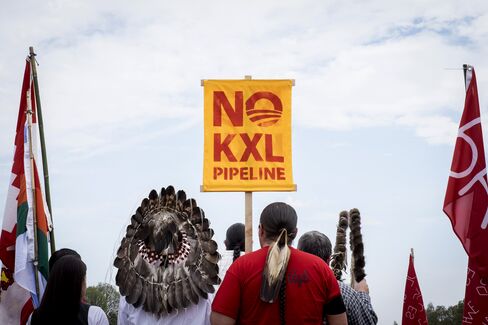 U.S. Senate Democrats who back TransCanada Corp's Keystone XL pipeline are pressing Majority Leader Harry Reid to allow a vote to bypass President Barack Obama's administration by forcing the project's approval.
Reid, a Nevada Democrat, told reporters today that he was "trying to work something out" with Keystone backers, including Louisiana Democrat Mary Landrieu.
"But they keep moving the ball," Reid told reporters. He said pipeline supporters are pressing for a binding vote rather than on a non-binding resolution to support the project.
Allowing some kind of vote on Keystone is being discussed as a way to ease passage of separate legislation the Senate plans to consider next week aiming to promote energy efficiency, according to two Senate Democratic aides who requested anonymity.
Reid told reporters that he's "open to anything" that would lead to passage of the energy-efficiency bill.
The idea behind the approach is that promising a vote on backing approval of the pipeline would allow Democratic leaders to make the case that Keystone shouldn't be debated as part of the energy-efficiency bill. It also would give some Democrats a chance to publicly state support for the project.
Landrieu, who is in a competitive contest for a fourth term this year, said she'd prefer a vote to force the project forward.
'Get Done'
"I want to build the Keystone pipeline," she said. "So that's what we're trying to get done."
Landrieu added, "The language has not been negotiated, but it will be a clear vote on the approval of Keystone."
Another Democrat from an oil-producing state in a competitive race this year, Alaska Senator Mark Begich, also said he wants a Senate vote on a resolution that would allow Keystone XL pipeline construction to begin.
Begich said he would support a non-binding resolution "but I'd rather have something stronger and binding that gets this project moving forward."
Republicans say they also will push for an amendment that would require the pipeline's approval.
Senator John Hoeven, a North Dakota Republican and a chief backer, wants a binding vote, said his spokesman.
"We will not support a non-binding resolution, only approval," said Don Canton, Hoeven's spokesman.
Wyoming Senator John Barrasso, a member of the Republican leadership, scoffed at the idea of another non-binding vote.
'Real Thing'
"Sounds like they're afraid to vote on the real thing," said Barrasso, a Keystone supporter, referring to Democratic leaders.
Ohio Senator Rob Portman, the chief Republican sponsor of the energy-efficiency measure, said he welcomes a debate on the "many controversial issues" related to energy, including Keystone.
"That's what we're paid to do -- debate and vote on tough issues," Portman said. "I hope we'll be able to do that."
The Senate voted 62-37 in March 2013 in favor of a non-binding resolution endorsing construction of the pipeline. Sixteen Democrats voted for the measure, including Landrieu, Begich, Mark Pryor of Arkansas and Kay Hagan of North Carolina. The four are seeking re-election this year in states that Republican presidential nominee Mitt Romney won in 2012.
Political Price
Senate Minority Leader Mitch McConnell, a Kentucky Republican, said today that Democrats might pay a political price for failing to force approval of the project.
"You'd think Washington Democrats would join the majorities of Americans who say that Keystone is a good deal for our country," McConnell said.
After the State Department announced earlier this month that it was again delaying a recommendation on the pipeline, Democratic backers said the Senate should go further and circumvent the administration.
Forcing approval of the pipeline would be difficult; supporters said they're still a few votes short of the 60 needed to advance a bill in the 100-member Senate.
It would require two-thirds of the Senate -- or 67 members -- to override an almost certain presidential veto. Reid, who's in charge of the Senate's calendar and is a pipeline foe, has declined to bring up legislation that would go around the Obama administration on Keystone.
Similar Measures
The Republican-led House of Representatives has passed similar measures by broad majorities. The House in May passed legislation to approve Keystone on a 241-175 vote.
The State Department is leading an interagency review of TransCanada's proposal to build a $5.4 billion pipeline from Hardisty, Alberta, to Steele City, Nebraska. From there it would connect to an existing network of pipelines that extends to refineries on the Gulf Coast.
The department had asked other agencies to file comments on the plan by early May. On April 18, the department said it would extend that deadline until a legal challenge to the route through Nebraska is settled by the state Supreme Court.
Opponents of the project say the delay probably pushes a final decision into early next year -- after the midterm election in November that will determine control of Congress.
TransCanada proposed Keystone in September 2008. Obama rejected the route after Nebraska officials said it posed a risk to an important aquifer and network of wetlands. A new route was approved by Nebraska Governor Dave Heineman, though landowners challenged a law that gave him that authority.
A landowner victory in the case was appealed to the Nebraska Supreme Court, which may hear the case this fall.
The week before the State Department announced the delay, citing the Nebraska case, 11 Senate Democrats sent a letter to Obama requesting he approve the Keystone pipeline before May 31.