Sanofi's CEO Sees No Need to Jump on Merger Bandwagon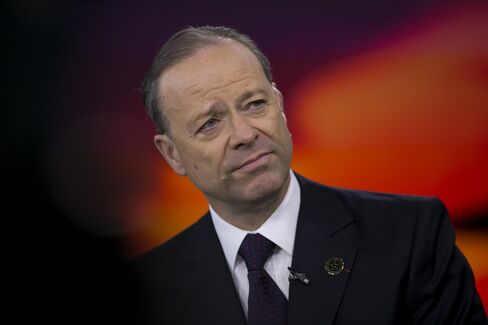 Sanofi Chief Executive Officer Chris Viehbacher said the return of mega-mergers doesn't change his approach to deal-making: smaller purchases in emerging markets and consumer health-care.
While Pfizer Inc.'s 58.8 billion-pound ($98.9 billion) takeover offer for AstraZeneca Plc shows big deals are "back on the table," Sanofi's pipeline of experimental drugs means the Paris-based drugmaker is in "pretty good shape," Viehbacher said on a call with reporters today.
The comments suggest Sanofi is unlikely to act as London-based AstraZeneca's white knight, dousing speculation that the French company may be among those considering a counteroffer. It's unclear whether Pfizer's approach, which comes after Novartis AG agreed to buy GlaxoSmithKline Plc's cancer business for as much as $16 billion last week, is a harbinger of things to come, according to Viehbacher.
"There are particular factors in the Pfizer-AstraZeneca one that wouldn't necessarily translate to the rest of the industry," he said. "There's lots going on in the environment. That doesn't mean it changes our strategy on M&A."
Viehbacher declined to comment specifically on whether Sanofi was evaluating an offer for AstraZeneca. A spokesman for the French drugmaker also declined to comment on a possible tie-up with Irvine, California-based Allergan Inc.. Botox-maker Allergan has contacted companies including Sanofi to smoke out potential buyers, people with knowledge of the matter said today, as it explores options after getting an unsolicited $45.7 billion bid from Valeant Pharmaceuticals Inc.
Critical Mass
Sanofi shares were little changed at 77.18 euros by the close in Paris. Before today, the stock had lost 6.2 percent over 12 months, ranking as the worst performer on the Bloomberg Europe Pharmaceutical Index.
Viehbacher's signature deal since becoming CEO in 2008 was the $20.1 billion acquisition of Genzyme in 2011. Today he repeated an oft-stated plan to add bolt-on acquisitions to what the company calls its growth platforms, which include diabetes, consumer health-care, vaccines and emerging markets.
"Because we believe we have critical mass in these areas, we don't feel we need to pay any price to acquire further businesses," Viehbacher said. "Just because an asset becomes available doesn't mean you can acquire it at a price that really adds value."
Sanofi is among bidders for Merck & Co.'s over-the-counter products unit, which makes Coppertone sunblock and the Claritin allergy medicine, people with knowledge of the matter said last month.
Vaccine Woes
Viehbacher spoke after Sanofi reported first-quarter profit and sales that missed analysts' estimates, hurt by lower vaccine revenue in emerging markets and the euro's appreciation against other major currencies.
Profit excluding some costs and currency swings fell to 1.55 billion euros ($2.15 billion), or 1.17 euros a share, from 1.60 billion euros, or 1.21 euros a share, a year earlier. Analysts predicted profit of 1.57 billion euros, or 1.19 euros a share, the average of 12 estimates compiled by Bloomberg.
"Overall, another weak quarter," Tim Anderson, an analyst at Sanford C. Bernstein & Co., wrote in a note today.
The euro's gain against currencies including the U.S. dollar and the Japanese yen hurt sales and that impact will probably extend to the second quarter, Viehbacher said. Sanofi repeated its forecast for full-year growth in earnings per share, excluding some costs and currency swings, of 4 percent to 7 percent, its first growth forecast in four years.
Currencies Impact
First-quarter sales fell to 7.84 billion euros, short of analysts' predictions for revenue of 7.99 billion euros. The weakening of currencies including the U.S. dollar, Japanese yen, Brazilian real and Russian ruble against the euro stripped 6.2 percentage points from sales, Sanofi said.
Revenue from the company's diabetes division, which includes the top-selling insulin Lantus, climbed 13 percent at constant currencies to 1.66 billion euros. Sanofi suspended distribution of its diabetes treatment Lyxumia in Germany after an unsuccessful pricing negotiation with the nation's statutory health insurance organization.
Government Orders
Revenue from the vaccines unit dropped 4.2 percent in constant currencies as governments in Mexico and China ordered less of Sanofi's five-in-one childhood vaccine Pentaxim. Sales of the meningitis vaccine Menactra fell 25 percent from the first quarter of 2013, when an outbreak in Latin America boosted demand for the shot.
Sales in the Genzyme unit, which sells treatments for multiple sclerosis and rare genetic diseases, rose 22 percent as Sanofi's Fabrazyme, for a disorder called Fabry disease, took market share in Europe from Shire Plc's Replagal.
The company also said this month it plans to resubmit an application seeking U.S. approval of the multiple sclerosis drug Lemtrada after the Food and Drug Administration rejected the drug in December.
Sanofi said it ended development of SAR339658 as a treatment for ulcerative colitis and will instead start a mid-stage trial testing it in multiple sclerosis. The company scrapped SAR3419, an experimental leukemia medicine, and decided against taking its option on Oxford Biomedica Plc's eye drug RetinoStat.
Before it's here, it's on the Bloomberg Terminal.
LEARN MORE