Obama Power-Plant Pollution Rule Upheld by Top U.S. Court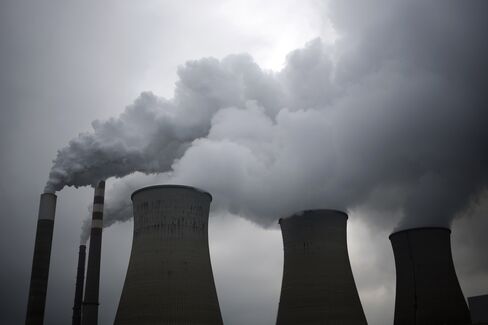 President Barack Obama garnered his second legal victory this month in his effort to clean up coal-fired power plants, as the U.S. Supreme Court upheld a rule designed to cut pollutants that cause smog and acid rain.
The justices, voting 6-2 to overturn a lower court, backed an Environmental Protection Agency rule targeting air pollution that crosses state lines. Advocates for utilities and coal producers argued that the EPA's approach was too intrusive and would force plants to clean up more pollution than necessary to deliver clean air in downwind states.
"This is a big win for the nation's public health and a proud day for the agency," Gina McCarthy, the administrator of the EPA, said in a statement.
The ruling may prompt utilities such as Southern Co., Energy Future Holdings Corp.'s Luminant and American Electric Power Co. to shutter coal-fired power plants or invest billions of dollars in new pollution-control systems.
The Obama administration says the rule will prevent as many as 34,000 premature deaths a year.
States, Companies
Attorneys general from 14 states, led by Texas, challenged the EPA's rule along with Entergy Corp., Edison International, Peabody Energy Corp., AEP, Southern and the United Mine Workers of America labor union.
AEP fell 39 cents to $54.05 at 12:34 p.m. New York time. Southern fell 29 cents to $46.39. Dallas-based Energy Future Holdings, which was taken private in the largest-ever leveraged buyout in 2007, filed for bankruptcy protection earlier today.
"This looks like a total vindication of the Obama administration's EPA efforts to clean up dirty coal-fired power plants," John Walke, clean air director at the Natural Resources Defense Council, said in an interview. The decision "just swept aside the lower court's decision in its entirety."
Utilities also face a separate EPA rule limiting mercury, arsenic and other toxic emissions from coal plants. While that rule is separate, some of the equipment required to clean up is similar.
The U.S. Court of Appeals on April 15 upheld that regulation, the most expensive rule ever issued on power plants or factories. Taken together, the two decisions solidify efforts by the agency to cut pollutants from coal-fired power plants, the largest source of pollution in the country.
Emission Limits
The EPA rule upheld today used a modified cap-and-trade system to limit emissions of sulfur dioxide and nitrogen oxide in 28 states, all in the eastern two-thirds of the U.S., where the pollutants blow into neighboring jurisdictions. A cap-and-trade system would create a limited number of pollution permits that companies could trade or sell.
A federal appeals court in Washington rejected the cross-state pollution rule, and the administration appealed to the high court. While the challenge continued, the appeals court also ordered the agency to enforce a 2005 measure known as the Clean Air Interstate Rule, which doesn't impose emissions cuts as steep or to as many states.
The companies said the EPA improperly focused on the cost of emission reductions, rather than basing its rule solely on the amount of pollutants created in each state. States also complained that the agency imposed cleanup plans without first affording them a chance to develop one.
EPA Backed
In its decision today, the Supreme Court overturned the lower court decision and sided with the EPA on both counts.
"EPA's cost-effective allocation of emission reductions among upwind states, we hold, is a permissible, workable and equitable interpretation" of the law, said Justice Ruth Bader Ginsburg, writing for the court.
Justices Antonin Scalia and Clarence Thomas dissented. Justice Samuel Alito didn't take part in the case. As is custom, he didn't give a reason.
Scalia said Congress in the Clean Air Act had established a clear standard, requiring the EPA to focus on the volume of a state's pollutants, rather than the cost of eliminating them.
"Today's opinion is a textbook example of how a court established to ensure government by the people can instead assure government by the bureaucracy," Scalia said from the bench.
Uncertain Implications
While the decision upholds the rule by the EPA, its practical implications are uncertain. That's because the high court left open the ability of states to individually challenge whether they should still be part of the program, and if the mandated reductions are justified given improvements in air quality in downwind states.
"There are a lot of legal challenges for this rule that lay ahead," said William Bumpers, a lawyer at Baker Botts LLP in Washington.
'Good Neighbor'
The EPA rule aims to implement what is known as the "good neighbor" provision of the Clean Air Act. That requires states to cut emissions that "contribute significantly" to pollution in another state.
The rule targets sulfur dioxide, which can lead to acid rain and soot harmful to humans and ecosystems, and nitrogen oxide, a component of ground-level ozone and a main ingredient of smog. Coal accounts for 98 percent of sulfur dioxide and 92 percent of nitrogen oxide released into the air by power plants, according to the EPA.
The EPA is also moving to curb greenhouse gases from power plants, and the justices are considering a separate case about whether the agency had authority to impose permit requirements on power plants and factories as part of that effort. A decision on that case is set to come in the coming months.
The cases decided today are U.S. Environmental Protection Agency v. EME Homer City Generation, 12-1182, and American Lung Association v. EME Homer City, 12-1183.
Before it's here, it's on the Bloomberg Terminal.
LEARN MORE