Nokia CEO Fights Stalling Market to Rebuild Wireless Pioneer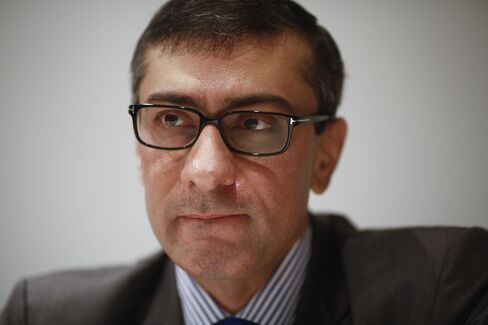 April 30 (Bloomberg) -- Rajeev Suri, the Nokia Oyj insider responsible for reviving the Finnish company, has plenty of cash, lower costs, and no need to worry about an unprofitable phone business that's now part of Microsoft Corp. The challenge: sales are still plunging.
Nokia's newly appointed chief executive officer will lead a wireless-industry pioneer now getting almost all of its revenue from network equipment used by mobile carriers. The market is stalling as clients have largely completed upgrades to faster systems while competition from Chinese rivals weighs on prices.
To find growth beyond base stations and antennas that transmit calls and data, Suri, a 20-year company veteran, is seeking to take Nokia more aggressively into new areas. The opportunity is there -- more equipment and services are needed as everything from cars and TVs to power meters and traffic lights go online -- yet rivals from Ericsson AB to International Business Machines Corp. are after the same contracts.
"We don't look at ourselves as a networks-only business," Suri, 46, said in an interview. "There's the potential for us to get into new products and new innovations and time will tell how we exploit that."
Suri is betting on more companies needing Nokia's products as billions of devices over the next few years connect to the Web, boosting data traffic exponentially. He is also pushing into services to run and maintain network systems and said he could consider acquisitions to bolster Nokia's product range.
National Pride
Investors welcomed Suri's appointment and Espoo, Finland-based Nokia's plan to spend about 5 billion euros ($6.9 billion) on dividends, share buybacks and debt reduction. The stock added 1.4 percent to 5.37 euros at 10:15 a.m. in Helsinki after rising 2.9 percent yesterday. It has gained 81 percent since Nokia's agreement to sell the handset unit to Microsoft in September.
Besides shareholders, Suri will also need to live up to the expectations of Finns, to whom Nokia has been the greatest ever business success story and still a source of national pride. Suri, an electronics and telecommunications engineer from Mangalore University in his home country of India, is the second non-Finn to lead the 149-year-old company.
Canadian predecessor Stephen Elop's bet on phones running Microsoft software contributed to plummeting market share, billions of euros in losses and the eventual sale of the handset unit. Elop returned to Microsoft as part of its $7.5 billion purchase of the division. Nokia's market value is now about 20 billion euros, down from 300 billion euros in 2000, when it dominated the global mobile-phone market.
Working Out
Suri lives in the Helsinki area, having moved to Finland when he took the helm at the network unit in 2009. Married with two children -- one in high school and one in university -- Suri says he works out regularly and enjoys reading and music.
Nokia yesterday reported first-quarter net income, excluding the business sold to Microsoft, of 108 million euros, compared with a loss a year earlier. Suri, who worked at the network unit's strategy, mergers and acquisitions, and sales functions before becoming its head, cut more than 25,000 jobs over the past two years to bring the division back to profit.
Revenue fell 15 percent to 2.66 billion euros, with network revenue declining because of lower services sales, currency fluctuations and divestments. Revenue at Nokia has dropped for 12 straight quarters as occasional gains at the network unit have failed to offset plunging mobile-phone sales.
Little Growth
Carrier spending in markets such as the U.S. and Japan is cooling after a wave of investments in speedier, fourth-generation networks, leaving Nokia, Ericsson, Alcatel-Lucent SA and China's Huawei Technologies Co. to compete for fewer deals. Capital spending by communications-service providers will rise to $367 billion in 2019 from $340 billion in 2012, equal to growth of just 1 percent a year, according to researcher Ovum.
Suri's one potential advantage for finding growth are Nokia's assets beyond the networks division. The company has a digital-map business, and a research and development unit which also licenses its patents.
The maps unit, whose data is used by Amazon.com Inc., Microsoft, Yahoo! Inc. and four out of five car-navigation systems, could become more valuable as future connected-device systems use more location data. The R&D unit focuses on radio technologies, sensors, and other products that could also be part of connected-device systems.
'Dream Bigger'
"The Internet of things and what we call the programmable world will be a revolution," Chairman Risto Siilasmaa said in an interview. The sale of the mobile-phone unit frees Nokia to think of new technologies more broadly, without it having to focus on innovating just for its own devices, he said. "Now we can dream much bigger."
An additional opportunity is to sell more gear to companies such as Amazon.com and Google Inc., which are investing in network infrastructure and data centers, Matt Walker, an analyst at Ovum, said in a report last month.
Nokia is also expanding into technology services, aiming to be a partner that runs and maintains a network, while offering consulting and software to tap into carriers' need to reduce operating costs.
The market for services used by telecommunications operators will grow by as much as 7 percent annually over the next three years, Ericsson forecast in November. It was worth as much as $273 billion in 2012, almost half of which was made up of carriers doing the tasks themselves, says Ericsson, which is also pushing into the area more aggressively.
More Deals?
Suri said he could seek to bolster Nokia's competitiveness through smaller acquisitions. The proceeds from the Microsoft sale bring Nokia's gross cash to more than 10 billion euros, giving it ammunition for purchases even after the planned dividends, buybacks and debt reduction.
Last year, Nokia considered buying the wireless-equipment unit of France's Alcatel-Lucent, people familiar with the matter have said. Nokia can compete in all its three business areas and has no plan to focus on just networks, Suri said.
"If there are opportunities that make sense for our portfolio gaps we'll look at them prudently and pragmatically," Suri said. "But there is no need to rush into anything."
To contact the reporter on this story: Adam Ewing in Stockholm at aewing5@bloomberg.net
To contact the editors responsible for this story: Kenneth Wong at kwong11@bloomberg.net Ville Heiskanen, Kati Pohjanpalo