GE Learns the Hard Way About the Perils of French Dirigisme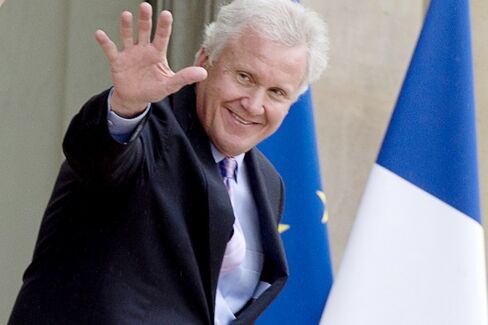 President François Hollande, hosting some 30 global business leaders at the Elysée Palace in February, promised that France was working hard to become more attractive to foreign investment. "We've never been afraid of opening ourselves up to the world," he said, adding: "I know that France is seen as a more complicated country than others."
General Electric was among the companies represented at that meeting—and the company is now getting a painful lesson on just how complicated France can be. Over the past few days, GE's plan to acquire key assets of French engineering group Alstom has become snarled in a government-led effort to protect the company, seen as a French industrial treasure.
After weeks of private discussion, GE and Alstom were close enough to a deal that GE Chief Executive Officer Jeffrey Immelt flew to Paris for what was expected to be a routine call on Economy Minister Arnaud Montebourg. But after Immelt arrived in town, Montebourg abruptly postponed their April 27 rendezvous, saying he wanted Alstom instead to consider a tieup with German engineering group Siemens. Siemens now is preparing a rival bid.
Despite Montebourg's comments, the Elysée maintains it isn't taking sides. Hollande held separate meetings on April 28 with Immelt and with Siemens CEO Joe Kaeser. Alstom, while remaining open to a possible Siemens offer, appears set to start formal talks with GE.
Regardless of the outcome, the government's "amateurish" handling of the situation will only worsen France's reputation as investor-unfriendly, says Agnès Verider-Molinie, director of the Fondation IFrap, a public policy research group in Paris. The cavalier treatment of GE, which employs 11,000 people in France (Alstom employs 18,000) is "quite astonishing," she says.
The treatment of Alstom executives hasn't been gentle either. Montebourg has accused the company's CEO, Patrick Kron, of misleading him about the talks with GE. "Does the Economy Minister have to install lie detectors in his office?" Montebourg said during a parliamentary debate today.
Many countries, including the U.S., require government approval of mergers and acquisitions involving companies deemed strategic to the national interest. There may be legitimate arguments for placing Alstom in that category. Among other things, it makes the turbine generators used in French nuclear plants and the high-speed trains used by the state-owned rail system. But if the government considers Alstom to be strategic, "they should have said so beforehand," Verider-Molinie says. "Why wait until the eve of the sale? They seemed to be totally unprepared."
Moreover, the French predilection for dirigisme extends to businesses that clearly have no strategic national interest. In 2013, the government blocked a plan by telecommunications group Orange to sell its Daily Motion video-sharing business to Yahoo! And earlier this year, the government tried unsuccessfully to stop media and communications group Vivendi from selling its mobile-phone business to investment group Altice. The government wanted the business sold to Bouygues, the country's No. 3 mobile operator. The government's view, Verider Molinie says, "seems to be that all French companies are strategic."
The plan under discussion by GE and Alstom calls for GE to buy the French company's energy business, which accounts for about 70 percent of its revenues, while the Alstom transportation division would remain separate. Montebourg, though, wants Siemens to swap some of its rail assets for Alstom's energy division, thereby creating two "European champions."
Before it's here, it's on the Bloomberg Terminal.
LEARN MORE