Will the RadiumOne Debacle Make Tech Deal With Its Gender Problem?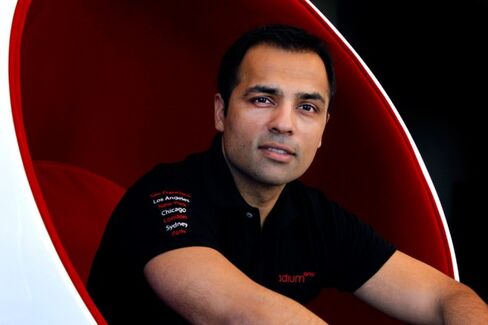 As of this morning the chief executive officer of RadiumOne, Gurbaksh "G" Chahal, has been fired from the company he founded. The ouster brings an end to a scandal that began months ago, when Chahal, an Internet advertising mogul and one of Extra TV's most eligible bachelors, was charged with 47 counts of domestic violence.
During a March court hearing in the case, a police officer testified that Chahal, 31, "allegedly hit and kicked his girlfriend in the head, body, and legs after learning that she had taken a trip to Las Vegas with another man," according to the San Francisco Business Times. "She stated she was unable to breathe. She stated that he said, 'I'm going to kill you' four times," said San Francisco policeman Anh Nguyen, the Business Times reported.
A video of the assault was allegedly captured on Chahal's home security system, but San Francisco County Judge Brendan Conroy made a controversial decision to exclude the video on the grounds that the police had illegally taken it from Chahal's condominium. Without the video evidence or the cooperation of the victim in the case, prosecutors dropped most of the charges. Chahal ultimately pleaded guilty to two minor charges and paid a minuscule fine. He faces no trial or prison sentence. After the plea deal, Chahal posted a self-congratulatory blog post entitled "Success is how high you bounce when you hit bottom." He signed it with a hashtag linking to a previous post: #DreamBigHustleHarder.
As soon as details of the resolution of the case emerged last week, the Internet-outrage machine kicked into overdrive.
Several days later, RadiumOne's board did the only thing it could do, voting to terminate Chahal's employment with the company and appoint a new CEO. The financial stakes are significant. As Bloomberg News's Cory Johnson reported on March 10, RadiumOne was in the early stages of a planned initial public offering. The company expects almost $100 million in revenue this year. Although the criminal justice system appears to have failed yet another victim of domestic violence, at least the forces of business PR considerations had some effect.
No one will miss reading about Chahal—a self-described "die-hard entrepreneur"—and his grotesque behavior. Some may argue that what happened to him is simply an isolated story of a violent individual, which was unfortunate but ultimately meaningless. But it's hard to see it as separate from the endemic misogyny of the technology industry, which glorifies "brogrammer" frat-house culture, celebrates the objectification of women, and denies female entrepreneurs funding for their companies. So the big question is whether this will prompt real change in the male-dominated tech world. This could be the industry's Donald Sterling moment—although, as of this writing, the Los Angeles Clippers owner has yet to be sanctioned.
In his own defense, Chahal argues in two blog posts that he can't be such a bad guy because he loves his mother and because he helped make some folks a lot of money. "Not to forget, in my last startup I made these same individuals over 800% on their investment?" Chahal wrote in a typo-riddled rant defending himself and assailing the RadiumOne board for firing him. "Whatever happened to real ethics?"
Before it's here, it's on the Bloomberg Terminal.
LEARN MORE