The Housing Market's Drag on Good Jobs
A sobering new report today from the National Employment Law Project finds that as the economy has inched toward recovery, low-wage jobs have returned far more quickly than middle- or high-income work. Big picture, this raises questions about the health and sustainability of an economic recovery without wage growth. Drilling down into the report's finding shows how the housing sector in particular is a key middle-income employer that has failed to rebound.
NELP has a helpful chart of the changes across industries. The size of the bubble corresponds to the size of the current workforce. The further to the right, the more workers since 2010. The further down, the lower the wages. So that's why, in the lower right side of the chart, are large increases in the relatively low-paying jobs of detail and fast food.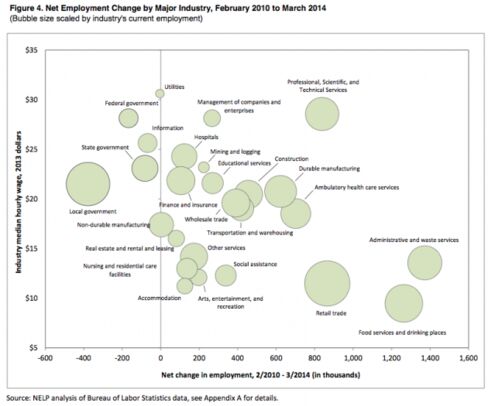 Take a look at the bubbles in the middle, which are sizable but have had lackluster growth, and you'll see many are tied to the housing industry. In detailed tables, NELP calculated that since January 2008:
• Employment among specialty trade contractors, who earn a median wage of $20.03 an hour, is still down 22 percent.
• The number of workers who manufacture wood products, with a median pay of $14.94 an hour, is down 27 percent.
• Jobs working in rental and leasing services, with a median wage of $14.17 an hour, are down 16.3 percent.
• Employment in "credit intermediation and related activities," which includes mortgage lending, is down 7.1 percent. Those jobs pay a median wage of $18.51 an hour.
Even within retail, the pattern holds. Work at food stores is up 4 percent, but the jobs have a median pay of $10.51 an hour. The number of employees, however, at building material retailers, who earn the median pay of $13.83 an hour, is still down 4 percent.
The situation is a bit chicken-and-egg. Homebuilders, for example, have been slow to pick up the pace of construction, which in turn is squeezing the housing market. And without good job growth among the young, middle-class workers who would be first-time buyers, builders are focusing largely on the smaller market of higher-end properties. With interest rates on the rise, it will be hard to break out of this cycle and see a fuller rebound in middle-class jobs.
Before it's here, it's on the Bloomberg Terminal.
LEARN MORE