Tendulkar's Soccer Bet Seen Needing Ryan Giggs: India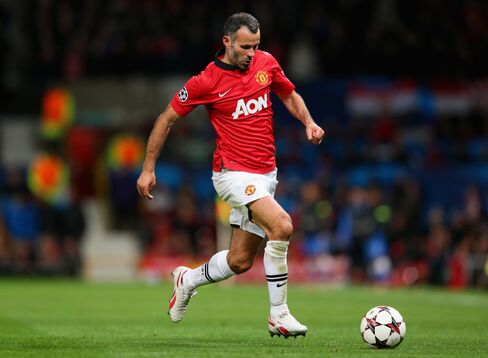 April 29 (Bloomberg) -- Eleven-year-old Manish Chopra wipes away sweat after an hour of batting in a New Delhi park as he considers why India is crazy for cricket over soccer.
"It's the players," he says, his friends nodding in agreement. "There are no good football players in India."
Cricket legend Sachin Tendulkar and Spanish club Atletico Madrid may have to take note, after emerging this month among the owners of eight soccer teams for the debut season of the $200 million Indian Super League. The competition, which begins in September, needs to entice viewers with well-known players from Europe who are seeking a final challenge, according to Brand Finance Plc.
"Players like Ryan Giggs," said Dave Chattaway, head of sports valuation at London-based Brand Finance, referring to the interim manager of Manchester United. "He's 40 years old but still playing in the Premier League, and he's match fit. The Super League could get to a $1 billion valuation, but that's on the assumption of the media interest it gets."
Giggs is among the most recognizable players at United, a three-time European champion and the English title holder a record 20 times. He's played a club record 962 times for United, and is focused on reviving his team after taking over as manager earlier this month.
Starless
No star players have yet been confirmed for the three-month Indian season by organizers IMG Reliance, a joint venture between billionaire Mukesh Ambani's Reliance Industries Ltd. and sports agency IMG Worldwide Inc. League partners include broadcaster Star India Pvt., a unit of Rupert Murdoch's New York-based 21st Century Fox Inc., and the All India Football Federation.
The franchise for a team for 10 years cost about $25 million, IMG said in a statement on April 14. The successful bidders included groups involving Tendulkar, Atletico and Bollywood actor John Abraham. Sun Group, the operator of airline SpiceJet Ltd., is the sole owner of its team.
Investors are betting India's growing middle class will watch matches on television, flock to stadiums, buy merchandise and lure sponsors, as the English Premier League and Spain's La Liga whet appetites for "the beautiful game."
The challenge is cricket's popularity in the nation of 1.2 billion people. Brand Finance estimates the sport's six-year-old Indian Premier League, with sponsors such as PepsiCo Inc. and Vodafone Group Plc, is valued at about $3 billion. Teams bid 640 million rupees ($10.6 million) for the top eight players this year, including England's Kevin Pietersen and Australian Mitchell Johnson.
Other League
The cricket league dwarfs an existing Indian soccer competition, the I-League, which has struggled, according to KPMG. IMG Reliance has said its goal is "a revolution in the sport" in India, which is 145th in FIFA's world soccer rankings, just behind Singapore and just ahead of Kyrgyzstan. The International Cricket Council ranks Indian squads in the top three teams in each of the three major forms of the sport.
"We'll need current global players to gain the interest," said Venugopal Dhoot, who won rights for the Super League team in Goa and is chairman of Videocon Industries Ltd. "Sponsors and advertisers will have to be tested. It can have a long gestation period. I'm quite confident the money is recoverable and profit will be there within five to 10 years."
The other seven teams are in Bengaluru, Guwahati, Kochi, Kolkata, Mumbai, New Delhi and Pune. Bengaluru was formerly known as Bangalore, and Kolkata was previously called Calcutta.
Owners
Bollywood actor Salman Khan is a co-owner of the Pune team. Another Indian film actor, Ranbir Kapoor, owns the Mumbai franchise. Sun Group took the rights to the Bengaluru team.
Aside from sponsorship revenues, franchise owners can also profit from a share of image rights in India if the Super League attracts well-known players, said Tathagata Mukherjee, a former head of national teams for the All India Football Federation.
Atletico Madrid, two wins away from becoming the Spanish champion and part owner of the Kolkata team, said April 13 that it seeks to contribute to a major change in soccer in India.
"There's huge potential," said Sameer Manchanda, chairman of New Delhi-based Den Networks Ltd., a cable television and broadband provider that won the rights to the Super League team in the national capital. "You'll be surprised to know the amount of sponsors which have already come in. You'll see that people are just waiting to grab a second sport."
Second Sport
Manchanda said more details about sponsors would emerge in about four months. If Indian economic growth can return to annual rates of 6 percent to 8 percent, "there's no way a second sport will not take off," he said.
The $1.8 trillion economy is estimated to have grown 4.9 percent in the 12 months through March, close to a decade low, according to the Statistics Ministry. How to revive the expansion is a pivotal issue for the nation's general election, which concludes May 16.
A bigger obstacle than a struggling economy is that India is "insignificant" in the world of soccer and may struggle to attract top players, said Novy Kapadia, a New Delhi-based football commentator.
Developing Leagues
Other Asian soccer competitions such as Japan's J-League, founded in the early 1990s, and the decade-old Chinese Super League, have offered lucrative contracts to older foreign players to stoke interest.
The 34-year-old Uruguayan striker Diego Forlan, who played for Inter Milan, Manchester United and Atletico, moved from Brazil's Internacional to Japan's Cerezo Osaka for an estimated $5.8 million wage, Agence France-Presse reported in January.
Former Arsenal midfielder Robert Pires, Inter Milan's Hernan Crespo and United striker Dwight Yorke are among ex-players being lined up to play in India, according to the Times of India.
The league needs sustained investment and must also take other steps such as developing local talent, refurbishing stadiums and investing in infrastructure to generate returns, said Jaideep Ghosh, head of sports advisory for KPMG in India.
Establishing a championship is a long-term challenge, and it's a setback the Indian competition hasn't attracted investment from larger European clubs such as Barcelona or Liverpool, said Brand Finance's Chattaway. Liverpool said in October it plans to open an Indian football academy in 2014.
The Super League remains a fraction of the size of those in Europe. Spain's Real Madrid paid more to buy three players for this season -- Gareth Bale, Asier Illarramendi and Isco -- than the current value of the Indian competition, based on British Broadcasting Corp. reports of the transfer fees.
For 11-year-old cricketer Manish Chopra, the most alluring soccer action also lies overseas. That's because the team he really wants to watch is the one he supports: Manchester United.
To contact the reporter on this story: Anurag Kotoky in New Delhi at akotoky@bloomberg.net
To contact the editors responsible for this story: Sunil Jagtiani at sjagtiani@bloomberg.net; Arijit Ghosh at aghosh@bloomberg.net Christopher Elser