Respect The Kentucky Derby Big Horse: David Papadopoulos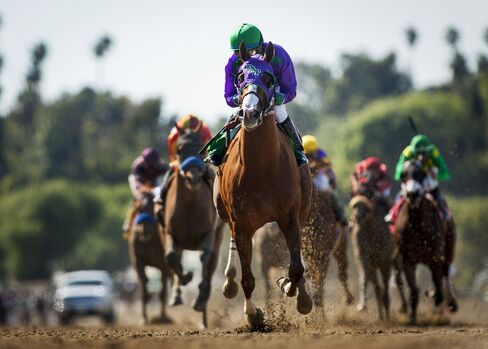 After California Chrome romped in the Santa Anita Derby earlier this month, I was sure there'd be a kind of super horse buzz about him in the run-up to America's biggest race.
It was such an effortless performance -- one of those picturesque wins where the rider just sits perched silently in the saddle as the horse cruises through the stretch -- that the racing world would embrace him as the dominant star of this crop of three-year-olds. As he hit the finish line that day, Kentucky Derby odds of below 2-1 flashed through my mind. He'd be overhyped and overbet in the Derby, I said to myself, and I'd put together a strategy aimed at profiting from his defeat.
I misread the gambling public.
With the Derby now just five days away, California Chrome feels underhyped and on his way to being potentially underbet.
Mike Battaglia, the oddsmaker at Churchill Downs Racetrack, captured the sentiment best when he told the Courier-Journal two weeks ago that he didn't think anybody "is really sold on California Chrome" and proceeded to give an initial betting-line forecast of 4-1 or 5-1 on the horse. (Battaglia told me April 24 that he's since cut his call to about 3-1 after a couple top contenders withdrew from the race; he's due to give his official estimate in two days, when the field is set.)
This isn't exactly the kind of price talk that conjures up images of Seattle Slew or Spectacular Bid or even, for that matter, the 2008 winner Big Brown, who went off at odds of 2-1.
I'm not sure why there's no buzz about this horse.
Maybe it's his obscure pedigree or the fact that he wasn't bred amid the rolling bluegrass hills of Kentucky, the birthplace of every Derby winner since 2005. Maybe it's because his 77-year-old trainer, Art Sherman, is known to few outside of California racing circles or because the horse lost four of the first six races of his career. Perhaps it's some combination of all those things.
Chaotic Race
Don't be fooled.
California Chrome is a special animal. He's won his last four races, including two of the biggest prep races for the Derby, by a combined margin of 24 lengths.
He has earned speed figures in two races -- based on the industry standard, the Daily Racing Form's Beyer numbers -- that are higher than any single mark earned by all the other likely Derby starters. He's an imposing chestnut colt, built powerfully all the way from his shoulders to his hindquarters, and a polished professional on the track with a fluid stride.
Can he be beaten on May 3? Of course he can. This is the Derby, after all, a chaotic, frenzied stampede of a race with 20 horses running the longest distance (1 1/4 miles) of their young careers as 150,000 fans scream at the top of their lungs.
Break Well
California Chrome will have to break well to secure a good spot near the front of the pack and then avoid getting caught up in the kind of early battle for the lead that has undone so many would-be Derby winners. If he were to find himself trapped behind rivals and wind up losing by 15 lengths, I can't say it would shock me.
But if the gambling public underestimates this colt and his odds flicker around 3-1 on race day, heck, I may just have to bet on him myself. Disrespect the big horse at your own risk.
(David Papadopoulos, the deputy managing editor for emerging markets coverage at Bloomberg News, has been following thoroughbred racing for more than two decades and was runner-up in 2008 Eclipse Award voting for feature writing on the sport.)
Before it's here, it's on the Bloomberg Terminal.
LEARN MORE