Plague of Defaults Seen Deepening Rousseff's Woes: Brazil Credit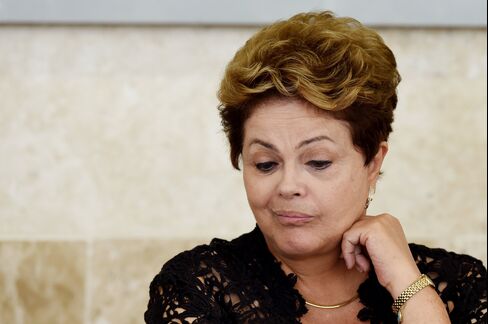 President Dilma Rousseff can add another distinction to her tumultuous 3 1/2-year tenure: She has presided over more corporate bond defaults in Brazil than any of her predecessors.
Auto-parts maker Sifco SA's decision to halt payments on its dollar-denominated bonds last week has pushed the amount of defaulted debt to $8 billion during Rousseff's first term, which ends this year. That's at least double the amount during the two-term presidencies of predecessors Luiz Inacio da Silva and Fernando Henrique Cardoso, according to Moody's Investors Service.
Rousseff's inability to revive growth in Latin America's biggest economy and tame inflation that has exceeded Brazil's target since she took office helps explain some of the 11 defaults during her tenure, said Sterne, Agee & Leach Inc. and Credit Suisse Group AG. While companies including OGX Petroleo & Gas Participacoes SA defaulted because they failed to deliver on promises, Sifco blamed Brazil's "sudden economic deceleration" in its bankruptcy, and ethanol producer Aralco SA Acucar & Alcool said it was hurt by government fuel subsidies.
"You can definitely see in some of those names that there's a correlation to the policies of the Dilma government," Revisson Bonfim, the head of global emerging-markets analysis at Sterne, Agee & Leach, said in a telephone interview from New York. "The sugar default is definitely a reflection of the government's price policies. The Sifco default was driven by lower growth, which you can tie to her policies."
Sifco Bonds
The presidential palace's press office declined to comment on the rise in defaults.
Sifco asked a U.S. bankruptcy court in Manhattan on April 23 to block creditors from taking legal action against the Jundiai, Brazil-based company's assets while it reorganizes in Brazil. The company said it has assets of more than $100 million and debt of more than $500 million.
The company's $75 million of bonds due 2016 have plunged 3 cents to 12 cents on the dollar since April 23.
Sifco, a supplier of front axles for trucks and buses, said in a statement on its website that an economic slowdown led to a reduction in revenue and cash flow.
Clients include Maumee, Ohio-based Dana Holding Corp. and Caterpillar Group Inc. Sifco's investor relations department declined to comment on the process.
Growth Outlook
The real advanced 0.5 percent to 2.2317 per dollar at 1:57 p.m. in New York.
Standard & Poor's forecasts Brazil's economy will expand 1.8 percent this year, down from 2.3 percent in 2013.
During Rousseff's term, growth has decelerated to the slowest pace since former President Fernando Collor, who served from 1990 to 1992. Her attempt to revive the economy by boosting spending has stoked inflation that the central bank says has a 40 percent chance of exceeding the 6.5 percent limit of Brazil's target range this year.
To contain cost-of-living increases, the central bank has raised its benchmark interest rate from a record low 7.25 percent in April 2013 to a two-year high of 11 percent.
Gonzalo Borja, a money manager at Credit Suisse Asset Management, said he sold his Sifco bonds before the default as poor management at the company and the economic slowdown boosted the likelihood of a default.
"Our exposure to Brazilian high-yield names at the moment is very low," Borja said by phone from Zurich. "We've seen a deceleration in Brazil, and fundamentally, it's one of the countries we are less positive on."
Recovery Rate
Borja said he's scaled back holdings of junk-rated Brazilian corporate debt because recovery rates in the country tend to be low. Insolvencies in Brazil take an average of four years to resolve, with a recovery rate of 19.5 percent, compared with 1.7 years and an average 70.6 percent recovery rate among the 34-nation Organization for Economic Cooperation and Development, according to the World Bank.
Aralco, based in Aracatuba, defaulted on $250 million of debt last month after making just one coupon payment as government subsidies for gasoline intended to control inflation reduced domestic demand for biofuels and added to a global sugar surplus. In a statement following a March 5 bankruptcy filing, the company cited rising borrowing costs and Rousseff's fuel price policy.
Aralco's $250 million of notes due 2020 have dropped 46 cents this year to 9 cents on the dollar, according to data compiled by Bloomberg.
'Bad Shape'
Aralco's investor relations department didn't respond to request for comment.
Frederico Tebechrani, a corporate credit research analyst at Banco Pine, said defaults during Rousseff's tenure are less a result of her economic policies than company-specific "problems."
"The defaults of recent years are much more related to case-by-case problems than a broader economic scenario," Tebechrani said by phone from Sao Paulo. "Companies such as OGX, Aralco and Sifco were in bad shape in comparison to their peers. Other companies in the same sector but with lower leverage ratios are in much better situations and didn't go through difficulties in the past few years. Each case has to be considered separately."
OGX, the oil company now known as Oleo & Gas, missed payments on $3.6 billion of dollar debt last year in Latin America's biggest corporate default after it failed to meet output targets.
High interest rates, quickening inflation and low growth are hurting Brazilian companies' ability to generate cash flow, according to Renato Donatti, associate director at Fitch Ratings in Sao Paulo.
"Sifco had a concentration of short-term debt, and they have been able to roll it over, but at a very high cost," he said. "With a more challenging scenario for the auto industry as a whole and high interest rates, it became harder for them to renegotiate debt."
Before it's here, it's on the Bloomberg Terminal.
LEARN MORE