McAllister to Retire From Congress After Kissing Scandal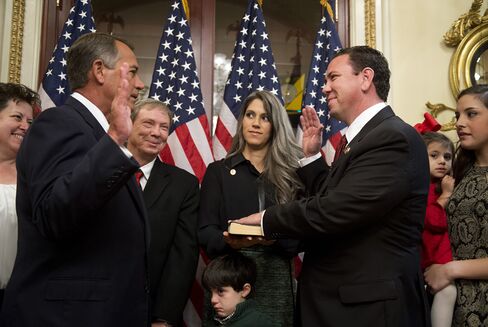 Republican U.S. Representative Vance McAllister of Louisiana won't seek re-election in November, weeks after a security videotape surfaced showed him passionately kissing a member of his staff who wasn't his wife.
"There's no doubt I've made a mistake," he said in an e-mailed statement. "I've failed those I care most about and let down the people who elected me to represent them. I take full responsibility for this personal failure and I'm truly sorry for what I've done."
"Today, I am announcing that I will not seek re-election, but I will continue to be that voice and will uphold the office to which I was elected to serve for the remainder of my term," he said.
The congressman's decision follows calls from Republican leaders for McAllister to step down. His term expires in early January 2015.
McAllister had been absent from the U.S. House since the video surfaced April 7, missing a number of votes including one on the House Republican budget. He's set to return to Washington for House votes today.
Louisiana Governor Bobby Jindal on April 10 said McAllister's behavior was "an embarrassment" and that the best way for him to "get privacy and work on putting his family back together is to resign from Congress."
Roger Villere, chairman of the Republican Party of Louisiana, in a statement urged McAllister to resign and said his "extreme hypocrisy is an example of why ordinary people are fed up with politics."
Swift Fall
McAllister, married with five children, campaigned for the House last year as a Christian conservative. He was elected in November to replace fellow Louisiana Republican Rodney Alexander, who resigned to take a job in Jindal's cabinet.
Buoyed by an endorsement from reality television star Phil Robertson of "Duck Dynasty" fame, McAllister came in second in a 14-way primary, then won a runoff election.
Before the video emerged of McAllister kissing a staff member, who also was married, he was known in Washington for bringing another Duck Dynasty star, Willie Robertson, as his guest to the State of the Union address. The staff member resigned, according to the Associated Press, after the Ouachita Citizen posted the video on its website.
Before it's here, it's on the Bloomberg Terminal.
LEARN MORE