Warhol, Picasso Lead $20 Million Christie's Shanghai Sale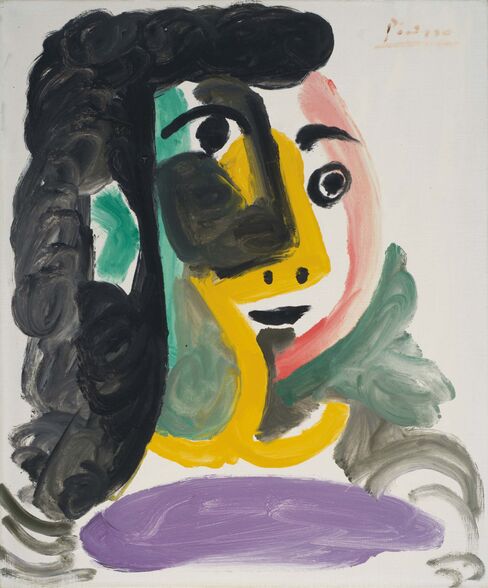 April 28 (Bloomberg) -- Works by Andy Warhol and Pablo Picasso led Christie's Asian and Western 20th century and contemporary art sale that raised 125 million yuan ($20 million) in Shanghai.
The 61-lot sale on April 26 earned less than the $25 million achieved at Christie's inaugural mainland sale in September, where jadeite, wine, watches and jewelry were also included in the 39-lot auction.
As Chinese collectors begin to venture beyond traditional Chinese paintings and antiques to collect Western works, auction houses have offered mainly prominent artists such as Picasso, Warhol, Damien Hirst and Marc Chagall along with Chinese modern and contemporary masters like Zao Wou-ki and Zeng Fanzhi.
"We have created a platform where Asian and Western art intersect," Jinqing Cai, president of Christie's China, said in a press release. Of the top 10 lots, five were Chinese and five Western.
The most expensive work was bought by an Asian telephone bidder who paid 12 million yuan, including buyer's premium, for the Warhol acrylic and silkscreen inks on canvas titled "Self-Portrait With Skeleton Arm and Madonna," after Edvard Munch.
Packed Salesroom
As with September's auction, the mood on Saturday was charged, especially when the bidding got competitive, evoking cheers and applause from the packed salesroom of around 600.
There was, however, an uneasy silence when the Picasso failed to elicit a single bid from people in the room or Christie's staff working the phones.
The work, which shared the same high pre-sale estimate as the Warhol of 15 million yuan, was sold for 10.8 million yuan to a European buyer who had submitted a bid prior to the auction.
The most expensive Chinese work, and third-most expensive of the evening, was a 10.2 million yuan abstract painting by Zao (1921-2013) who spent the last 65 years of his life in France.
A Hirst butterflies work titled "Daemon" sold for 3.6 million yuan, while his polka-dot style canvas "Calcium Hydride" fetched 2.2 million yuan.
Though small by international standards -- the Christie's postwar and contemporary auction in New York on May 13 has a target of $500 million -- the Shanghai sale is an important step in gaining access to the growing ranks of high-net-worth individuals in the mainland. Chinese buyers accounted for 63 percent of the successful bidders and international buyers 37 percent, Christie's said.
Still, the most lucrative part of the Chinese art and antiques market -- valued at $14.3 billion in 2012 by the European Fine Art Foundation -- is off-limits to foreign auction houses under a law to protect cultural relics.
Lots sourced from overseas sellers are sold under "bond" with the customs duties and taxes deferred unless the works are kept in China, Christie's said.
To contact Bloomberg News staff for this story: Frederik Balfour in Hong Kong at fbalfour@bloomberg.net
To contact the editors responsible for this story: Matthew G. Miller at mmiller144@bloomberg.net Andreea Papuc