Gold Bulls Return in Time for Rally on Ukraine Tensions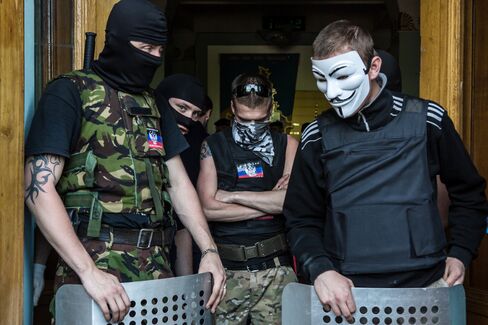 Investors returned to gold just in time for the longest price rally in a month amid mounting tension over Ukraine.
Money managers increased their net-long position in gold in the week ended April 22, snapping a four-week retreat that was the longest this year. The metal climbed in the next three days, sending futures to the best start to a year since 2006.
Bullion reached a six-month high after Russia annexed Crimea last month, and then fell almost 9 percent on signs that peace would return. Hostilities last week fueled demand for haven assets as the 28-nation European Union prepared to impose more sanctions against Russians in positions of power.
"You're going to get a lot of backwards and forwards in gold," Adrian Day, president of Adrian Day Asset Management in Annapolis, Maryland, said April 24. "The gold situation has been compounded by Ukraine. I'm very bullish on gold, but it's going to be a trade for the patient."
Futures rose 0.5 percent to $1,300.80 an ounce last week on the Comex in New York. The Standard & Poor's GSCI Spot Index of 24 commodities fell 0.5 percent, while the MSCI All-Country World Index of equities dropped 0.2 percent and the Bloomberg Treasury Bond Index gained 0.3 percent. The Bloomberg Dollar Spot Index was little changed. Bullion settled at $1,299 in New York today.
Net Longs
The net-long position in gold rose 0.5 percent to 90,572 futures and options in the week ended April 22, the first increase since March 18, according to data from the U.S. Commodity Futures Trading Commission. Both short and long holdings fell, signaling the change in net wagers was spurred by investors unwinding bets on a decline.
Gold has climbed 8 percent in 2014, rebounding from last year's 28 percent slump, the biggest since 1981. Unusually cold winter weather stymied U.S. economic growth, while tensions between Russia and Ukraine flared. Russian President Vladimir Putin last week warned Ukraine against continuing an anti-separatist offensive that killed five rebels.
Hedge funds have had a difficult time predicting gold's next move, misjudging prices in two of the past four weeks. The money managers are in good company. Barrick Gold Corp. Chairman Peter Munk said last week he finds it impossible to accurately predict the value of the precious metal, echoing comments made by Federal Reserve Chairman Janet Yellen and her predecessor Ben S. Bernanke.
Goldman View
Barrick, the largest gold producer, wrote down $11.5 billion in value last year as bullion plunged into a bear market. Futures remain 32 percent below the $1,923.70 record reached in September 2011.
Goldman Sachs Group Inc. doesn't expect the rally in gold to last. The economic slowdown earlier this year was "transient," and a rebound in the pace of expansion will drive prices lower, the bank said in an April 13 report, reiterating that the metal will touch $1,050 in 12 months. Barclays Plc and ABN Amro are also forecasting that prices will weaken, the banks said in reports this month.
American consumer confidence climbed to a nine-month high in April, and U.S. orders for durable goods in March rose the most since November, reports showed last week. Improving growth gives the Federal Reserve more leeway to decrease monetary stimulus. The central bank in March reduced the monthly pace of bond purchases by $10 billion to $55 billion, and signaled additional cuts in "further measured steps."
Fed Taper
"We're still a little toward the bearish side because we think the Fed continues to taper," said Rob Haworth, a Seattle-based senior investment strategist at U.S. Bank Wealth Management, which oversees $115 billion. "That said, compared to last year, I have to temper my bearishness because we've seen geopolitical risk rise," he said April 24.
Gold jumped 70 percent from December 2008 to June 2011 as the Fed bought debt and cut interest rates to a record in a bid to boost the economy.
Combined net-wagers across 18 U.S. traded commodities slid 1.2 percent to 1.67 million contracts as of April 22, the CFTC data show. Investors withdrew $33.8 million from U.S.-based ETFs tracking commodities in the five days through April 24, led by an outflow of $200 million in precious-metal funds, data compiled by Bloomberg show.
Crude Bets
Bullish bets on crude oil dropped 2.3 percent in the week through April 22, the first decline this month, CFTC data show. West Texas Intermediate fell 3.5 percent in New York last week, the most since mid-March. U.S. inventories are at the highest since government weekly data started in 1982.
Speculators trimmed net-short wagers in copper to 3,527 contracts, the fewest since March 4. Copper futures gained 1.9 percent last week. Stockpiles monitored by exchanges in Shanghai, London and New York fell to the lowest since 2008.
A measure of speculative positions across 11 agricultural commodities dropped for a third straight week, falling 3.6 percent to 1.02 million contracts. The S&P GSCI Agriculture Index of eight crops rose 1.3 percent, and is up 19 percent in 2014, the best start to a year since the data begins in 1970.
Investors increased their wagers on a coffee rally by 1.9 percent to 38,863 contracts, the CFTC said. Coffee futures surged to a 26-month high on April 23 as the worst Brazilian drought in decades ravaged the crop and Volcafe Ltd. predicted global harvests to fall short of demand by 11 million bags.
Wheat net-longs dropped 29 percent to 27,090 contracts. Prices climbed 1.3 percent last week on concern that tensions in the Black Sea region could disrupt supplies. Russia is the fifth-biggest exporter and Ukraine is the sixth.
"If Russia and Ukraine got everything patched up, that kind of risk premium would fade," Kelly Wiesbrock, a portfolio manager at Harvest Capital Strategies in San Francisco, which oversees $1.8 billion, said April 24. "It doesn't look like that's going to happen any time soon. The biggest thing for agriculture is the supply component."