Figeac Prices 2013 Wine in Line With 2012 as Langoa Cuts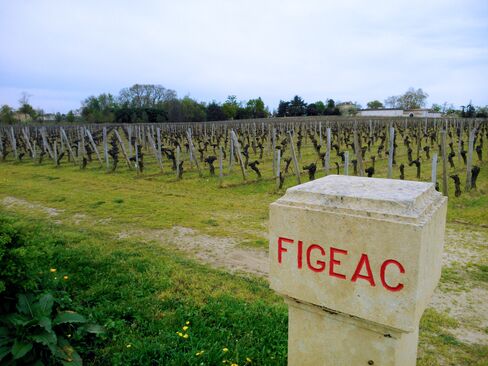 Chateau Figeac, a wine estate in the Saint-Emilion district of Bordeaux, priced its 2013 vintage in line with the previous year as rival Chateau Langoa-Barton announced a 5 percent reduction amid pressure to lower prices.
Figeac is offering the wine at 48 euros ($66) a bottle from Bordeaux wholesale merchants, according to data compiled by the London-based Liv-ex wine market. Langoa, a winery in Saint-Julien on the left bank of the Gironde estuary, priced its new wine at 28.50 euros, down from 30 euros last year.
Investors have been looking to so-called en primeur sales of 2013 wines, before they are bottled and released onto the market, to give impetus to Bordeaux prices which have declined on waning Chinese demand and growing interest in wine from other regions. The Liv-ex Fine Wine 50 Index fell by more than 4 percent this year after dropping 3 percent in 2013 and 10 percent in 2012.
"Consumers, critics, merchants and negociants delivered their usual supplications to the producers to significantly lower their release prices," Will Beck, a partner at Wine Asset Managers LLP in London, said in a market report e-mailed on April 23. "Most chateaux so far have ignored the pleas."
The Liv-ex Fine Wine 50 index fell by more than 4 percent this year after dropping 3 percent in 2013 and 10 percent in 2012.
Figeac, owned by the Manoncourt family for more than 120 years, comprises 40 hectares (99 acres) of vines in a single block, according to data from producer association Union des Grands Crus de Bordeaux. Its vineyards are situated on gravelly rises northwest of the town of Saint-Emilion, close to Chateau Cheval Blanc, one of the area's highest-ranked producers.
Regional Ranking
Two others, Chateau Angelus and Chateau Pavie, classified as Premier Grand Cru Classe A, cut the price of their 2013 vintage to 165 euros a bottle, an 8 percent reduction from the previous year, according to data compiled by Liv-ex.
While Figeac, which is ranked one level below at Premier Grand Cru Classe B, left its 2013 price unchanged from the previous year, the 2012 price represented a 71 percent discount from the 168 euros it charged for the higher-rated 2010 vintage. Angelus and Pavie were able to limit their price cuts over the same period to 27 percent because of their higher grading.
Clos Fourtet, another producer from Saint-Emilion, priced its 2013 wine at 44 euros a bottle earlier this month, down 2 percent from the previous year, according to Liv-ex. Chateau Haut-Brion, Chateau Mouton Rothschild and Chateau Margaux, three of the top producers on the left bank, announced reductions of 10 percent, while Chateau Lafite Rothschild lowered prices by 14 percent, the data show.