Economy Seen Posting Best Performance in Four Years: U.K. Credit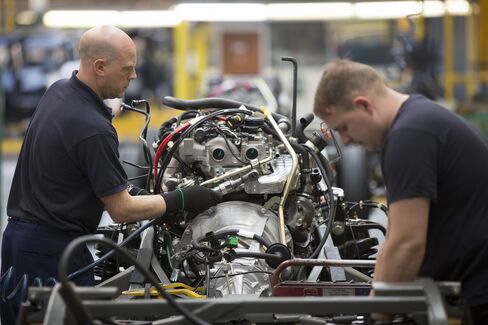 April 28 (Bloomberg) -- The U.K. economy probably expanded at its fastest pace in four years in the first quarter as the Bank of England maintained record-low interest rates to cement the recovery.
Gross domestic product rose 0.9 percent, up from 0.7 percent in the final three months of 2013, according to the median of 39 estimates in a Bloomberg News survey. It would be the strongest performance since the second quarter of 2010.
Britain is on course to be the fastest-growing Group of Seven nation this year, fueling speculation that BOE policy makers led by Governor Mark Carney might raise borrowing costs as early as the fourth quarter. Officials have pledged to keep the key rate at 0.5 percent until the economy has used up more of its slack.
"This year should see a continued recovery at a reasonably brisk pace," Philip Rush, an economist at Nomura International Plc in London, said in an April 25 interview. "The positive news on the economy should be bringing forward that time when rate hikes are appropriate."
The Office for National Statistics will publish the data, which will include estimates of services, construction and industrial production, at 9:30 a.m. tomorrow in London. Forecasts in the Bloomberg survey range from 1 percent at firms including Credit Suisse Group AG to 0.6 percent at Moody's Economy.Com.
Spare Capacity
With unemployment already below the 7 percent threshold at which the Monetary Policy Committee had pledged to consider raising rates, the debate over policy now centers on how much the economy can grow without triggering faster inflation.
One-month forward Sonia contracts signal the central bank will boost the key lending rate -- on hold since March 2009 -- 25 basis points by next March. Five of 32 economists in a Bloomberg survey compiled this month expect a rate increase in the fourth quarter.
The recovery has pushed up yields on gilts maturing in less than five years. The extra yield investors demand to hold 10-year gilts over their two-year counterparts has fallen 50 basis points, or half a percentage point, to 197 basis points this year. The 10-year gilt yield rose 2 basis points from April 25 and traded at 2.66 percent as of 10:33 a.m. in London.
The pound has gained 9.4 percent over the past year, the best performance among 10 developed-market currencies tracked by Bloomberg. It was at $1.6845 in London, up 0.3 percent on the day.
Political Boost
Accelerating growth is a boost for Prime Minister David Cameron and Chancellor of the Exchequer George Osborne as they prepare for European Parliament and U.K. local authority elections on May 22. Their Conservative Party is trailing behind the Labour opposition in opinion polls with just over a year to go before the next general election.
BOE officials raised their U.K. forecasts this month, estimating growth of about 1 percent in the first and second quarters of the year.
The strength of the rebound over the past year has surprised forecasters. After emerging from the deepest recession since World War II in late 2009, the economy struggled to gain traction and output in the fourth quarter was still 1.5 percent below its pre-recession peak.
Housing Boom
Consumer spending buoyed by a surging housing market has driven the recovery, with data showing retail-sales growth accelerated to 0.8 percent in the first quarter. A 0.6 percent increase in house prices in April was the 15th consecutive monthly gain, property researcher Hometrack Ltd. said today.
The GDP report may show the recovery is broadening. Industrial production surged the most in eight months in February, ONS figures show. Manufacturers' optimism rose to the highest in 41 years in April, according to a gauge published last week by the Confederation of British Industry.
The CBI said today its composite survey indicator showed growth gathered pace in April and expectations for the next three months are the strongest since the data began in 2003.
The U.K. is the first G-7 nation to report first-quarter GDP. The U.S. economy, the world's largest, probably grew at a 1.2 percent annualized rate after a 2.6 percent rate in the fourth quarter, economists said before a report on April 30.
Leading G-7
Britain will outperform its G-7 peers this year, according to the International Monetary Fund, which raised its forecast to 2.9 percent this month from 2.4 percent. A year ago, the Washington-based lender was predicting growth of just 1.5 percent in 2014.
The economy expanded 1.7 percent last year, the most since 2010. The Bank of England raised its growth projections in minutes of its April policy meeting, released last week. Officials will publish new quarterly projections on May 14 that will detail its assessment of slack in the economy, as evidenced by indicators such as wage growth and part-time work.
A three-month stretch of inflation below the bank's 2 percent target has also eased pressure on the MPC to increase borrowing costs. It's also given a break to consumers, who are seeing wage gains outpace price increases for the first time since the financial crisis.
"The consumer recovery should receive more fundamental support over the coming quarters," Jonathan Loynes, an economist at Capital Economics Ltd. in London, said in a statement. "We continue to expect overall household spending to post solid gains of about 2.5 percent, or possibly more, both this year and next."
Investment Recovery
There are also signs business investment is helping to support a recovery that has so far relied on consumers saving less of their income. Corporate spending rose 8.7 percent in the fourth quarter from a year earlier and the Office for Budget Responsibility, which oversees forecasting for the Treasury, expects investment to grow about 8 percent per year over the next four years.
"There is clear evidence that firms are now looking to step up their borrowing as markedly improved economic activity in recent months lifts their confidence and need for capital," said Howard Archer, an economist at IHS Global Insight in London.
To contact the reporter on this story: Jennifer Ryan in London at jryan13@bloomberg.net
To contact the editors responsible for this story: Craig Stirling at cstirling1@bloomberg.net Andrew Atkinson, Thomas Penny