Abdullah Says Afghan Election Probe Will Make Him Next President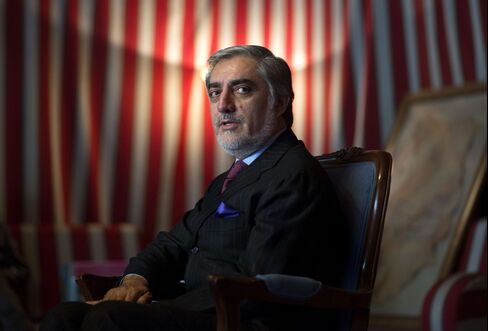 Abdullah Abdullah, who won the most votes in the first round of Afghanistan's election, said an investigation into the results will show he's the next president and that a runoff is unnecessary.
Abdullah, a former foreign minister, finished first with 45 percent of the vote, short of the 50 percent needed to avoid a runoff, according to preliminary results of the April 5 vote. Former World Bank economist Ashraf Ghani Ahmadzai came in second with 32 percent.
"The matter of a second round would be raised after the final results" are released on May 14, Abdullah told reporters in Kabul yesterday. "If invalid and fraudulent votes are taken away, it won't be necessary to go for a second round."
Both Abdullah and Ahmadzai have vowed to sign a security pact with the U.S. immediately after taking office. Outgoing Afghan President Hamid Karzai has delayed signing the deal, known as the Bilateral Security Agreement, which is needed to keep U.S. troops in the country beyond this year and secure billions of dollars in pledged aid funds.
"The U.S. can follow its strategy in Afghanistan with both candidates," Jawid Kohistani, a Kabul-based independent political analyst, said in a phone interview. "Afghanistan's budget tightly depends on U.S. and other international countries. Any delay in the BSA would cause the U.S. to reduce its Afghan budget, and that would make Afghanistan unable to pay salaries."
No Deal
The final results for the first round are to be made public on May 14 after an investigation of hundreds of fraud complaints to the Independent Electoral Complaints Commission. Allegations include the use of fake voting cards, ballot stuffing and a shortage of forms.
A runoff can be avoided if a power-sharing deal is struck between the top candidates, according to the constitution. The second round would probably take place on June 7, Ahmad Yusuf Nuristani, chairman of the Independent Election Commission of Afghanistan, told reporters on April 26.
Abdullah, who served as Karzai's foreign minister for four years, withdrew in 2009 from a runoff with his former boss, saying it wouldn't produce a clean vote.
"We will enter the second round with strong determination, and our belief in victory is still strong," Ahmadzai told reporters yesterday in Kabul. "We want rules -- not a deal -- and we will not participate in or form a coalition government."
Afghan officials and foreign allies declared the election a success after Taliban guerrillas failed to disrupt it. About 7 million Afghans –- 65 percent male and 35 percent female -- cast ballots, double the turnout of the previous election in 2009, according to Nuristani.
Hero's Aide
Abdullah, 53, is half Pashtun and half Tajik. He was a close aide to Northern Alliance Commander Ahmad Shah Masood, an ethnic Tajik seen by many Afghans as a national hero. The pair fought together against Soviet occupiers in the 1980s and the Taliban in the 1990s. Suicide bombers killed Masood two days before the Sept. 11, 2001, attacks that led to U.S. action in Afghanistan.
Ahmadzai, 64, is a Pashtun who served as Afghan's finance minister from 2002 to 2004 and finished fourth in the 2009 election. He holds a doctorate in cultural anthropology from Columbia University in New York and led a commission in charge of transferring security operations from the U.S.-led coalition to Afghan forces.
Pashtuns account for 42 percent of Afghanistan's 32 million people, while Tajiks make up 27 percent, according to the CIA World Factbook. Uzbeks and Hazaras each account for 9 percent, and other groups comprise the rest, it says.
Three Scenarios
Among the six other candidates in the election, former Foreign Minister Zalmai Rassoul won 11.5 percent of the vote and Abdul Rab Rassoul Sayyaf, a former parliament member, 7 percent.
The U.S. Defense Department will prepare three scenarios for war funding next year depending on how many U.S. troops will remain in Afghanistan, according to an internal Pentagon e-mail obtained April 24 by Bloomberg News.
One estimate would take into account 10,000 U.S. troops stationed in the country, another would presume 5,000, and a third would imply no presence as of Jan. 1, 2015, according to the e-mail sent by John Roth, the Pentagon's deputy comptroller for programs and budgets.
Before it's here, it's on the Bloomberg Terminal.
LEARN MORE