De Blasio's Entanglement in Horse Fight Obscures Agenda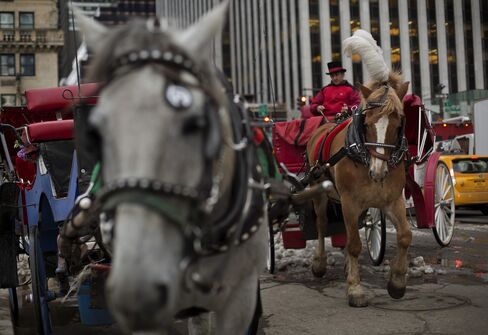 April 27 (Bloomberg) -- As Mayor Bill de Blasio takes on income inequality, aggressive police tactics and early-childhood education, he's stepped into a horse mess.
The welfare of animals that for 150 years have clip-clopped before Central Park carriages had been a perennial side issue in New York politics. Then de Blasio, still an underdog candidate, last year courted a tightly organized group of urban equine enthusiasts by promising a ban during his first week in office. The group helped take down his chief rival.
Now, de Blasio's unfulfilled pledge has set off blaring tabloid covers, protests, mutterings about real-estate interests and extortion, the adulation of Miley Cyrus and the fury of Liam Neeson. The mayor's endorsement of old-timey electric cars as a replacement hasn't broken the impasse.
"If you're sitting in one of those cars, where's the romance?" said Cathy Challis, a tourist from London. She pointed to horse carriages awaiting passengers in the park. "These are lovely if you're getting married, or you've been engaged, or it's a second marriage, or if you want to get married and you're trying to entice the female."
The buggies, offering plush seats and retractable roofs, are often adorned with flowers and feathers. They've been plying Central Park's hills since 1859.
They were the vehicle for romantic escapades in Woody Allen's 1979 film "Manhattan" and the television show "Sex and the City." In "Seinfeld," Cosmo Kramer takes his friend's soon-to-be in-laws on a ride after feeding Rusty the horse a can of Beef-a-reeno. The results are unpleasant.
Urban Equines
The websites of New Yorkers for Clean, Livable and Safe Streets and the Coalition to Ban Horse-Drawn Carriages paint a different picture. They flash images of animals surrounded by traffic and lying awkwardly on asphalt. One is covered by a blue tarp, presumably dead.
"This is an inhumane, outdated industry," Allie Feldman, executive director of the safe streets group, said in an interview. "Let's replace it with a modern alternative."
The group was co-founded by Steve Nislick, the former chief executive officer of Edison Properties, an owner of self-storage buildings and parking lots. The affiliation has prompted claims, which the group dismisses, that the fight is really about valuable land beneath the horses' homes.
"The animal-rights opponents of the industry are well funded by real-estate interests, which has led to speculation that this powerful lobby wishes to develop the West Side properties occupied by the stables," Neeson, a city resident, wrote in a New York Times opinion piece.
'Torture Wagons'
Meanwhile, Cyrus, a singer and former child star now famed for risque antics, and actor Alec Baldwin joined forces with People for the Ethical Treatment of Animals to free the horses from their labor. In an episode of television show "30 Rock" Baldwin's character referred to the carriages as "rolling torture wagons."
The anti-carriage movement gained influence last year when members funded advertisements attacking the frontrunner in the Democratic mayoral primary asking, "Why does Christine Quinn hate animals?"
The New York Daily News reported last week that the FBI is looking into whether Nislick's group's attempts to sway her constituted extortion. Jamie McShane, who was Quinn's spokesman, declined to comment.
Symbiosis Achieved
Most city council members favor a ban, said Ydanis Rodriguez, who represents upper Manhattan. He said April 17 that he'll introduce one "very soon."
With the mayor on board, Rodriguez said it's only a matter of time.
"Horses don't belong on the streets of New York City," de Blasio told reporters April 24.
The mayor is fighting a long history of co-existence. Horses are thought to have been domesticated 6,000 years ago, probably as a food source, according to a 2008 exhibit at the American Museum of Natural History in New York. Humans have employed them to fight wars, deliver mail and clear forests. About 130,000 worked in Manhattan in 1900, the museum says -- about 10 times the number of yellow taxis cruising city streets today.
"Most horses are strong enough to pack or pull heavy loads," according to the exhibit. "Their strength is part of their makeup. Horses have evolved by natural selection to have thick muscles, a large heart and powerful lungs."
Working Beasts
Brent Stone, assistant manager at the 20,000-acre MT7 Ranch in Breckenridge, Texas, said leaving horses idle is illogical.
"That's like saying that we shouldn't milk cows or use cattle for beef," said Stone, 41, who rides every day. "I can't see us wasting valuable space and water and feed on something that's just going to stand there not doing anything."
Carriage drivers say the horses are treated with care, citing laws that forbid them working more than nine hours out of 24, mandate five vacation weeks and require health checkups.
"The best way to keep our horses happy and healthy and safe is to keep them in their jobs," said Christina Hansen, a driver and spokeswoman for the Historic Horse-Drawn Carriages of Central Park NYC. There are about 160 drivers, 68 city-issued medallions for carriages and at least 100 other workers who make a living caring for the animals, according to the group.
Substitute Attraction
Trips cost $50 for the first 20 minutes. In summer, Abu Coulibaly, a 40-year-old native of Ivory Coast, averages seven trips a day, he said. He doesn't own the horse or carriage he uses and takes home about 40 percent of his earnings, plus gratuity.
"They've seen enough cars," Coulibaly said of his tourist-heavy clientele. "They want something different."
On his campaign website, de Blasio instead suggested something similar: "electric, vintage-replica tourist-friendly vehicles that provide jobs for current drivers."
Enter the Horseless eCarriage, a golf-cartesque conveyance that made its debut at the New York International Auto Show on April 17. The prototype cost about $450,000, underwritten by Nislick's group.
With 84 horsepower generated by a lithium battery, seating for eight and 1920s styling, the car would retail for around $150,000, said Feldman.
"We knew we needed to get a solution that works for everybody," she said. "It's a huge opportunity for the carriage drivers to make an excellent living to drive this car instead of a poor horse."
Horse's Reaction
The Central Park Conservancy, which manages the 843-acre landscape for the city, said in a statement that vehicles would make the verdant showplace less safe for users and increase congestion.
Marti Adams, a spokeswoman for the the mayor, said April 25 that, "We're considering a range of options that move the horses off the streets."
Hours after the horseless carriage was unveiled, Marcello, a brown-and-white Friesian driven by Coulibaly, munched on grain from a red bucket. The driver contemplated Marcello's reaction to the retirement so many wish him.
"He wouldn't say nothing," Coulibaly said. "But he would be sad."
To contact the reporter on this story: Esme E. Deprez in New York at edeprez@bloomberg.net
To contact the editors responsible for this story: Stephen Merelman at smerelman@bloomberg.net Mark Schoifet