Volvo Profit Surges Fivefold on Production-Cost Cutbacks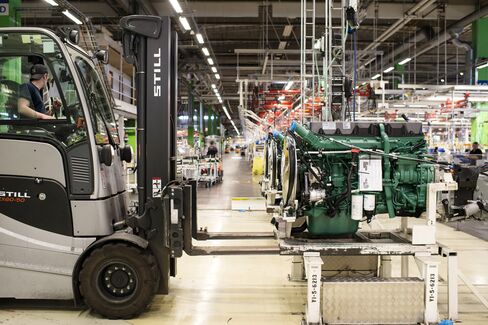 Volvo AB, the world's second-largest truckmaker, said first-quarter operating profit surged almost fivefold as the manufacturer scaled back production to meet a cost-savings target for 2015.
Earnings before interest and taxes rose to 2.27 billion kronor ($345 million) from 482 million kronor a year earlier, Gothenburg, Sweden-based Volvo said in a statement today. Profit beat the 1.67 billion-krona average of seven analyst estimates compiled by Bloomberg.
Chief Executive Officer Olof Persson has a goal of turning the company into the most profitable heavy-truck maker by reorganizing the Volvo and Renault brands' production in Europe, cutting administrative jobs and expanding overseas. The program's target is 4 billion kronor in annual cost savings by the end of 2015. A truck-production line was closed during the quarter, in addition to a component plant, Volvo said today.
"The measures we are implementing to increase the group's profitability are running according to plan and start to have a positive impact on our gross margin and costs," Persson said in the statement. "But there is still more work to do in terms of cost reductions, and this is the group's main focus for 2014."
Volvo rose as much as 0.4 percent and was trading up 0.1 percent at 103.5 kronor as of 9:41 a.m. in Stockholm. The shares have gained 23 percent this year, valuing the company at 220.7 billion kronor.
Orders Fall
First-quarter orders fell 9.7 percent to 55,146 trucks. Operating cash flow from manufacturing was a negative 9 billion kronor versus a negative 7.6 billion kronor a year earlier. Inventory rose 4.3 billion kronor, versus a year-earlier increase of 2.7 billion kronor, in advance of the second-quarter selling season, Volvo said.
"The substantial inventory build seems to imply a strong degree of overproduction, which will have boosted EBIT," while orders missed estimates, indicating that profit may also be less than predictions, analysts at Bank of America Corp., including Fraser Hill in London, said in a report to clients.
The full-time workforce totaled 93,476 employees as of March 31, a 2.2 percent decline from the end of 2013 following the sale of the Volvo Rents construction-equipment leasing unit early this year. Under a plan announced late last year to eliminate office jobs, about 900 people have left the company out of a target reduction of 4,400 positions, Volvo said.
Scania Profit
The operating-profit gain compares with a 17 percent jump at Scania AB, the Soedertaelje, Sweden-based truckmaker controlled by Volkswagen AG, to 2.26 billion kronor on a 9.2 percent increase in revenue to 21.1 billion kronor. New truck orders rose 4 percent in the quarter as European customers' need to replace aging models more than made up for an emissions-rule change in the region that prompted some fleet owners to accelerate purchases to last year.
Volkswagen is bidding 200 kronor a share for all remaining stock in Scania to push closer collaboration with MAN SE, the Munich-based truckmaker that the German car manufacturer also controls. Wolfsburg-based Volkswagen will carry through with the purchase provided it receives shareholder pledges giving it 90 percent ownership of Scania, the threshold needed under Swedish law to force remaining investors to sell their stock and delist the company. The acceptance period ends today.
Volvo revised truck-market predictions for this year. North American deliveries will amount to 260,000 vehicles industrywide, an increase from an earlier forecast of about 250,000 units. The company builds Mack trucks in the region.
Demand in Brazil is forecast to drop to 90,000 trucks from 104,000 last year. The company had predicted an increase of about 1,000 vehicles. A "sluggish economy" will lead Volvo to reduce production in the country during the second quarter, the manufacturer said.
Before it's here, it's on the Bloomberg Terminal.
LEARN MORE