Vodka-Fueled Inflation Is Tonic for Linkers: South Africa Credit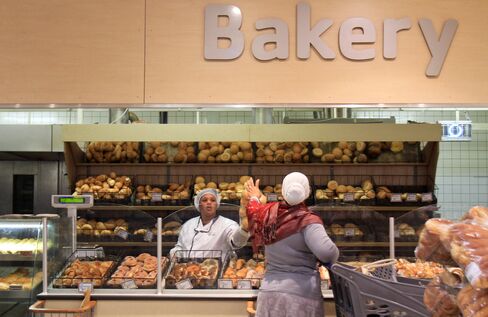 Surging prices for vodka, bread and green beans are proving to be a winning mix for South African inflation-protected bonds, set to extend the longest decline in auction yields in more than two years.
Yields on linkers have dropped the past eight sales, the longest run since a similar streak through January 2012, according to data compiled by Bloomberg. The South African debt made 2.3 percent in April, the third straight monthly gain, and compares with a 1.6 percent return for Brazil, according to Bank of America Merrill Lynch indexes.
With prices for alcoholic spirits jumping 7.1 percent and vegetables almost 13 percent, the consumer-price inflation in March climbed to the top end of the central bank's 3 percent to 6 percent target range, keeping pressure on Governor Gill Marcus to raise interest rates after an unexpected increase in January. Because of this, investor appetite at today's sale should be strong, according to Sean McCalgan at ETM Analytics.
"There should be a continuation of the fairly fluent demand that we've seen at the auctions from the weeks gone by," McCalgan, the head of real-time research at ETM in Johannesburg, said by phone yesterday. "Considering that the consumer price index is testing the upper end of the South African Reserve Bank's target, I definitely think that would affirm this trend."
The National Treasury sold 800 million rand ($76 million) of inflation-linked bonds due in January 2025, January 2038 and December 2050 today, with demand for the notes exceeding 1.3 billion rand. The average yield for all maturities at the auction declined one basis point from two weeks earlier, according to the central bank.
Core Inflation
Inflation, which reached in 6 percent in March, will probably average 6.3 percent this year and peak at 6.6 percent in the fourth quarter, Marcus said on March 27, when policy makers left the benchmark rate at 5.5 percent. The bank forecasts inflation will exceed the target band in the 12 months through the second quarter of 2015.
The price of bread and cereals jumped 9.2 percent in March from a year earlier, Statistics South Africa said on April 23. The core inflation rate, which excludes the prices of food, non-alcoholic beverages, gasoline and energy, rose for the first time since September to 5.5 percent, the highest level in more than four years.
A weaker rand has driven up food and fuel costs. Gasoline prices in South Africa increased 9.5 percent over the past year to 14.32 rand per liter ($5.11 per gallon) as the rand slumped 14 percent against the dollar. The country relies on imports for 70 percent of its oil needs.
Rand Threat
The price of yellow corn, known locally as maize and used as animal feed, reached a record 3,850 rand per metric ton on March 11, up 66 percent from a year earlier. The white variety, a staple food, jumped 61 percent in the period.
"Currently the rand is the biggest role player in the inflation story," Abri du Plessis, who helps oversee the equivalent of $500 million at Gryphon Asset Management, said by phone from Cape Town yesterday. "It doesn't seem that the rand will start to play along. It is negative for prices due to the importation of oil into the country."
Factories are boosting prices, adding to pressure on inflation. The cost of final manufactured goods rose 8.2 percent in March from a year earlier, the statistics office said yesterday. That exceeded the 7.8 percent median estimate of 13 economists surveyed by Bloomberg.
The difference in yield between five-year fixed-rate bonds and index-linked debt, a measure of investor inflation expectations, rose 8 basis points, or 0.08 percentage point, to 6.71 percentage point this month, the first monthly gain in three. The break-even rate for Brazil, rated one level lower at Standard & Poor's, fell 14 basis points in the period.
Bond Yields
Marcus said on April 8 the central bank's "accommodative" policy stance can't be maintained indefinitely. Policy makers unexpectedly raised the benchmark rate by half a percentage point in January.
The yield on South Africa's inflation-linked bond due January 2025 was unchanged at 1.6 percent yesterday. The rand weakened 0.2 percent to 10.6384 per dollar by 3:25 p.m. in Johannesburg, extending its loss for the year to 1.4 percent.
With inflation projected to breach the upper end of the central bank's target, investors will try to hedge their holdings, with fixed-interest debt likely to lose out to linkers as interest rates increase, said Thando Vokwana, a bond trader at FirstRand Ltd.'s Rand Merchant Bank unit.
"If there's a choice between the two, some of the risks that are very apparent on the nominal side are being offloaded onto the linkers, so you're generally finding this trend of good support for the linker auctions," Vokwana said by phone from Johannesburg yesterday.
Before it's here, it's on the Bloomberg Terminal.
LEARN MORE