Japanese Regional Banks Poised to Resist Regulator's Merger Push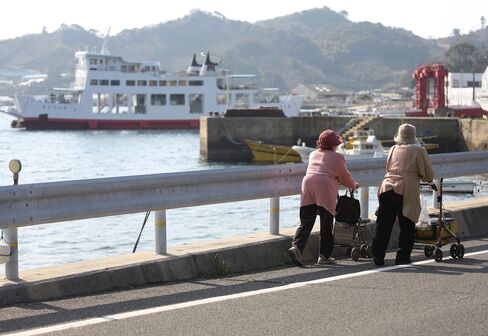 Japanese regional banks are resisting the financial regulator's calls to merge, damping prospects for the revival of an industry plagued by falling interest rates and stagnating rural economies.
Nineteen of 24 lenders that responded to a Bloomberg News survey question this month said combining isn't an option for their future, and five said it is. Financial Services Agency Commissioner Ryutaro Hatanaka urged local bank chiefs in January to consider mergers and alliances to address a worsening profit outlook, according to three people who attended the meeting.
Sluggish growth, a declining population and increasing competition are weighing on earnings, prompting Nomura Holdings Inc. analyst Masahiko Sato to predict that local banks' profit will slump 40 percent in the next five years if they remain separate. Low interest rates are eroding loan profitability at Bank of Yokohama Ltd. to Shimane Bank Ltd. even as Prime Minister Shinzo Abe's economic policies spur credit demand.
"Restructuring is needed to give banks the scale to counter the shrinking population and decreases in deposits and loans in the future," Mana Nakazora, chief credit analyst at BNP Paribas SA in Tokyo, said by phone on April 17. "But I don't think they'll submit to the FSA's pressure. They'll want to fend for themselves as long as there's the slightest chance they remain profitable."
Bloomberg News sent a questionnaire by fax and e-mail to 85 publicly traded regional banks this month, asking them about their business outlook. A total of 32 responded to the survey, of whom eight didn't answer the question about consolidation. The respondents asked not to be identified.
Want Independence
Banks that were against consolidating cited reasons such as their role in the local economy and a wish to stay independent. Those that said combining was an option mentioned the need to expand loans and deposits amid the falling population.
"Regional banks need to discuss strategies that look five to 10 years ahead, just like other businesses do, otherwise they may lose loan customers," Financial Services Minister Taro Aso said at a news briefing on April 23, adding that the most urgent issue to address is a shift in demographics. "Banks need solid management" to survive, Aso said. Individual lenders should decide on whether to merge, he added.
Rural communities are shrinking as people migrate to big cities like Tokyo and Osaka. About 45 percent of towns and villages across the country face deteriorating living standards from the decline in inhabitants, an Internal Affairs Ministry report showed in January.
Aging Nation
Nationwide, the population fell for a third year to 127.3 million as of last October, the ministry said this month. About one in four people in Japan are 65 or older, the highest-ever ratio, it said, and the country maintains one of the world's lowest birth rates.
Commissioner Hatanaka told local bank presidents at the meeting in January that they should consider including mergers and alliances as part of their strategies to cope with a severe business environment, according to the people, who asked not to be named because the gathering was private.
The number of regional banks has fallen to 105 from a postwar peak of 135 in 1972, according to the Japanese Bankers Association.
Local banks are dwarfed by the country's three biggest lenders. Mitsubishi UFJ Financial Group Inc., Sumitomo Mitsui Financial Group Inc. and Mizuho Financial Group Inc. have combined assets of about 604 trillion yen ($5.9 trillion), earnings reports show. That's more than the 268 trillion yen for the 64 members of the Regional Banks Association of Japan. The three so-called megabanks are themselves the product of mergers stemming from a bad-loan crisis in the 1990s.
Stock Slump
Investors are becoming skeptical that the prime minister's policies of fiscal spending, monetary easing and deregulation -- dubbed Abenomics -- will deliver a sustainable economic revival.
The 87-stock Topix Banks Index slid 17 percent this year, more than the benchmark Topix's 10 percent drop. Nishi-Nippon City Bank Ltd. was the worst-performing regional lender, declining 17 percent, while Bank of Nagoya Ltd. was the best, climbing 5.9 percent.
"It's important for regional banks to adjust their business models to meet changes in the market," Masaaki Tani, chairman of the Regional Banks Association of Japan, said at a news conference in March. "Restructuring or consolidation is an option, but it can't be the ultimate solution to the problems that regional banks are facing."
Fukuoka Financial
Tani is president of Fukuoka Financial Group Inc., one of the few local lenders to merge in the past decade. The company was created in April 2007 after Bank of Fukuoka Ltd. paid 90 billion yen to buy Kumamoto Family Bank Ltd. The group, based on the southern island of Kyushu, agreed a month later to purchase Shinwa Bank Ltd. for 76 billion yen.
Fukuoka Financial is now Japan's biggest regional bank by assets. Net income probably climbed for a third year to a record 34.4 billion yen in the period ended March, according to the average of analysts' estimates compiled by Bloomberg.
Senshu Bank Ltd., an Osaka-based unit of Japan's largest lender, Mitsubishi UFJ, merged with Bank of Ikeda Ltd. in 2010 to counter declining profit. Osaka-based Kansai Urban Banking Corp., part of Sumitomo Mitsui, absorbed Biwako Bank Ltd. in the same year.
Tokyo Tomin Bank Ltd. and Yachiyo Bank Ltd., both based in Japan's capital, said last October that they plan to establish a joint holding company within 12 months.
Diversify Business
Katsunori Nakanishi, president of Shizuoka Bank Ltd., Japan's second-biggest local lender by market value, said it's more important for firms to diversify operations than combine.
"A merger between banks that stick with traditional banking won't do any good," Nakanishi said in an interview on April 14. He said there aren't any lenders in Japan that his company wants to buy. His bank, based in Shizuoka, southwest of Tokyo, branched out into online broking this month with the purchase of a 19.5 percent stake in Monex Group Inc. for 24.4 billion yen.
Shrinking loan profitability and demographics were the most commonly cited problems facing local lenders, according to the survey. A total of 27 respondents mentioned narrowing net interest margins and 26 referred to population decline.
Borrowing costs have dropped as the Bank of Japan buys bonds at an unprecedented pace to stimulate the world's third-largest economy. That has crimped lending income even as loan volumes grow.
Combined lending income at first-tier regional banks was little changed in the six months ended September from a year earlier as average interest rates shrank to 1.5 percent from 1.62 percent, Regional Banks Association data show. Net income rose 50 percent, driven by falling default costs and gains on equity holdings stemming from a stock rally that's now fading.
"From the regional banks' point of view, whether Abe's policies are successful or not won't change the fact that their populations will decrease and loans and deposits won't increase," said Nakazora of BNP Paribas. "Consolidation is only a matter of time."
Before it's here, it's on the Bloomberg Terminal.
LEARN MORE