Earl Morrall of Dolphins' Undefeated 1972 NFL Season Dies at 79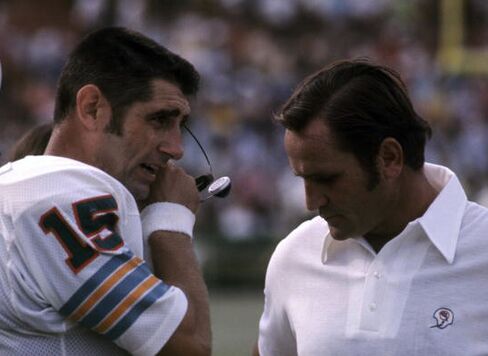 April 25 (Bloomberg) -- Earl Morrall, who played quarterback for 21 seasons in the National Football League and started 11 games for the Miami Dolphins' undefeated team during the 1972-73 season, has died. He was 79.
The Dolphins confirmed that he died today. No further details were available.
"I was very saddened to learn about Earl's passing," former Dolphins coach Don Shula said in a statement. "He was someone who was as good a person as he was a player."
Morrall died 42 years to the day Shula claimed the then 38-year-old quarterback off waivers for $100. Morrall took over as the starting quarterback when Bob Griese broke his ankle in the Dolphins' fifth game in 1972 and helped Miami win its final nine regular-season games. Morrall also started the Dolphins' first two postseason contests before Griese returned for the Super Bowl.
After the season, Morrall was voted the NFL's comeback player of the year.
Morrall entered the NFL with the San Francisco 49ers as the second overall pick in the 1956 draft from Michigan State. He joined the Pittsburgh Steelers during his second season and also played with the Detroit Lions, New York Giants and Baltimore Colts.
1968 MVP
In 1968, Morrall was voted the NFL's Most Valuable Player after leading a Colts team coached by Shula to the Super Bowl. He passed for a career-high 2,909 yards and 26 touchdowns during the Colts' 13-1 regular season. He started that season's Super Bowl for the Colts, who were upset 16-7 by Joe Namath's New York Jets.
After the Dolphins' 17-0 campaign in 1972-73 -- the only unbeaten team in NFL history -- Morrall started a total of three games the next four NFL years in Miami. He retired at age 42 in 1976. Following his playing career, Morrall joined the city council in Davie, Florida, in 1989, and became mayor in 1992.
To contact the reporter on this story: Erik Matuszewski in New York at matuszewski@bloomberg.net
To contact the editors responsible for this story: Michael Sillup at msillup@bloomberg.net