Deal Done, Microsoft and Nokia Have to Do Together What They Couldn't Accomplish Alone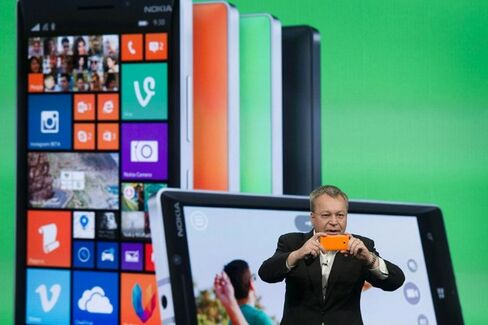 Microsoft has finally brought Nokia's device unit on board, about seven months after announcing it was planning to acquire the operation that once dominated the cell phone market. It is now up to Microsoft's new chief executive, Satya Nadella, to make use of the business, which Microsoft ended up paying more than $7.5 billion for.
Nokia's mobile devices will become the hardware arm of Microsoft's "mobile first and cloud first" approach that is the cornerstone of Nadella's strategy. This basically means building services and devices that keep people immersed in Microsoft's products wherever they are.
With the market for personal computers steadily shrinking, Microsoft is relying more and more on mobile phones. "The vast majority of people do not have, [nor] will they ever have, a personal computer," said Stephen Elop, the former Nokia chief executive who is now executive vice president of Microsoft's devices group, in a statement. Mobile devices are the way to drive adoption of such services as Skype and Bing. "There are literally billions of people who can be exposed to Microsoft for the very first time," he said.
With Nokia's mobile assets now part of the company, Microsoft is the second-largest maker of mobile devices, with about 14 percent of the market, according to IDC. At the moment Samsung Electronics and Apple grab almost all the profit in the market. Microsoft's Windows mobile operating system will grow faster than any other over the next four years, but that is largely due to its low starting point. By 2018 it is expected to be only 7 percent of the total market.
When the deal was announced, it seemed as if it might scuttle Microsoft's strategy of having other phone manufacturers make devices that run its operating system. But it is not giving up that idea. One reason Microsoft may have been slow to catch on is it wanted device manufacturers running Windows to pay Microsoft. But the company recently said it would stop charging licensing fees to manufacturers of devices with screens smaller than 9 inches. This covers some tablets and all smartphones (although if people's tastes for huge phones continue to grow, who knows whether it always will).
By forgoing licensing revenue for scale, Microsoft is mimicking Google's approach to the mobile market. Google provides the Android operating system free to all comers, in hopes of recouping the value through advertising and other indirect means. Microsoft is working on its own flavor of this approach, according to Nadella. "We have monetization wrinkles on the back end," he said in a call with analysts on Thursday, "because in a world of ubiquitous computing, we want Windows to be ubiquitous."
Before it's here, it's on the Bloomberg Terminal.
LEARN MORE