Yankees Lose Pineda to Pine Tar Suspension, Nova OKs Surgery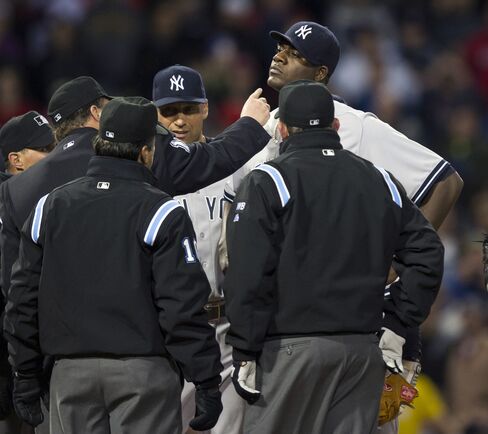 The New York Yankees got bad news on two starting pitchers yesterday, though there was little surprise in either case.
Michael Pineda was suspended 10 games by Major League Baseball for having pine tar on his neck two nights ago against the Boston Red Sox. Ivan Nova, like Pineda a right-hander, will have elbow surgery and miss the rest of the 2014 season.
Pineda, 25, was ejected from the game during the second inning after the Red Sox asked home plate umpire Gerry Davis to inspect a dark patch on the pitcher's neck.
While hitters can use pine tar on bat handles to keep it from slipping out of their hands, pitchers are prohibited from using any foreign substance on the ball. Major League Baseball said Pineda was disciplined for "possessing a foreign substance on his person." Pineda told reporters last night that he will not appeal the ban, which began immediately.
The Yankees announced last night that Nova, 27, decided to have so-called Tommy John surgery on April 29. Surgery was recommended after a partial ligament tear was discovered in his pitching elbow. Recovery time is usually 12 to 18 months.
"I think it's the right decision," manager Joe Girardi told reporters in Boston before the Yankees' 14-5 defeat of the Red Sox. "I haven't really seen anyone rehab a partially torn ligament and have success. It seems what it does is just delay the inevitable of what's going to happen."
Before it's here, it's on the Bloomberg Terminal.
LEARN MORE