World Cup Power Cut Fears Spur Record Brazil LNG Buying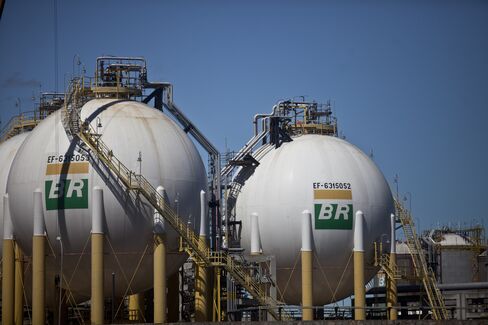 April 25 (Bloomberg) -- Miguel Abitbol spent almost $4,000 on television equipment to show World Cup soccer matches at his bar and restaurant in Rio de Janeiro. He's praying there will be enough electricity to power it.
Abitbol's 48-inch (122-centimeter) set is one of 16 million expected to be sold in Brazil this year as it hosts the world's most-watched sporting event. The kick off in June is looming as the nation contends with a drought that reduced water supply needed for hydro power to near-critical levels. A blackout in February cut electricity to 6 million people.
Petroleo Brasileiro SA, the state-owned energy company, is buying record amounts of liquefied natural gas in the spot market to run gas-fired power plants at full capacity and preserve water reserves. Increased competition for the fuel is narrowing the discount of Latin American prices to those in Asia, the costliest, to the lowest since September.
"Thank God we haven't had power outages so far, but if this happens in the middle of a Brazil match, I'll have wasted my money," said Abitbol, 27, who also bought two 120-inch projector screens to show matches from the monthlong event. "I'm expecting a full house and a big party."
LNG prices in South America may surpass those in Asia in the next several months as Brazil accelerates imports and the southern hemisphere's winter begins, according to Bentek Energy LLC, an industry consultant based in Denver. Latin America's biggest economy typically meets 70 percent of power demand from hydroelectric supplies.
'Maximum Capacity'
"They're running gas plants at maximum capacity now, buying time for rains to help replenish water reservoirs," said Javier Diaz, an analyst at Bentek. "It's a smart move, otherwise it would be a disaster if they suffer with power outages during the World Cup."
In Argentina, South America's biggest LNG importer, the fuel cost 17 cents less per million British thermal units than in Japan last month, according to Energy Aspects Ltd. in London. That compares with a $1.65 discount in February. Petrobras bought spot LNG at $18 to $19 in February and is paying $15 to $16 now, said Marco Tavares, the chairman of Gas Energy, a Rio de Janeiro-based research company.
LNG cargoes for delivery in four to eight weeks rose to a record $19.70 in northeast Asia on Feb. 3 and fell to $14.70 on April 21 as more supply became available, according to assessments by New York-based World Gas Intelligence.
Rising Imports
Brazil, which received its first LNG shipment in 2009, boosted imports last year by 54 percent to 4.2 million metric tons, helping make Latin America the world's fastest-growing importing region, according to the Paris-based International Group of LNG Importers. The nation received an unprecedented 637,289 tons in March, 76 percent more than a year earlier, according to Bentek.
Petrobras may boost imports by 31 percent to 21 million cubic meters a day of gas this year, equal to annual purchases of about 5.7 million tons of LNG, Tavares of Gas Energy said on April 23. The nation's three terminals can handle 41 million cubic meters a day, data from Petrobras show. The company is considering building a fourth with Mitsui & Co.
Petrobras declined to comment on the outlook for LNG imports.
Global LNG supplies are estimated to expand 8 percent a year through 2020 as Australia is set to overtake Qatar as the world's largest producer, Caroline Bain, a senior economist at research firm Capital Economics, said in an April 22 report.
Backup Supply
The soccer governing body FIFA says that during games the essential areas will run on generators and have backup electricity supply to prevent interruptions.
"Any use of energy also takes place by means of redundancy," it said in an e-mailed statement. "Thus, if there's failure at some point, another system is always ready to replace the original."
Brazil's grid will be able to cope during the World Cup because the weather will cool and with it demand, Deputy Energy Minister Marcio Zimmermann said Feb. 6. The nation's system has enough thermal capacity to complement hydroelectric generation, Brazil's Energy Minister Edison Lobao said April 2, after the last monthly meeting of its electricity sector monitoring committee.
Water reservoirs may get a boost from El Nino, a warming of the Pacific Ocean that brings more rain to Brazil, said Celso Oliveira, a meteorologist at Somar Meteorologia in Sao Paulo. The U.S. Climate Prediction Center says there's a 65 percent chance the weather pattern will develop after August.
Water Shortage
While rain in the next several months will be above normal, it probably won't be enough to restore water levels in dams, Oliveira said. Brazil is likely to import and burn as much LNG as possible to avoid blackouts and power rationing, Bank of America Corp. said in a March 14 report.
"The government will probably keep the gas plants running throughout the year," Tavares said by phone from Porto Alegre, Brazil, on April 23. "Levels at water reservoirs inspire concern and in power supply, better safe than sorry."
The drought drove spot power prices to records, leading President Dilma Rousseff to announce a 12 billion-real ($5.4 billion) aid package for utilities last month. Rousseff is running for re-election in October and it would be "politically painful" to introduce significant power rationing before then, Citigroup Inc. analysts including Marcelo Britto wrote in a report last month.
Utilities Prepare
Utilities are preparing for the peaks in demand that happen around matches, an official at Operador Nacional do Sistema Eletrico said, asking not to be identified in line with policy. Brazil is expecting 600,000 foreign tourists during the World Cup, according to the country's tourist agency.
The grid operator, based in Rio de Janeiro, has dealt with comparable surges. In 2012, it took measures to prevent a power outage when 80 million people tuned into the final episode of soap opera Avenida Brasil. That compares with 14.6 million viewers that watched Jay Leno's farewell show.
Brazil will most likely accelerate LNG buying next month to boost storage levels as a precaution, said Trevor Sikorski, the head of natural gas, coal and carbon at Energy Aspects.
"Argentine imports typically peak at the time when Brazil will be holding the World Cup," Diaz from Bentek said April 7. "That's an unfortunate combo."
Abitbol is not alone in worrying about blackouts. Rodrigo Correia bought seven 32-inch sets for his two Rio de Janeiro restaurants, about two kilometers (1.2 miles) away from the Maracana stadium, where the final will be played on July 13.
"If Brazil makes it to the final, we will see a good increase in the number of customers, probably 20 percent more," the 32-year-old Correia said. "If we lose the sales for that day, it will be horrible."
To contact the reporters on this story: Isis Almeida in London at ialmeida3@bloomberg.net; Lucia Kassai in Houston at lkassai@bloomberg.net
To contact the editors responsible for this story: Dan Stets at dstets@bloomberg.net Charlotte Porter, Bill Banker