VW's Scania Bid Gets Boost as Fourth-Largest Owner Backs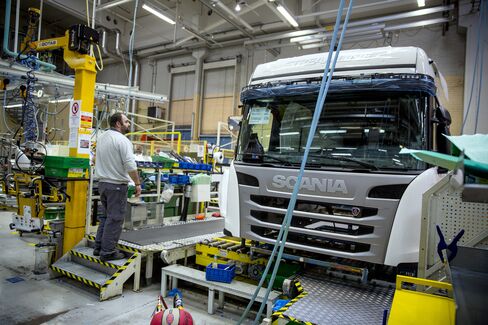 Volkswagen AG's 6.7 billion-euro ($9.3 billion) bid for the rest of Scania AB gained momentum after two minority owners and the truckmaker's main union backed the offer.
Swedbank Robur, the fourth-largest owner with 1.87 percent of Scania, and state-pension fund AP3, with 0.32 percent, said today that they would accept VW's bid of 200 kronor ($30.47) a share. The IF Metall union, which represents factory workers, also threw its support behind the deal. The stock surged as much as 12 percent.
The backing is welcome news for VW after investors owning 5.8 percent of the shares -- closing in on the 10 percent mark which would scuttle the bid -- came out against the offer in recent days, saying that it's too low and that Scania would fare better as a separate listed company.
Volkswagen, which said earlier this month it won't raise the price, only plans to pursue the bid if acceptance reaches 90 percent, the threshold needed under Swedish law to force remaining owners to sell their holdings and delist the company. The offer is 36 percent more than the closing price on Feb. 21, the day VW announced the bid. Marco Dalan, a VW spokesman, declined today to comment on the bid.
"It will definitely be tight," said Marc-Rene Tonn, an autos analyst with M.M. Warburg in Hamburg. "The question is what's VW's Plan B" for the trucks business if the deal fails.
Scania gained as much as 21.30 kronor, the most since Feb. 24, to 194.30 kronor and was up 9.4 percent as of 1:49 p.m. in Stockholm trading. VW was 0.2 percent higher in Frankfurt.
Union Support
Michael Gustafsson, an IF Metall union representative, said the union was backing the offer because of commitments from VW that give unions veto power over any factory closings or staffing relocations. The union also has more trust in VW than financial institutions to secure Swedish jobs, he said.
"Volkswagen has a long history where they have shown that they are a long-term owner with a sustained strategy for the company," Gustafsson said. "We know how Volkswagen has acted in the past 14 years. Volkswagen has, as a group and with Scania, represented stability, safety and sustainability."
VW already controls 62.6 percent of Scania's capital via direct and indirect holdings. The bid, which expires tomorrow, is meant to push forward cooperation between the Swedish truckmaker and MAN SE, which VW also controls.
Scania's full integration into VW is vital for the German carmaker's effort to forge a global heavy-truck business that can compete with industry leaders Daimler AG and Volvo AB. VW has reaped limited financial rewards for the billions of euros invested in the last decade to purchase control of Scania and MAN as minority investors resisted efforts to share technology that would boost profit.
Cost Savings
VW has achieved only 200 million euros in savings from joint work among its light commercial-van unit, Scania and MAN. VW's goal is to deepen cooperation between the three businesses in areas such as drivetrains, chassis, cabins and electronics to reach annual operating profit synergies of 650 million euros.
The automaker already has a domination agreement with MAN, which means the two can legally work more closely. That leaves Scania as the last unit preventing VW from creating an integrated heavy truck division.
Alecta, a Swedish pension provider, was among Swedish investors yesterday that came out against the offer. Alecta said the decision not to support the bid was based on its own analysis and the conclusion by an independent committee of Scania's board last month that the offer doesn't fully reflect the company's fundamental long-term value.
The Scania Resultatbonusstiftelse, a profit-sharing foundation controlled by the truckmaker's employees, won't tender its 0.6 percent stake because the foundation's statutes forbid it from doing so, Chairman Pertti Peltola said today.
Swedbank Robur said it considered the Swedish truckmaker's long-term fundamental value in deciding to support the bid.
"The offer is reasonable for Swedbank Robur's unit holders against the background of the insecurity that the long-term perspective might mean for the realization of this value," Marianne Nilsson, head of ownership, said in a statement.