Tusk Does What Putin Can't as Poland Bond Auction Flies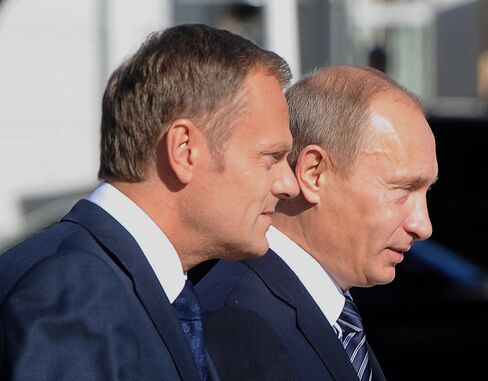 Bond markets are highlighting the diverging fortunes between Poland and Russia as the crisis in Ukraine deteriorates.
Poland sold 11.7 billion zloty ($3.9 billion) of bonds yesterday, 17 percent more than planned, while Russia failed to auction debt twice the same day, saying yields demanded by investors were too high. The extra yield on two-year ruble notes over similar-maturity zloty securities rose to 522 basis points, compared with an average of 365 over the past 12 months, according to data compiled by Bloomberg.
Prime Minister Donald Tusk exceeded 80 percent of this year's borrowing needs with the offering, which the government said would probably be the "last big sale" of the year, as the economic recovery gathers strength. President Vladimir Putin has been unable to sell debt at seven out of the last eight planned auctions as international efforts to diffuse the escalating tensions between Russia and Ukraine grind to a halt.
"The auction was a big success, it showed the yields on Polish bonds are still attractive," Arkadiusz Urbanski, a fixed-income analyst at UniCredit SpA's Polish unit Bank Pekao SA, said by phone yesterday. Investors in Poland were wooed by "good sentiment on global debt markets," he said. "Even Ukraine isn't a concern."
Poland received 16.6 billion zloty in bids at yesterday's sale of two- and four-year notes and zero-coupon debt due July 2016. It was the biggest offering since the government raised 12.1 billion zloty in auctions on Jan. 23.
Sale Scrapped
Poland is sticking to its earlier plan to reduce bond sales from May, so this was the "last big sale" of zloty notes this year, Deputy Finance Minister Wojciech Kowalczyk said yesterday. Demand from domestic and foreign investors wasn't hurt by geopolitical risks relating to events in Ukraine, he said.
Russia scrapped the sale of as much as 10 billion rubles ($280 million) of nine-year ruble securities and the same amount of five-year notes yesterday because there were no bids at acceptable prices, the Finance Ministry said.
Economic growth in Poland will accelerate every quarter this year to reach as much as 4 percent in the final three months, policy maker Elzbieta Chojna-Duch said April 22. Russia's economy may halt or contract in the second or third quarter, Maxim Oreshkin, head of the Russian Finance Ministry's strategic forecasting department, said April 21. Poland's economy grew 1.6 percent in 2013, compared with 1.3 percent expansion for Russia, data compiled by Bloomberg show.
Ukraine Unrest
Ukraine edged closer to a new round of hostilities after the government in Kiev said it's resuming operations to oust militants from eastern cities and Russia pledged to defend its citizens in the neighboring country.
"Poland is economically linked with Russia and Ukraine but, if anything, that implies more downside growth risk rather than credit contagion," Di Luo, a London-based fixed-income strategist at HSBC Holdings Plc, said by e-mail yesterday. "The situation in Ukraine doesn't form imminent concerns for investors holding Polish bonds."
Russia and Ukraine together accounted for about 8 percent of Polish exports last year, according to data from the statistics office in Warsaw. That compares with more than half for countries in the euro area, the data show.
Growth Risk
For Poland, "there is a risk posed to its growth, especially from a sharp slowdown in Russia, but it will still outperform many of its regional peers this year," Abbas Ameli-Renani, an emerging-market strategist at Royal Bank of Scotland Group Plc in London, said by e-mail yesterday. "Poland's fundamentals are very resilient and the market has very much bought into that theme."
While Polish growth accelerates, inflation will probably stay below the central bank's target of 2.5 percent until 2016, according to median estimates in Bloomberg surveys. Price growth in Russia will be 6 percent this year, above the central bank's 5 percent goal, the data show.
The zloty weakened 0.2 percent to 4.1980 against the euro at 5:42 p.m. in Warsaw. The currency has lost to 1 percent this year, compared with an 8.6 percent slump for the ruble, the worst performance after Argentina's peso among 24 emerging markets tracked by Bloomberg.
Russian Foreign Minister Sergei Lavrov said yesterday his country is prepared to retaliate if its "legitimate interests" are "attacked directly," drawing a parallel with its actions during a 2008 war over the Georgian breakaway region of South Ossetia. The U.S. said it will send 600 troops for exercises in four countries bordering Russia, days after NATO bolstered the defense of frontline member states in eastern Europe.
"Poland is a great story with 80 percent of its borrowing needs met, non-inflationary growth and political stability," Lukasz Witkowski, who manages the equivalent of $1.8 billion at Warsaw-based mutual fund PKO TFI SA, said by e-mail. "Russia is on the verge of war. It's obvious investors prefer Poland."
Before it's here, it's on the Bloomberg Terminal.
LEARN MORE