Tokyo Inflation Quickens to Fastest Since 1992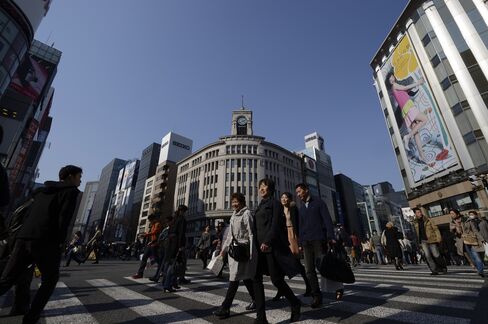 Tokyo's consumer prices rose 2.7 percent in April from a year earlier, the biggest jump since 1992, pumped up by a sales-tax increase and a year of unprecedented stimulus from the Bank of Japan.
Inflation excluding fresh food accelerated from 1 percent in the previous month, while nationally the same price gauge rose 1.3 percent in March from a year earlier, statistics bureau data showed today. The Tokyo price gains compared to a 2.8 percent median forecast in a Bloomberg News.
The data provide a first look at the effects of the April 1 tax rise that's damping consumer demand and is projected to tip the economy into a one-quarter contraction. Ahead of the BOJ's release of updated growth and inflation forecasts next week, investors are assessing whether price gains, fueled by a weaker yen and higher energy costs, will spread throughout the economy.
"Price gains are likely to stay around this mark" for the time being, Koya Miyamae, an economist at SMBC Nikko Securities Inc. in Tokyo. "The data isn't strong enough to raise expectations for further BOJ easing."
Today's numbers compare with a central bank target of stable 2 percent inflation, using the national gauge that excludes fresh food. In January, the BOJ estimated a 1.3 percent rate for the fiscal year started this month, excluding the effect of the sales tax. Including the levy, the central bank's forecast is 3.3 percent.
The yen was little changed against the dollar at 102.34 as of 12:47 p.m. in Tokyo. The Topix stock index rose 0.3 percent after corporate earnings cheered investors.
Inflation Peak
National inflation will peak in April or May "unless yen depreciation gains momentum or energy prices rise significantly," Goldman Sachs Group Inc. economists Naohiko Baba and Yuriko Tanaka wrote in an e-mailed note after the release. "We continue to see potential for the BOJ to take additional easing" at the July policy meeting.
Finance Minister Taro Aso told reporters today that the Tokyo data show the 3 percentage point sales-tax increase is being reflected in prices.
BOJ officials are increasingly concerned the nation's bond market is failing to reflect emerging inflation, raising the risk of a sudden surge in yields, according to people familiar with the matter. Officials hope yields will rise gradually, in line with developments in the economy and prices, the people said. Benchmark 10-year government bonds yesterday yielded 0.615 percent, little changed from March 2013.
Kuroda's Challenge
Bank of Japan Governor Haruhiko Kuroda and Prime Minister Shinzo Abe also face the challenge of keeping the public focused on the long-term benefits to Japan of exiting about 15 years of deflation when wages are yet to pick up and, according to BOJ board member Sayuri Shirai, most people see price gains as "unfavorable." The Topix stock index is down about 10 percent this year after a 51 percent gain in 2013.
Nationwide prices excluding perishables rose at an average pace of 0.8 percent in the fiscal year ended March, exceeding the central bank's projection of 0.7 percent made in January.
"Prices have been falling in Japan, unlike other countries, so the BOJ's target of 2 percent inflation is understandable," said Yoko Yamaguchi, 42, who works in the marketing division of an electronic appliance maker. "The problem is that wages still haven't caught up with price increases," Yamaguchi said in Tokyo yesterday.
A consumer confidence gauge fell for a fourth straight month in March to 37.5, the lowest since 2011 and down from a six-year high of 45.7 last May.
Pricier Pint
Today's data for Tokyo show beer prices rose 3.8 percent in April from a year earlier, electricity rates jumped 8.7 percent and accommodation costs increased 7.4 percent.
Businesses such as Suntory Beverage and Food Ltd. and beef bowl chain Yoshinoya Holdings Co. raised some prices by more than the 3 percentage point increase in the sales tax. Suntory said that it would charge 8 percent more for drinks sold at vending machines. Barber shop franchise QB Net Co. raised the price of a hair cut by 8 percent this month.
Discounts by some companies in April in anticipation of weaker demand after the tax hike helped offset price increases by other firms, the Goldman Sachs economists wrote.
Prices of durable goods fell 2.5 percent in Tokyo this month, today's data show.
"I bought a flat-screen TV with a Blu-ray player before the sales-tax increase," Kazuko Shibuya, 60, a housewife, said in Tokyo yesterday. "I kind of regret it because it's actually cheaper after the sales-tax increase."
Before it's here, it's on the Bloomberg Terminal.
LEARN MORE