Scottish Independence Vote Draws Labour North to Heartland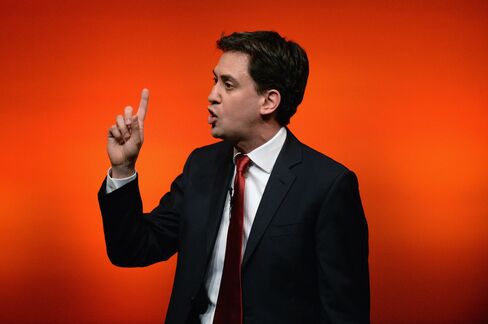 April 25 (Bloomberg) -- The Labour Party, which holds a majority of the U.K. parliamentary seats in Scotland, is stepping up efforts to stop the country voting for independence.
With opinion polls showing a drop in support for remaining in the U.K. before a Sept. 18 referendum, Labour leader Ed Miliband and senior party colleagues are in Scotland today for two days of events to campaign for the union. Labour, the main opposition party, has supported the government's rejection of plans by the Scottish nationalists to share the pound should they win the vote and echoed warnings on debt and the economy.
"Working people in the U.K. will be worse off without Scotland and working people in Scotland will be worse off without the U.K.," Miliband said before the trip, according to an e-mailed statement. "I want Scotland to continue to have the best of both worlds: strength, security and social justice as part of the U.K. alongside a strong Scottish Parliament with more devolved powers."
Labour Prime Minister Tony Blair's government transferred powers over policies including health, education, justice and the environment to a reconvened Scottish Parliament in 1999, arguing that the process known as devolution would crush the nationalist cause. Instead, the Scottish National Party under Alex Salmond won control of the Edinburgh-based legislature in 2007 and again in 2011, going on to negotiate the independence referendum with Prime Minister David Cameron.
Westminster Forfeit
Scotland, along with post-industrial areas of the north of England and the inner cities, still forms a key stronghold for Labour. While the SNP dominates the Scottish Parliament, Labour controls 41 of the 59 Scottish electoral districts represented in the U.K. Parliament at Westminster in London, with Cameron's Conservatives returning just one lawmaker. All the Westminster seats stand to be forfeited if Scotland becomes independent.
Miliband and his opposition cabinet will meet in Glasgow before heading 500 miles around Scotland, Labour said in the statement. He will tell Scots they will be better off rejecting independence and then voting for a Labour government at the U.K. general election in 2015.
Salmond, who is Scotland's first minister, took his campaign for independence across the border this week, arguing that his country would become an economic counterweight to London. In a speech in Carlisle, 10 miles south of Scotland at the west end of Hadrian's Wall, Salmond sought to reassure locals there would be no disruption to work or family life should voters in Scotland decide to leave the union.
Latest Polls
Polls suggest the arguments against independence are failing to resonate with voters.
A survey by ICM Research for the Scotland on Sunday newspaper showed support for the status quo dropped to 42 percent from 46 percent, while the proportion of voters saying they will opt for independence was unchanged at 39 percent. The poll was conducted on April 14-16, and when excluding undecided respondents the margin was 52 percent to 48 percent.
"Polls currently suggest breakup will not happen but this should not be taken for granted," Commerzbank AG economists Peter Dixon and Joerg Kraemer said in a note published today.
They predicted " a host of legal and economic issues" if the "Yes" campaign prevails in September. "The analysis of the pro-independence camp woefully fails to account for the costs of secession," they said. "But the anti-lobby is also overdoing the gloom."
To contact the reporter on this story: Rodney Jefferson in Edinburgh at r.jefferson@bloomberg.net
To contact the editors responsible for this story: Alan Crawford at acrawford6@bloomberg.net Ben Sills